2014 NFL mock draft: Browns will trade to get their QB (Bortles)
How will the quarterback derby shake out in the draft. Pat Kirwan thinks Blake Bortles will be the first to go, with Teddy Bridgewater falling to No. 32.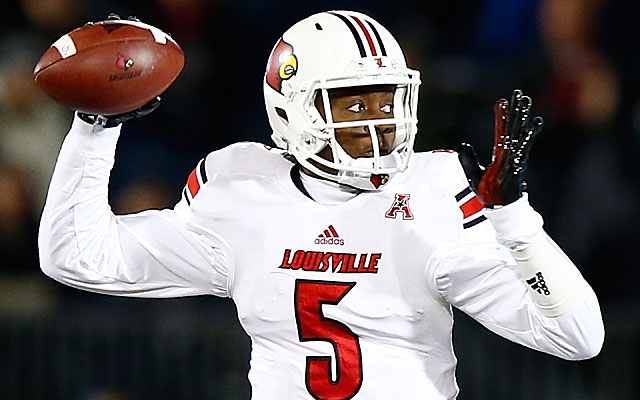 More NFL offseason: Mock Drafts | Prospect Rankings | Pro days | Top free agents
1. Houston Texans -- Jadeveon Clowney, DE, South Carolina: Clowney will look like a young Lawrence Taylor to Texans defensive coordinator Romeo Crennel. It would be a good move for the Texans to trade for Ryan Mallett or take a chance on Zach Mettenberger in a later round.
2. Cleveland Browns (Mock trade from Rams) -- Blake Bortles, QB, Central Florida: The Browns are working out all of the top quarterbacks and even though some are down on Bortles he's a big strong kid who will remind some of Ben Roethlisberger.
3. Jacksonville Jaguars -- Greg Robinson, OT, Auburn: Every football person knows Jake Matthews is more NFL ready, but Robinson's upside reminds line coaches of Walter Jones. This guy will be the best tackle since Tony Boselli in Jacksonville.
4. St. Louis Rams (Mock trade from Browns) -- Jake Matthews, OT, Texas A&M: Jeff Fisher moves down and gets a great player he has ties to from his Titans/Oilers days. Picking up Kenny Britt is an interesting deal to get Sam Bradford a big talented WR.
5. Tampa Bay Bucs (Mock trade from Raiders) -- Sammy Watkins, WR, Clemson: Watkins is a Southwest Florida kid who happens to be the best receiver in the draft and a game-breaker. The Bucs said goodbye to Mike Williams Friday. 
6. Atlanta Falcons -- Khalil Mack, DE/OLB, Buffalo: Atlanta could take a left tackle like Taylor Lewan here, but they need a pass rusher to play right end in Lovie Smith's defense. Mack has made 87 plays behind the line of scrimmage in 48 games.
7. Oakland Raiders (Mock trade from Bucs) -- Johnny Manziel, QB, Texas A&M: The Raiders move down and still get a quarterback with game-changing skills. There's no need to put him on the field right away. They could select Derek Carr here instead, which wouldn't surprise me.
8. Minnesota Vikings -- Derek Carr, QB, Fresno State: The Vikings won't take just any quarterback at this spot in the draft for Norv Turner's offense. If Carr is available he makes the most sense. Minnesota may have to jump over Oakland to get him.
9. Buffalo Bills -- Taylor Lewan, OT, Michigan: Bills head coach Doug Marrone is a line coach by trade and he knows guys like Lewan don't grow on trees. Lewan makes the run game better and protects EJ Manuel.
10. Detroit Lions -- Justin Gilbert, CB, Oklahoma State: I go back and forth on which corner the Lions like more, but they can't go wrong with Gilbert, especially in a division with the Bears and Packers receivers.
11. Tennessee Titans -- Darqueze Dennard, CB, Michigan State: The Titans need to replace Alterran Verner and if they don't grab Dennard they will be looking again in the second round at pick No. 42.
12. New York Giants -- Aaron Donald, DT, Pittsburgh: One-gap penetrators like Donald are very hard to find, especially with his motor. Donald has made 89 plays behind the line of scrimmage between sacks and tackles for a loss. That is 31 more than the next best performance by an inside player in the draft.
13. St. Louis Rams -- Mike Evans, WR, Texas A&M: Even though the Rams signed Britt to a one-year deal Evans at 6-foot-5 with a 37-inch vertical is too hard to pass up. There are no more excuses for Sam Bradford.
14. Chicago Bears -- Ha Ha Clinton-Dix, S, Alabama: Chris Conti and Ryan Munday are not the answers at safety for the Bears. Clinton-Dix is a true free safety and a play-maker.
15. Pittsburgh Steelers -- Anthony Barr, OLB, UCLA: The Steelers' pass-rush production at outside linebacker has fallen off in recent years. Barr started playing defense just two years ago and in 27 games made 58 plays behind the line of scrimmage, including 22 sacks.
16. Dallas Cowboys -- Tim Jernigan, DT, Florida State: I'm not sure Jernigan is Rod Marinelli's kind of player. If the Cowboys do take him and they need a tackle or pass rusher, Jernigan will get in the best shape of his life.
17. Baltimore Ravens -- Ra'Shede Hageman, DT, Minnesota: Arthur Jones left in free agency and the 6-6 Hageman has the ability to line up anywhere in the Raven front three. Haloti Ngata can't play forever and this guy is an insurance policy against the end of Ngata's career.
18. New York Jets -- Eric Ebron, TE, North Carolina: Jets tight end Jeff Cumberland gave up his jersey number to Eric Decker for a reported $25,000. He will be giving up the starting TE spot to Ebron if the Jets draft him. The Jets haven't had a matchup TE since a healthy Dustin Keller.
19. Miami Dolphins -- Zach Martin, OT/OG, Notre Dame: Martin is versatile and can play just about anywhere on the line. He's also an insurance policy at left tackle if Brandon Albert was injured.
20. Arizona Cardinals -- Calvin Pryor, S, Louisville: The Cardinals could consider a QB of the future but may address that in a later round. Pryor is a hard-hitting safety and a Day 1 starter. Pryor was in on 218 tackles 38 games. He also forced nine fumbles and picked off seven passes.
21. Green Bay Packers -- Ryan Shazier, LB, Ohio State: Shazier is a sideline-to-sideline player and would line up on the weak side as well as being the nickel middle linebacker. He is always around the ball with nine forced fumbles, 40 tackles for a loss and 13 sacks.
22. Philadelphia Eagles -- Brandin Cooks, WR, Oregon State: Gone is DeSean Jackson and in is a much cheaper replacement. Cooks can fly and he had 128 receptions last year. There will be a cry for defensive players at this spot and a case could be made for any of the remaining defensive guys left in the round.
23. Kansas City Chiefs -- Stephon Tuitt, DE, Notre Dame: The Chiefs lost Tyson Jackson in free agency and Tuitt brings a lot to the table. He has more versatility than his teammate Louis Nix. Tuitt could be more disruptive in a pass rush than Jackson was for the Chiefs.
24. Cincinnati Bengals -- Kony Ealy, DE, Missouri: Gone is Michael Johnson and a solid pass rusher is a premium. Dee Ford is still on the board in this mock draft, but Ealy is the bigger player and will hold up better on the run downs.
25. San Diego Chargers -- Louis Nix, NT, Notre Dame: The Chargers have a void at nose tackle and Nix is the best in the draft. He will not put up big numbers in a 3-4 scheme but he will keep his old Notre Dame teammate Manti Te'o free to make plays.
26. Cleveland Browns -- Odell Beckham, WR, LSU: Beckham is an impressive young man and a perfect complement to Josh Gordon on the other side. Now the Browns offense should be able to score points.
27. New Orleans Saints -- Kelvin Benjamin, WR, Florida State: The Saints could look long and hard at DE Dee Ford, but a 6-5 wide receiver like Benjamin with an aging Colston and Meacham and Lance Moore gone might be too hard to pass up.
28. Carolina Panthers -- Cyrus Kouandjio, OT, Alabama: The Panthers need receivers but I like second-round receivers like Jordan Matthews and Allen Robinson. If they pass on a left tackle here guys like Morgan Moses and Antonio Richardson will be gone by pick No. 60.
29. New England Patriots -- Dee Ford, DE/OLB Auburn: The Patriots could take a tight end like Jace Amaro, which would help the inside passing game but Ford has hybrid pass rush skills and they need more help in this area.
30. San Francisco 49ers -- Marqise Lee, WR, USC: I wouldn't be surprised if the 49ers took a defensive end like Scott Crichton here, but Lee might just fall in their lap. Lee had 248 receptions in 36 games at USC and he knows where the end zone is (29 touchdowns -- two more than Watkins in the same number of games)
31. Denver Broncos -- CJ Mosley, LB, Alabama: Wesley Woodyard is gone and Mosley is NFL ready to lead a defense or simply play the WLB spot and be a tackling machine. Mosley is instinctive and his 319 tackles speak for itself.
32. Jacksonville Jaguars (Mock trade from Seahawks) -- Teddy Bridgewater, QB, Louisville: With Blake Bortles, Johnny Manziel and Derek Carr off the board the Jaguars jump ahead of Houston, which has the first pick in the second round, to get Bridgewater. Pete Carroll and Jags coach Gus Bradley worked together and can get this trade done.
Ryan Shazier and the Steelers were the big winners in Pro Bowl voting that was unveiled on...

We've likely seen the last of Reggie Bush in the NFL

Fans have been sending Anthony Barr plenty of hate mail over Aaron Rodgers' injury
Here's every official injury designation for each NFL team for Week 15

SportsLine's Mike McClure, a DFS pro with more than $1M in winnings, gives optimal lineup...

Foles replaced Vick during his previous tenure in Philadelphia, appearing in the 2013 play...