2014 NFL mock draft: Five wide receivers figure in mock first round
Led by Sammy Watkins in a receiver-deep draft, five WRs are first-rounders, including Odell Beckham, who pairs nicely with fellow ex-Tiger Dwayne Bowe in KC.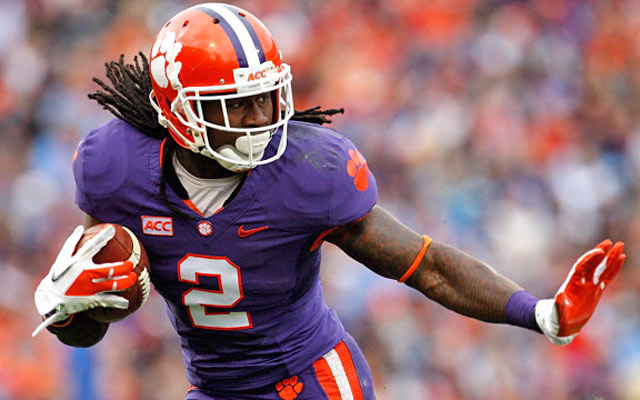 More NFL offseason: Mock Drafts | Prospect Rankings | Pro Days | Top free agents
From now until the draft in May, you'll get a new mock draft from me every Wednesday. What changes? Gossip. Workouts. Talking to scouts and personnel men, plus they are fun to do and fun to pick apart.
But don't get so worked up over these early mocks. They're just a way to try and sift through what is now a long process.
Last week, I had the Rams trading back with the Falcons. Not this week. This time I have the teams staying in their spots and making their picks. There are some changes, but not a lot.
Hey, when it's one a week, am I supposed to change just for the sake of change?
Coming next week: Mock draft No. 4, which will be a day after the opening of free agency, which might lead to some changes.
1. Houston Texans -- Blake Bortles, QB, Central Florida: I just think in the end they will go with the prototype at the position.
2. St. Louis Rams -- Greg Robinson, T, Auburn: He fills a need and he has a chance to be special. He is so athletic.
3. Jacksonville Jaguars -- Jadeveon Clowney, DE, South Carolina: I think they would race the card up to the podium if this happens. Clowney would fill a huge need.
4. Cleveland Browns -- Teddy Bridgewater, QB, Louisville: There is too much talent on that roster to not have a quality starting quarterback. Bridgewater is worth a look.
5. Oakland Raiders -- Derek Carr, QB, Fresno State: I think they would trade down to get him, but in this one they are stuck and they take him.
6. Atlanta Falcons-- Jake Matthews, T, Texas A&M: They have to fix that line and Matthews is a solid player who will be a 10-year starter.
7. Tampa Bay Buccaneers --Khalil Mack, OLB, Buffalo: They have to get some sort of pass rush off the edge. He can provide that.
8. Minnesota Vikings -- Johnny Manziel, QB, Texas A&M: They have to get better at quarterback and Manziel would bring excitement to the new stadium.
9. Buffalo Bills -- Sammy Watkins, WR, Clemson: They will give E.J. Manuel all the weapons to succeed. This would be a great pick.
10. Detroit Lions -- Justin Gilbert, CB, Oklahoma State: They need help outside, so they take the best cover corner in the draft.
11. Tennessee Titans -- Taylor Lewan, T, Michigan: This just makes too much sense with the possibility of David Stewart being released.
12. New York Giants -- Anthony Barr, OLB, UCLA: They have to get more athletic at linebacker. Barr is that and more.
13. St. Louis Rams -- Mike Evans, WR, Texas A&M: After landing a tackle, they come back and take a big receiver to complement their smaller ones.
14. Chicago Bears -- Darqueze Dennard, CB, Michigan State: Charles Tillman is a free agent and they need help opposite Tim Jennings.
15. Pittsburgh Steelers -- Hasean Clinton-Dix: Ryan Clark is likely gone, so they have to get somebody with range in the middle of the field.
16. Dallas Cowboys -- Tim Jernigan, DT, Florida State: I will stay with Jernigan to the Cowboys. It just makes too much sense.
17. Baltimore Ravens -- Zack Martin, G-T, Notre Dame: The return of Dennis Pitta doesn't make adding a weapon a must. So I think they go for an offensive lineman and take Martin.
18. New York Jets -- Marqise Lee, WR, USC: It's time they get Geno Smith some weapons outside. Lee can get deep.
19. Miami Dolphins -- Aaron Donald, DT, Pittsburgh: They need help on the offensive line, but the value isn't here. So they opt for a defensive lineman who can take over inside for Randy Starks if he leaves.
20. Arizona Cardinals -- C.J. Mosley, LB, Alabama: Linebackers who can run and hit are valuable to a defense that likes to blitz from the middle.
21. Green Bay Packers -- Eric Ebron, TE, North Carolina: With Jermichael Finely a free agent coming off injury, they have to get a threat in the middle of the field.
22. Philadelphia Eagles -- Calvin Pryor, S, Louisville: He is a big-hitting safety who would fill a major need if they don't land one in free agency.
23. Kansas City Chiefs -- Odell Beckham Jr., WR, LSU: His combine solidified him as a first-round player. He would look good opposite Dwayne Bowe.
24. Cincinnati Bengals -- Kyle Fuller, CB, Virginia Tech: Fuller is on the rise after a nice combine and the Bengals need corner help.
25. San Diego Chargers -- Louis Nix, NT, Notre Dame: Cam Thomas is a free agent and they need a big body in the middle of their defense. Nix is a lot like Vince Wilfork.
26. Cleveland Browns (From Indianapolis) : Ryan Shazier, LB, Ohio State -- They have to get faster at linebacker. That is a must.
27. New Orleans Saints -- Dee Ford, DE, Auburn: Edge help is a need for their defense. Ford can provide that.
28. Carolina Panthers -- Morgan Moses, T, Virginia: With Jordan Gross retiring, they have to get a left tackle. Moses fills the role.
29. New England Patriots -- Ra'Shede Hageman, DE-DT, Minnesota: His versatility makes him an attractive option for a defense that values flexibility.
30. San Francisco 49ers -- Jimmie Ward, S, Northern Illinois: I love this kid's range. The 49ers would love it as well if they lose Donte Whitner.
31. Denver Broncos -- Stephon Tuitt, DE, Notre Dame: They need help up front on their line in a big way. Tuitt has talent but was out of shape last year.
32. Seattle Seahawks -- Brandin Cooks, WR, Oregon State: If they lose Golden Tate in free agency, they can replace him with Cooks.
The Chargers have a few years to figure things out before new stadium is built

Jones voiced his displeasure with how the NFL is policing the player protests

Luck suffered a setback in his recovery but the Colts are still hopeful he'll play this se...
After a report emerged quoting Irving saying, 'I have made a call,' the Cowboy took to Twi...

Washington is banged-up heading into a divisional showdown with Philadelphia

Kenny Britt might be on the chopping block after his latest blunder