2014 NFL Mock Draft: Jadeveon Clowney back on top
In Will Brinson's latest 2014 NFL Mock Draft, Jadeveon Clowney reemerges as the top overall pick. Also, the Jaguars get a quarterback ... but not where you expect.
More NFL offseason: Mock Drafts | Prospect Rankings | Pro days | Top free agents
No more messing around. Jadeveon Clowney's back on top. It has nothing to do with his pro day -- a very impressive event on Wednesday -- though. Clowney is just the best player in this draft.
That was simply made more clear during the South Carolina pro day, when the defensive end exhibited his freakish athletic ability and even ran some drills where he dropped into coverage.
Bill O'Brien knows that Houston needs a quarterback. But the three guys available aren't "franchise quarterbacks" per se. 
We saw a similar conundrum for Houston back when they faced a decision between Reggie Bush, Vince Young and Mario Williams. The world thought they were crazy for taking Williams at the time but it was absolutely the right decision.
The Texans need a quarterback (once again) but Clowney's the guy. Pairing him with J.J. Watt would just be awkwardly dangerous for quarterback and it would allow Romeo Crennel to go full-blown mad scientist with his pass rush.
With Jacksonville improving at quarterback (see below -- I didn't expect them to get what they got, honestly, it just happened), the Colts rocking Andrew Luck and the Titans having Ken Whisenhunt  in town to improve Jake Locker, it's imperative to get after the quarterback.
Pray for the AFC South signal callers if Clowney comes to town. 
1. Houston Texans --  Jadeveon Clowney, DE, South Carolina — An absolute freak of nature, pairing Clowney with J.J. Watt will mean twice-yearly nightmare games for every quarterback in the AFC South. 
2. St. Louis Rams (via Washington Redskins ) -- Greg Robinson, OT, Auburn — Either a wideout or a lineman makes sense here. Clowney going No. 1 probably eliminates the likelihood of St. Louis getting a bounty for this pick. Robinson can step in immediately, pave the way for Zac Stacy in the running game and give the Rams some versatility with Jake Long and Rodger Saffold. 
3. Jacksonville Jaguars -- Khalil Mack, OLB, Buffalo — The Jags would love Clowney to fall to three but this is a pretty fantastic scenario for them. They've got their choice of the top wideout (no one, even the Jags, knows what Justin Blackmon will do in 2014), another offensive lineman, any of the quarterbacks or Mack, a dynamic and potentially destructive pass rusher. 
4. Cleveland Browns -- Johnny Manziel, QB, Texas A&M — The Browns didn't visit with Manziel but who have they talked to? Quarterback is their biggest need and Manziel's ability to roll out and hit deep throws would work wonderfully with Kyle Shanahan's offense.
5. Oakland Raiders -- Sammy Watkins, WR, Clemson — The top talent on the board for a talent-needy team. The combo of Matt Schaub and Watkins isn't going to set the NFL on fire but it would result in a substantially improved offense for Oakland in 2014.
6. Atlanta Falcons -- Jake Matthews, OT, Texas A&M — Dagger for Thomas Dimitroff to have the two primary pass rushers off the board. The consolation prize isn't that bad though: a day-one starting left tackle who can protect Matt Ryan's blindside and give him time to find Roddy White and Julio Jones, something he didn't have in 2013.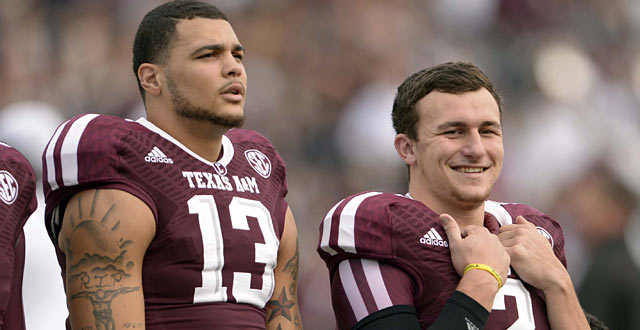 7. Tampa Bay Buccaneers -- Mike Evans, WR, Texas A&M — It's a run on Aggies! Mike Williams is listed as second on the depth chart but he's not that high in Lovie Smith's heart and quickly free falling out of favor with Tampa Bay's new regime. Evans is a mammoth target for either Mike Glennon or Josh McCown.
8. Minnesota Vikings -- Blake Bortles, QB, UCF — Take two for the Vikings in picking a franchise quarterback after Christian Ponder didn't work out. It basically comes down Blake Bortles versus Teddy Bridgewater and though Bridgewater might be more pro ready, the upside and combo of Bortles arm + Norv Turner's offense is pretty tantalizing. Matt Cassel gives them a bridge if Bortles isn't ready yet. 
9. Buffalo Bills -- Taylor Lewan, OT, Michigan — The off-field incident with Lewan doesn't seem to be causing too much of a stir (a Michigan guy fighting an Ohio State fan after all …) and the Bills could use an offensive tackle to pair with Cordy Glenn. They'd certainly prefer Robinson or Matthews falling but that's not in the cards.
10. Detroit Lions — Justin Gilbert, CB, Oklahoma State — The infatuation with grabbing another wide receiver is hilarious to me, given the Lions past with Matt Millen steering the ship. With Watkins and Evans off the board, grabbing Gilbert, a blazing corner and the top defensive back on the board, makes more sense at this point.
11. Tennessee Titans -- Anthony Barr, OLB, UCLA — This feels like a "too obvious to be true" pick, but Barr has crazy upside as a pass rusher and putting him under Ray Horton's tutelage as the Titans shift to a 3-4 defense is tantalizing. He and Zach Brown would equate to a ridiculous amount of speed at linebacker. 
12. New York Giants -- Eric Ebron, TE, UNC — This doesn't feel like a pick that fits the modus operandi for Jerry Reese and the Giants, but he's taken a dip into the UNC pool during the first round before (Hakeem Nicks … yeaaaah). Ebron just makes a ton of sense for the Giants if they want to improve their overall explosion on offense. 
13. St. Louis Rams -- Ha-Ha Clinton Dix, S, Alabama — First time this year I haven't given the Rams an OL/WR combo. They could certainly either trade down to grab a wideout or just stand pat and get one at 13. The temptation to get a high-end safety like HHCD is too much for Jeff Fisher though. 
14. Chicago Bears -- Aaron Donald, DT, Pittsburgh — After signing Lamarr Houston and Willie Young in free agency, Phil Emery continues to revamp his defensive line by grabbing the highly-productive Donald. He's not a prototypical anchor on the defensive line but this group suddenly has explosion after lacking it in 2013. 
15. Pittsburgh Steelers -- Louis Nix III, DT, Notre Dame — A massive body in the middle for Dick LeBeau's defense, Nix can generate plenty of pressure if needed while also occupying multiple blockers. He'd instantly improve the defense through a trickle-down effect.
16. Dallas Cowboys -- Timmy Jernigan, DT, Florida State — Nightmare situation with a run on defensive tackles prior to them picking. It wouldn't be surprising to see them move up and grab a tackle but instead they stand pat and nab Jernigan here. (Ed. Note: I doubled up on Dee Ford previously. My bust.) 
17. Baltimore Ravens -- C.J. Mosley , LB, Alabama — Ozzie Newsome loves taking the best player available and he also loves taking Alabama guys. Mosley fits the bill on both counts. 
18. New York Jets -- Darqueze Dennard, CB, Michigan State — The Jets need another wideout to pair with free-agency haul Eric Decker. There are a few good fits here but Dennard — who can play the style of press-man coverage Rex Ryan prefers — makes more sense for a team that needs a top-tier corner. If Dee Milliner progresses suddenly the Jets defense could scare.
19. Miami Dolphins -- Zach Martin, OT, Notre Dame — Martin could ultimately end up playing tackle or guard, but the Dolphins would be fine with either having added Branden Albert on the left side in free agency. They know all too well what not having depth on the offensive line can do to a team — Ryan Tannehill was the most sacked quarterback in the NFL last year. 
20. Arizona Cardinals -- Dee Ford, DE, Auburn — Ford tried to claim he's better than Clowney earlier in the offseason. That's not the case but he's great value here for the Cards and can serve as the future pass rush in a post John Abraham world while also contributing right away. 
21. Green Bay Packers -- Odell Beckham, Jr., WR, LSU — It's weird to peg the Packers for a wideout in the first round with Jordy Nelson and Randall Cobb on the roster. But Ted Thompson puts value in the best player available and Beckham surprisingly fell through a group of wideout-needy teams above. Nothing wrong with adding weapons for Aaron Rodgers. 
22. Philadelphia Eagles -- Brandin Cooks, WR, OSU — With the Eagles releasing DeSean Jackson (the Redskins, without a first-round pick in the 2014 NFL Draft, signed him on Wednesday), they need some speed at wideout. Though Chip Kelly could go safety (Jimmie Ward?) here, it makes a lot of sense to grab the speedy Cooks who's made a point of saying what a good person he is … on and off the field. 
23. Kansas City Chiefs -- Marqise Lee, WR, USC — Wide receiver run! The Chiefs would rather have their choice among several wideouts but Lee makes sense as a nice complementary piece to Dwayne Bowe. Alex Smith has to have another weapon. 
24. Cincinnati Bengals -- Kony Ealy, DE, Missouri — Michael Johnson left for Tampa Bay in free agency this offseason and the Bengals need another pass rusher in the fold. Enter Ealy, who doesn't get nearly the amount of hype he should given his talent and potential production. 
25. San Diego Chargers -- Kyle Fuller, CB, Virginia Tech — The Chargers need help in the secondary and Fuller should be able to assist them from Day 1 as a fast, physical cornerback. 
26. Cleveland Browns (from Indianapolis Colts ) -- Bradley Roby, CB, Ohio State — Immensely talented local guy with some red flags, Roby could develop into a steal at this position and with Joe Haden on the other side he won't have immediate pressure to step in as a No. 1 corner.  
27. New Orleans Saints -- Jason Verrett, CB, TCU — A run on runs! Or something. Adding Verrett — another impact piece in the secondary — takes the Saints from a historically bad pass defense two years ago to one of the more formidable units in the league, thanks to the addition of Kenny Vaccaro (2013 draft), Jairus Byrd (2014 free agency) and Keenan Lewis (2013 free agency). 
28. Carolina Panthers -- Cyrus Kouandjio, OT, Alabama — I refuse to shake the feeling that the Panthers will draft a tackle in this position instead of a wide receiver. The position is more important for what they want to do on offense than wideout. 
29. New England Patriots -- Jace Amaro, TE, Texas Tech — If at first you don't succeed, try try again? The Patriots actually DID succeed with their tight ends in a previous draft, but things didn't pan out whenever they tried to pay them big bucks. Giving Tom Brady another option in the passing game wouldn't hurt things at all now that Darrelle Revis and Vince Wilfork are secure. 
30. San Francisco 49ers -- Kelvin Benjamin, WR, FSU — Big and freaky athletic, Benjamin isn't exactly refined but he's a tantalizing prospect for the 49ers to groom to pair with Michael Crabtree and Vernon Davis. He'd become a massive red zone target for Colin Kaepernick.
31. Denver Broncos -- Xavier Su'a Filo, OG, UCLA — Zane Beadles is headed to Jacksonville and if the Broncos learned anything from their last game of 2013 it's that protecting Peyton Manning up the middle is extremely important. 
32. Jacksonville Jaguars (VIA MOCK TRADE with Seattle Seahawks ) -- Teddy Bridgewater, QB, Louisville — The cost to move up just eight spots is prohibitive, the staffs know one another so there's some familiarity, the Seahawks aren't scared of moving around and the Jaguars sense a chance to beat the Texans for Bridgewater. Walking out of the first day with a stud pass rusher and one of the top quarterbacks is a dream scenario for Dave Caldwell. 
It's been a rough Sunday night for the Raiders

From London to Sunday Night Football, teams around the league demonstrated in response to...

The Raiders reportedly wanted to stay in the locker room, but came out to avoid a 15-yard...
Here are the Week 3 grades for every team that played on Sunday

Plus questionable coaching decisions, refs cost Lions a win and more on Week 3 from Jason La...

The Saints coach is the latest to weigh in on Trump's comments