2014 NFL Mock Draft: Jags, Raiders roll dice on QBs Manziel, Bortles
The Jaguars, desperate for a QB, take dynamic Johnny Manziel. The Raiders take a gamble on Blake Bortles even with Matt Schaub on the roster.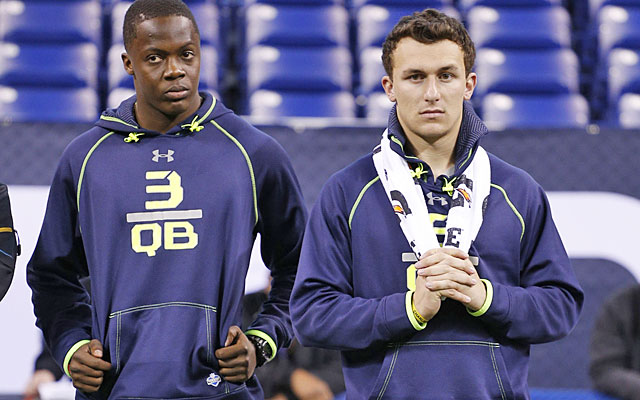 More NFL offseason: Mock Drafts | Prospect Rankings | Pro days | Top free agents
1. Houston Texans -- Jadeveon Clowney, OLB/DE, South Carolina: Clowney is on top for the third straight week, which is tough with rampant rumors and swirling speculation about the top pick. Clowney has elite skills. Too bad it didn't show much in the 2013 season. Getting Andrew Luck to the ground is the top priority and Clowney should help but there is risk.
2. St. Louis Rams -- Greg Robinson, OT, Auburn: I believe St. Louis will trade down but if the Rams stay in the No. 2 spot Robinson has all the traits of a future Pro Bowl tackle. Former NFL offensive line coach Bob Wylie told me Robinson is so athletic he can get out of things and recover better than many guys to come down the road.
3. Jacksonville Jaguars -- Johnny Manziel, QB, Texas A&M: The Jags need a QB for the future and this young man has the competiveness, athletic ability and skills to be a starter in the NFL. I'm not sure this is a lock for Jacksonville.
4. Cleveland Browns -- Sammy Watkins, WR, Clemson: Later in the first round Cleveland will get its quarterback but for now it's a game-breaking wide receiver opposite Josh Gordon.
5. Oakland Raiders -- Blake Bortles, QB, Central Florida: It is a risky pick with Matt Schaub on the roster and the pressure to play Bortles right away. I wouldn't be surprised to see the Raiders move down instead of taking this pick. A year from now the Raiders would have their long-term answer.
6. Atlanta Falcons -- Jake Matthews, OT, Texas A&M: The Falcons are in a great spot to take a pass rusher or a 10-year starting left tackle. Today it's the pass protector and a guy that gives Matt Ryan the best chance to succeed.
7. Tampa Bay Buccaneers -- Mike Evans, WR, Texas A&M: The Bucs traded away Mike Williams and they are too far down the draft board to get Sammy Watkins so it's the next best thing. Evans is a faster, more explosive version of Vincent Jackson. You better have big corners when you play Tampa Bay.
8. Minnesota Vikings -- Ha Ha Clinton-Dix, S, Alabama: Why take a quarterback here and ignore a position where the Vikings need a Week 1 starter? They can come back around in the second round for Zach Mettenberger.
9. Buffalo Bills -- Khalil Mack, DE/OLB, Buffalo: Doug Marrone knows the value of a 10-year starter at left tackle but with Matthews gone the local pass rusher is a solid option. They may consider Taylor Lewan instead.
10. Detroit Lions -- Justin Gilbert, CB, Oklahoma State: I've said corner all along for the Lions and talk about trading up for Watkins is just that -- talk. Why would Detroit give away this year's first, next year's first and a second to grab a receiver when they have to cover the great receivers in the NFC North?
11. Tennessee Titans -- Anthony Barr, OLB/DE, UCLA: Barr is an emerging pass rusher and solid defensive player with untapped potential after just two years on defense. He fits any scheme.
12. New York Giants -- Taylor Lewan, OT, Michigan: The Giants win when they protect Eli Manning and run the ball. Lewan gives them a better chance to do both things right away.
13. St. Louis Rams -- Calvin Pryor, S, Louisville: The Rams already got their offensive tackle and now a plug in safety. Pryor hits like a strong safety and covers the deep middle like a free safety. Jeff Fisher gets a versatile back-end guy to complement the rest of a pretty good defense.
14. Chicago Bears -- Aaron Donald, DT, Pittsburgh: Some believe the Bears need a big, stout guy to clog up the middle. They can get one in a later round because there are a number of third-day wide bodies. Donald is an elite pass rusher and one-gap penetrator with almost 100 plays made behind the line of scrimmage.
15. Pittsburgh Steelers -- Darqueze Dennard, CB, Michigan State: The Steelers have many needs but if Dennard falls this far one of the biggest needs is resolved. Rookies don't usually start in Pittsburgh but this guy will and he'll be there for a long time. For those who think the Steelers take a wide receiver in this spot, wait about a round or two.
16. Dallas Cowboys -- Tim Jernigan, DT, Florida State: The Cowboys are desperate for quality players on the defensive line and many believe Jernigan is the next best DT after Donald. Rod Marinelli may fool all of us with a different person in this spot but for now all I can tell Jernigan is you better be in great shape for your new coach.
17. Baltimore Ravens -- Zach Martin, OT, Notre Dame: Martin had a very good pro day after a solid Senior Bowl. The Ravens have to do a better job of protecting Joe Flacco and Martin is pro ready now at guard or tackle.
18. New York Jets -- Eric Ebron, TE, North Carolina: It doesn't matter if it's Michael Vick or Geno Smith under center, the Jets quarterback needs more weapons. A flexed tight end like Ebron helps the running game as well.
19. Miami Dolphins -- Cyrus Kouandjio, OT, Alabama: If Martin is gone and Miami is really interested in protecting Ryan Tannehill, Kouandjio could be the answer after a solid pro day last week. He's young, very talented and on the rise.
20. Arizona Cardinals -- Kony Ealy, DE, Missouri: Ealy has the talent to play on the edge and the size to move inside when the Cardinals want to slide the front around. For now he would be in a rotation with Darnell Dockett and a year from now he's the man.
21. Green Bay Packers -- C.J. Mosley, LB, Alabama: There are some good linebackers to choose from at this point in the draft. Mosley can line up at a number of spots in Dom Capers' scheme and be effective. Last week it was Ryan Shazier at this spot and it might well be him again by May.
22. Philadelphia Eagles -- Odell Beckham, WR, LSU: Beckham is a solid citizen and a polished receiver. If the Eagles decide to hold off on receiver and go defense there are a number of solid defenders left on the board. The Eagles reportedly tried to trade for Dion Jordan and that should indicate their desire for defensive help at pass rusher.
23. Kansas City Chiefs -- Brandin Cooks, WR, Oregon State: Here's a solid young man that handles himself like a pro already and he plays a position the Chiefs need to upgrade. Andy Reid will see the "DeSean Jackson" model in Cooks.
24. Cincinnati Bengals -- Ryan Shazier, LB, Ohio State: The in-state linebacker has speed, production and is a three-down player. He can play WLB on run downs, Mike in the nickel and he has pass-rush skills. Cincinnati would be lucky if he's still on the board.
25. San Diego Chargers -- Louis Nix, NT, Notre Dame: The Chargers need a nose tackle and many believe Nix is the best. I'm not so sure but for now he's a Charger.
26. Cleveland Browns -- Teddy Bridgewater, QB, Louisville: The Browns knew either Bridgewater or David Carr would fall to this spot and they would have their QB. Cleveland may feel Carr has a better arm for its winter woes on Lake Erie but Bridgewater is a bargain at this point to some. I might wait and take Zach Mettenberger in the second round.
27. New Orleans Saints -- Dee Ford, DE/OLB, Auburn: Ford is a versatile hybrid edge rusher who put on a show at the Senior Bowl. Rob Ryan will use him in many different ways. Some tell me Ford is fading from the first round.
28. Carolina Panthers -- Marqise Lee, WR, Southern California: The Panthers may lose out on a left tackle in this draft if they stay in this spot. Since they need a big-time wide receiver as well there will be a player like Lee falling to them and they should take him. Forget 2013; look at 2012, when Lee had 118 receptions and 14 touchdowns.
29. New England Patriots -- Ra'Shede Hageman, DL, Minnesota: Some feel Hageman has fallen out of the first round but Bill Belichick has a long history of taking big defensive linemen in the first round. Hageman's motor may run hot and cold but at 6-feet-6 and 320 pounds it's worth a shot for a team with an old front.
30. San Francisco 49ers -- Stephon Tuitt, DL, Notre Dame: The 49ers could take a receiver like Kelvin Benjamin but there is depth at that position and the Niners have aging starters at the defensive five techniques. Tuitt is a big man who can run and has 41 plays behind the line of scrimmage in 35 games.
31. Denver Broncos -- Bradley Roby, CB, Ohio State: I just watched enough game tapes on Roby to feel good about him late in the first round for the first time in my mock draft. He is an aggressive off-coverage player that can close on a receiver. He likes contact and would help right away in Denver.
32. Seattle Seahawks -- Jace Amaro, TE, Texas Tech: I believe the Seahawks like Amaro and he brings a dimension their offense, which really doesn't have a flex/slot tight end who creates matchup problems. Russell Wilson will love having a 6-5 guy with 106 receptions last year roaming the middle of the field.
Quarterbacks like Derek Carr, Zach Mettenberger, Aaron Murray and Jimmy Garoppolo are still available and that will change the path of the draft.
Elliott will be allowed to play, for now

Mark Lamping wrote a letter to apologize to Jacksonville's director of military affairs ch...

PEN America says the NFL's talks on social activism are a 'constructive' step forward for owners,...
The Steelers quarterback weighs in on the hit that might've ended Rodgers' season

Smith was not pleased with the Steelers safety's hit on him

SportsLine's Mike McClure, a DFS pro with more than $1M in winnings, gives optimal lineup...