2014 NFL Mock Draft No. 5: Rams opt to build OL with Greg Robinson
St. Louis could use another threat out wide alongside Tavon Austin, but the Rams might be able to fill the WR void later in the first round. Look for the Rams to make a play for Auburn's Greg Robinson.
More NFL offseason: NFL Mock Drafts | Prospect Rankings | Top free agents
The free-agency period is slowing, teams are back focusing on the draft and pro days, so it's time for Mock Draft. No. 5.
After the hectic pace of free agency the past eight days or so, it's time to move some players around. Needs have been filled, priorities have changed.
1. Houston Texans -- Blake Bortles, QB, Central Florida: I will keep him here for now. That could change in the coming weeks.
2. St. Louis Rams -- Greg Robinson, T, Auburn: I still think they need to upgrade their line, and this kid has a chance to be special.
3. Jacksonville Jaguars -- Jadeveon Clowney, DE, South Carolina: Yes, the Jags added to their line, but can you imagine if they can get him, too?
4. Cleveland Browns -- Teddy Bridgewater, QB, Louisville: I don't get the Brian Hoyer hype. They have to get a franchise passer.
5. Oakland Raiders -- Johnny Manziel, QB, Texas A&M: What else do they have?  Unless they sign a veteran, they have to draft one.
6. Atlanta Falcons -- Khalil Mack, OLB, Buffalo: They are going to a 3-4 and he's a perfect 3-4 outside linebacker.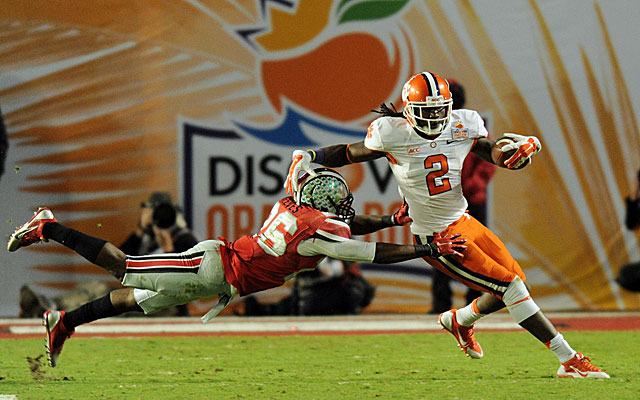 7. Tampa Bay Buccaneers -- Sammy Watkins, WR, Clemson: I don't know if they are counting on Mike Williams for the long run, and Vincent Jackson isn't a kid.
8. Minnesota Vikings -- Derek Carr, QB, Fresno State: I am not sold on their belief that Matt Cassel is the long-term guy.
9. Buffalo Bills -- Jake Matthews, T, Texas A&M: I will stick with the idea that Matthews is their guy. They could move Cordy Glenn to the right side.
10. Detroit Lions -- Taylor Lewan, T, Michigan: The right tackle spot is still a concern and they could fix it with Lewan or move Riley Reiff over there.
11. Tennessee Titans -- Anthony Barr, OLB, UCLA: With the signing of Michael Oher, they can focus on defense. They need an outside rusher. Give them Barr.
12. New York Giants -- Aaron Donald, DT, Pittsburgh: They lost Linval Joseph in free agency, so they try and take his replacement.
13. St. Louis Rams -- Mike Evans, WR, Texas A&M: They need to get a big playmaker outside to go with Tavon Austin.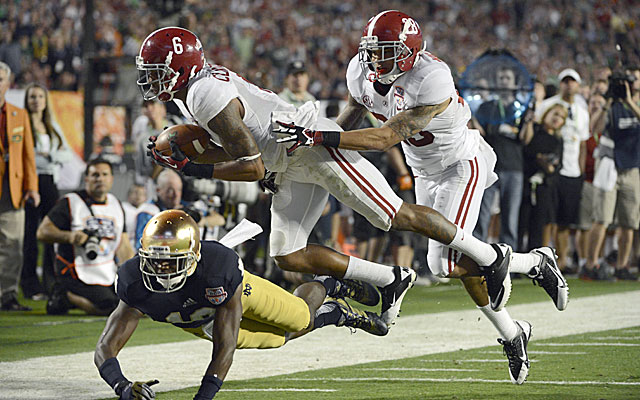 14. Chicago Bears -- Ha-Ha Clinton-Dix, S, Alabama: Nobody they signed in free agency is the long-term answer. They need help in a big way at safety.
15. Pittsburgh Steelers -- Justin Gilbert, CB, Oklahoma State: Ike Taylor is back for one more year, but it's time they get a younger option.
16. Dallas Cowboys -- Tim Jernigan, DT, Florida State: I will continue to put him in this spot. It just makes too much sense.
17. Baltimore Ravens -- Zack Martin, G-T, Notre Dame: They need help at right tackle and Martin could also play guard if needed.
18. New York Jets -- Darqueze Dennard, CB. Michgian State: Take a look what they have now. There isn't much.
19. Miami Dolphins  -- C.J. Mosley, LB, Alabama: They spent big on linebackers last year and didn't get much bang for their buck. Mosley could help in a big way.
20. Arizona Cardinals -- Ra'Shede Hageman, DE, Minnesota: He is a big body who could step in at end in the 3-4. Darnell Dockett isn't a kid anymore.
21. Green Bay Packers -- Eric Ebron, TE, North Carolina: They brought back Andrew Quarless, but they need more than that. Ebron could be a heck of a target in the middle of the field.
22. Philadelphia Eagles -- Calvin Pryor, S, Louisville: They added Malcolm Jenkins, now they get the big hitter.
23. Kansas City Chiefs -- Marqise Lee, WR, USC: They need to get help for Dwayne Bowe, and Lee is polished.
24. Cincinnati Bengals -- Kyle Fuller, CB, Virginia Tech: A young corner is a must. Fuller is big and athletic.
25. San Diego Chargers -- Bradley Roby, CB, Ohio State: I will keep him here for now. They need a young corner.
26. Cleveland Browns (From Indianapolis) -- Kelvin Benjamin, WR, Florida State: They get a big, red-zone target to go with Josh Gordon.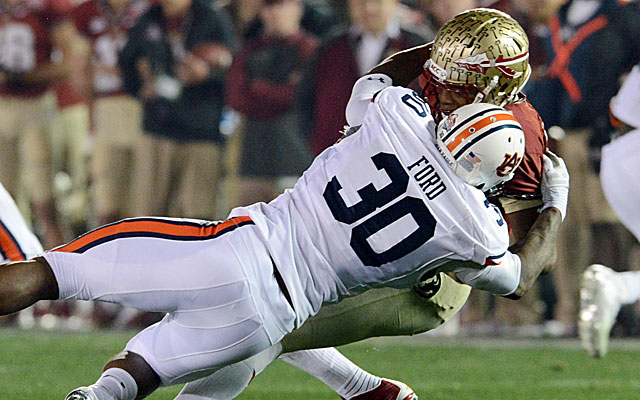 27. New Orleans Saints -- Dee Ford, DE, Auburn: After signing Jairus Byrd, they take a pass rusher to come off the edge.
28. Carolina Panthers -- Odell Beckham Jr., WR, LSU: They have to get somebody who can catch Cam Newton's passes.
29. New England Patriots -- Louis Nix, NT, Notre Dame: With Vince Wilfork on his way out, it would make sense to get his replacement.
30. San Francisco 49ers -- Brandin Cooks, WR, Oregon State: They need to get some speed added to that passing game.
31. Denver Broncos -- Ryan Shazier, LB Ohio State: They need to get help at linebacker, one of the positions they have addressed.
32. Seattle Seahawks  -- Stephon Tuitt, DE, Notre Dame: They like versatility in their linemen and he can provide that.
Everything you need to know about the Packers-Panthers game on Sunday afternoon

The Lions will be wearing their Color Rush uniforms for the first time on Thursday

The Lions look to maintain playoff positioning while the Bears attempt to play spoiler
The Panthers have hired an outside law firm to conduct the investigation

Here's every official injury designation for each NFL team for Week 15

Bennett was one of the few players who escaped punishment after Sunday's melee in Jacksonv...