2014 NFL Mock Draft: Starting with Clowney, Bortles still in play at No. 1
What if the Texans decide to pass on Blake Bortles and the quarterbacks? That makes Jadaveon Clowney No. 1 in this shaken-up seventh mock.
More NFL offseason: Mock Drafts | Prospect Rankings | Pro days | Top free agents
I've done six previous mock drafts, and in each of them I had the Houston Texans taking a quarterback with the first overall pick.
For this one, Mock No. 7, I do not.
There's a chance the Texans pass on the top quarterback prospects and take South Carolina defensive end Jadaveon Clowney. I don't think it will happen, but it could.
So for this one, I have Clowney going No. 1 to the Texans and the Jacksonville Jaguars, picking third, taking the first quarterback, that being Central Florida's Blake Bortles. I think a month from now Bortles will be the Texans' guy. For now, I am open to other ideas, thus the change.
Hey, we have to shake it up, right?
1. Houston Texans -- Jadeveon Clowney, DE, South Carolina: Just for this one, I have the Texans taking the edge rusher. It has nothing to do with a pro day either.
2. St. Louis Rams -- Greg Robinson, T, Auburn: The signing of Kenny Britt won't take them out of the receiver market, but Robinson might be the safest pick.
3. Jacksonville Jaguars -- Blake Bortles, QB, Central Florida: They could spend time easing him in with Chad Henne signed.
4. Cleveland Browns -- Sammy Watkins, WR, Clemson: Speed, speed and more speed. Josh Gordon and Watkins? Wow.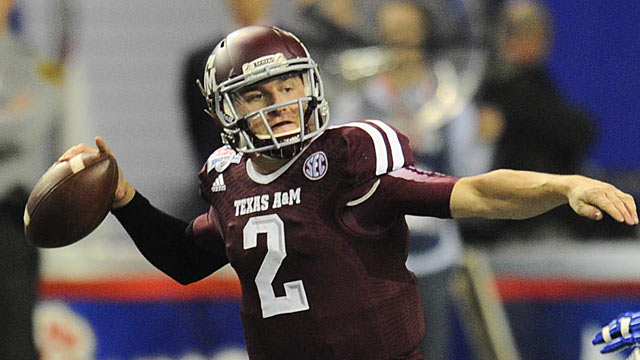 5. Oakland Raiders -- Johnny Manziel, QB, Texas A&M: Matt Schaub is far from the long-term answer. They go with Johnny Football.
6. Atlanta Falcons -- Jake Matthews, T, Texas A&M: This is the safe pick for a team that has to protect Matt Ryan better.
7. Tampa Bay Buccaneers -- Khalil Mack, OLB, Buffalo: He would provide a nice edge rusher to go with Michael Johnsonfrom the linebacker spot.
8. Minnesota Vikings -- Teddy Bridgewater, QB, Louisville: Norv Turner likes deep­ball throwers, and Bridgewater can be that.
9. Buffalo Bills -- Taylor Lewan, T, Michigan: It just seems to make too much sense that they take a tackle to upgrade their line.
10. Detroit Lions -- Kyle Fuller, CB, Virginia Tech: He's big and can run, which is a nice combination.
11. Tennessee Titans -- Anthony Barr, OLB, UCLA: I will keep him in this spot because they have a real need as they move to more 3­4 looks.
12. New York Giants -- Aaron Donald, DT, Pittsburgh: I will keep him here for now after they lost Linval Joseph.
13. St. Louis Rams -- Ha Ha Clinton-Dix, S, Alabama: Their back end needs upgrading in the worst way.
14. Chicago Bears -- Timmy Jernigan, DT, Florida State: They have to get better up front. They've added some bodies, but not enough.
15. Pittsburgh Steelers -- Darqueze Dennard, CB, Michigan State: Ike Taylor isn't a kid and they need to find a replacement.
16. Dallas Cowboys -- Zack Martin, G/T, Notre Dame: This would make their offensive line the strong point of the team after having so many problems.
17. Baltimore Ravens -- Mike Evans, WR, Texas A&M: He would be their next Anquan Boldin. Steve Smith is essentially on a one­year deal.
18. New York Jets -- Justin Gilbert, CB, Oklahoma State: They have a big hole at corner and this kid could fill it.
19. Miami Dolphins -- C.J. Mosley, LB, Alabama: Their linebackers weren't very good last season. They need help.
20. Arizona Cardinals -- Kony Ealy, OLB/DE, Missouri: They are looking for more edge rushers and this kid has the speed, even if he didn't always play to it.
21. Green Bay Packers -- Ryan Shazier, LB, Ohio State: They looked so slow at times at linebacker. Shazier can run.
22. Philadelphia Eagles -- Odell Beckham, WR, LSU: With DeSean Jackson gone, they have to get somebody to play outside.
23. Kansas City Chiefs -- Brandin Cooks, WR, Oregon State: They have to get help for Dwayne Bowe. It's as simple as that.
24. Cincinnati Bengals -- Bradley Roby, CB, Ohio State: This kid is rising in the eyes of the scouts. He has unreal athletic ability.
25. San Diego Chargers -- Louis Nix, NT, Notre Dame: They have to get stronger in the middle of their defense.
26. Cleveland -- Derek Carr, QB, Fresno State: They pass on a quarterback with the fourth pick and end up taking Carr here.
27. New Orleans Saints -- Dee Ford, OLB, Auburn: He has the speed off the edge they have to get.
28. Carolina Panthers -- Cyrus Kouandijo, T, Alabama: They have issues at receiver, but they have to get a left tackle.
29. New England Patriots -- Calvin Pryor, S, Louisville: He could be their Kam Chancellor for Devin McCourty, their good free safety.
30. San Francisco 49ers -- Marqise Lee, WR, USC: Why is he dropping down so many boards? It makes no sense. The 49ers need another receiver.
31. Denver Broncos -- Kyle Van Noy, OLB, BYU: He's the type of football player that a GM like John Elway would love to have.
32. Seattle Seahawks -- Kelvin Benjamin, WR, FSU: He would be the big target to go with Percy Harvin outside.
Carroll defended his controversial fake field goal call at the end of the first half

The Falcons are trending in the right direction after a 34-31 win over the Seahawks in Sea...

It's the best division in the NFL and it's not even close
Larry Hartstein has his finger on the Vikings' pulse and made a play for the Thanksgiving Day...

National sports writer Mike Tierney tells you who to pick in your Week 12 football survivor...

For whatever reason Seattle decided to try a fake before the end of the first half