2014 NFL mock draft: Texans go pass rusher at No. 1, but it's not Clowney
Most assume Jadeveon Clowney goes No. 1, but the Texans go their own way, stick with their board and rock the draft by taking LB Khalil Mack.
More Draft coverage: Mock Drafts | Prospect Rankings | Big Board | News
1. Houston Texans -- Khalil Mack, OLB, Buffalo: If your draft board says this is the best player just take him and don't worry about what people say. Don't trade down and risk losing him and Clowney.
2. St. Louis Rams -- Greg Robinson, T, Auburn: Hard to turn down a young tackle with the potential to be the next Walter Jones or at least a 10-year starter. The Rams could still trade out of this spot if Clowney falls to this spot.
3. Jacksonville Jaguars -- Jadeveon Clowney, DE, South Carolina: The Jags need a pass rusher with his kind of talent and better hope no one jumps ahead of them to get him. I could see a trade with Atlanta if the right guy is on the board when Atlanta picks, but if no one is what the Jags are looking for they keep Clowney.
4. Cleveland Browns -- Sammy Watkins, WR, Clemson: Now the Browns are officially dangerous on offense with Gordon on the other side and a quarterback later in the round.
5. Oakland Raiders -- Jake Matthews, T, Texas A&M: The most ready tackle -- or for that matter player in the draft -- and the Raiders need to win now. Finally someone who can block Von Miller and Tamba Hali.
6. Atlanta Falcons -- Taylor Lewan, T, Michigan: If there was a great pass rusher left they might take him. If not, a big left tackle will do just fine.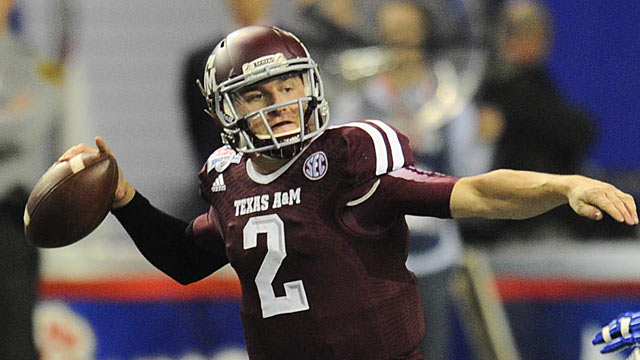 7. Tampa Bay Buccaneers -- Johnny Manziel, QB, Texas A&M: The Bucs just got exciting, and now they can trade Mike Glennon before the Friday draft starts.
8. Dallas Cowboys (trade with Vikings) -- Aaron Donald, DT, Pittsburgh: If Dallas doesn't get Donald, the Marinelli defense will not work well enough to make the playoffs. Whatever it takes for Jerry Jones to get up here and get him or he may have to play against him in a Giants uniform.
9. Buffalo Bills -- Eric Ebron, TE, North Carolina: Another solid weapon for young EJ Manuel to throw to, and when Ebron is flexed, the running game will open up even more.
10. Detroit Lions -- Justin Gilbert, CB, Oklahoma State: The Lions may want more weapons for QB Matthew Stafford, but who is going to cover those Chicago and Green Bay receivers?
11. Tennessee Titans -- Anthony Barr, OLB, UCLA: In two years as a pass rusher, the former fullback has 58 plays behind the line of scrimmage in 27 games. He is only going to get better, but some tell me he may lack some fire in his belly.
12. New York Giants -- Zack Martin, G-T, Notre Dame: Mr. Utility is just what the Giants need to start protecting Eli Manning better. Every lineman on the Giants better worry about keeping his job.
13. St. Louis Rams -- Mike Evans, WR, Texas A&M: Every so often a player falls for no reason. Evans is terrific and just what Bradford needs on the outside. A few teams will pass a wide receiver early because of the great depth at the position in this draft.
14. Chicago Bears -- Ha Ha Clinton-Dix, S, Alabama: The Bears need help all over the defense, but getting Chris Conte off the field is a good place to start.
15. Pittsburgh Steelers -- Darqueze Dennard, CB, Michigan State: The Spartans play a very similar scheme as the Steelers, and this guy is very aggressive and a quality person. He starts from opening day.
16. Minnesota Vikings (trade from Cowboys) -- C.J. Mosley, LB, Alabama: The Vikings get a high pick or two to move down and get the new leader of their defense. They have the firepower to do well in the second round to grab a safety and a quarterback.
17. Baltimore Ravens -- Calvin Pryor, S, Louisville: The Ravens still need offensive linemen but they are too smart to reach. Pryor is a free safety with over 200 tackles and he forced nine fumbles.
18. New York Jets -- Odell Beckham Jr., WR, LSU: One of the classiest players in this draft. Go watch the Mississippi State game; he looked like Lynn Swann.
19. Miami Dolphins -- Cyrus Kouandjio, T, Alabama: Miami needs offensive line help, and even though Cyrus is raw, the traits and skills are there for him to develop quickly.
20. Arizona Cardinals -- Blake Bortles, QB, Central Florida: Arizona gets five years on a quarterback if they take him in the first round. Bortles is big, athletic and can escape. He can sit and learn behind Palmer.
21. Green Bay Packers -- Ryan Shazier, LB, Ohio State: Shazier can do it all, he's fast, can drop in coverage, rush the passer and his 258 tackles in 39 games speaks for itself. Nine forced fumbles is just another indicator he's around the ball.
22. Philadelphia Eagles -- Brandin Cooks, WR, Oregon State: The Eagles need defense but they also need a guy to replace the production Jackson provided. Maybe they consider a guy like Dee Ford, but they won't reach for a player in this spot.
23. Kansas City Chiefs -- Marqise Lee, WR, USC: The perfect guy in this offense and a great complement to Dwayne Bowe. If Cooks was on the board they might take him instead.
24. Cincinnati Bengals -- Kyle Fuller, CB, Virginia Tech: The Bengals' corners are old or coming off injury. Fuller has been rising up draft boards and would be a good fit for the Bengals.
25. San Diego Chargers -- Jason Verrett, CB, TCU: The Chargers will get a wide body nose tackle later in the draft. Right now they get a corner like Verrett, who can offset his lack of height with a 41-inch vertical.
26. Cleveland Browns -- Derek Carr, QB, Fresno State: The Browns play this draft perfect getting Sammy Watkins up top and Carr down below. They will also get a very good player at No. 35 like Xavier Su'a-Filo or a big corner.
27. New Orleans Saints -- Bradley Roby, CB, Ohio State: The Saints might want a wide receiver here but a good corner will help them more. Champ Bailey is penciled in to start and teams like Atlanta will go after him.
28. Carolina Panthers -- Morgan Moses, T, Virginia: The Panthers will think long and hard about a wide receiver here but that position is deep and the offensive tackles are just about at the end of the line.
29. New England Patriots -- Ra'Shede Hageman, DL, Minnesota: When Hageman turns it on he's tough to stop. He has one-gap penetrator skills and at 6-foot-6 with long arms he can two gap all day long. He can play anywhere across the front, and Belichick loves big guys with versatility.
30. San Francisco 49ers -- Cody Latimer, WR, Indiana: Latimer is a late riser in the draft, but if you watch the Illinois game you wonder why it took so long to figure him out. He also lined up against Dennard and Roby in the Big 10 and held his own.
31. Denver Broncos -- Timmy Jernigan, DT, Florida State: Hard to believe Jernigan could fall this far but if Dallas moves up for Donald then Jernigan could fall into Denver's lap.
32. Seattle Seahawks -- Jace Amaro, TE, Texas Tech: Seattle might move out of this spot, but teams wanting in better realize the price went up when the class of 2011 put a fifth year option on 21 of the 32 first-round picks. If Seattle doesn't get a trade partner, Amaro is a 6-5 athlete with 106 receptions last year, and Wilson on the bootleg will have a big target crossing the field.
Brees is set to become a free agent next month but wants to stay in New Orleans

Gordon's various suspensions will once again prevent him from truly reaching free agency

The Colts traded for Brissett prior to the start of last season due to health concerns for...
Colvin was a big part of Jacksonville's defensive improvement but is likely moving on

Vinatieri is about to finalize a deal to return for his age-46 season

Freddie Roach is one of the most decorated boxing trainers there is