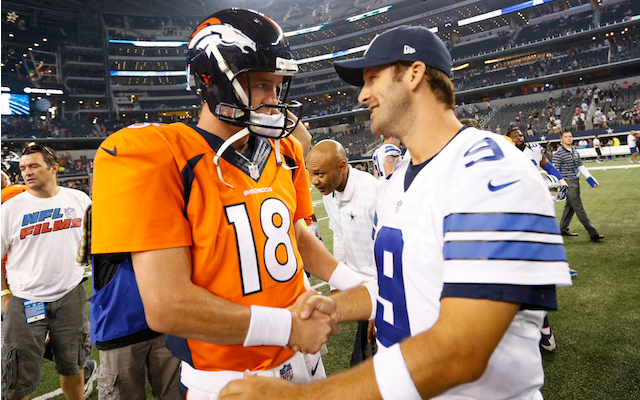 It's that time of year where everyone makes picks and we're no different here at CBSSports.com. Over the past week, we've made Super Bowl picks, MVP picks, rookie of the year picks and we even tried to pick which teams would be left undefeated after Week 4. 
Senior NFL writer Pete Prisco even took 47 hours out of his life to predict every NFL game being played this season. It's worth a read and if you want to click over now and check it out, I won't be offended. It will give me some time to listen to the Justin Bieber greatest hits album I just bought. 
Anyway, you came here for playoff predictions, so lets get to the playoff predictions. 
First, it's probably worth noting that since the postseason field expanded to 12 teams in 1990, there have been at least four new teams every year. That's every year for over two decades, so we can pretty much take that as fact at this point. 
This means that at least four teams from last year's postseason won't be returning in 2014. So let me be the first to apologize to Chiefs fans, Eagles fans, Chargers fans and Panthers fans. You guys aren't returning to the playoffs -- but I'm sure your season will be fun. 
So who's going to take their place? How are the Titans going to get in? Lets find out. 
Oh, and just for the record, I hit on nine of the 12 playoffs teams from last year. 
AFC
1. Denver Broncos (AFC West Champ): If the Chargers, Raiders and Chiefs formed an AFC West super team, I don't think that super team could beat the Broncos. If the super team can't win the division, then there's no way Kansas City, Oakland and San Diego can do it individually. If Peyton Manning's on the field and healthy, I'll never not be picking the Broncos to win the AFC West. 
2. New England Patriots (AFC East Champ): The Patriots have won the AFC East in 10 of the past 11 seasons dating back to 2003, I see no reason to pick against them this year. Seriously, try and talk yourself into picking a team quarterbacked by EJ Manuel, Geno Smith or Ryan Tannehill over a team quarterbacked by Tom Brady -- it's not possible.
3. Cincinnati Bengals (AFC North Champ): Every year, the Bengals are everyone's favorite pick to 'take a step back.' In 2011, the Bengals went 9-7 and very few people thought they'd be returning to the playoffs in 2012. Not only did the Bengals return to the postseason though, they actually got better at 10-6. In 2013, the Bengals actually got better too, going 11-5. Believe or not, the 2014 version of the Bengals is probably the best one Cincinnati has put together since 1988. Coincidentally, that was also the last time the Bengals went to the Super Bowl. 
4. Indianapolis Colts (AFC South Champ): In the two seasons since drafting Andrew Luck, the Colts have gone 11-5 twice and made the playoffs twice. So 11-5 and the playoffs? That sounds about right for 2014. 
5. Pittsburgh Steelers (Wild Card No. 1): If the Steelers the don't hit the nine-win mark this season, that would give the team three straight non-winning years for the first time since the 1969-71 seasons. I don't think that happens and it's mainly because of Pittsburgh's schedule. In the season's first seven weeks, the Steelers only play one team that finished with a winning record last year and that team -- Carolina -- doesn't look as strong as it did in 2013. 
6. Tennessee Titans (Wild Card No. 2): Jake Locker got this team off to a 3-1 start last season before going down with an injury in Week 4, and that only loss came in overtime. The Titans weren't beating bad teams either, they knocked off the Steelers and Jets, two teams that would finish 8-8, and a Chargers team that would eventually make the playoffs. If Locker stays healthy -- and that's an IF that Locker should probably get tattooed on his left hand as a constant reminder that he needs to stay healthy -- then this team can sneak in the playoffs. 
Just missed at No. 7: San Diego Chargers (In 2015, the NFL will likely be expanding to a playoff format that includes seven teams from each conference -- an expansion that will come one year too late for the 2014 Chargers)
NFC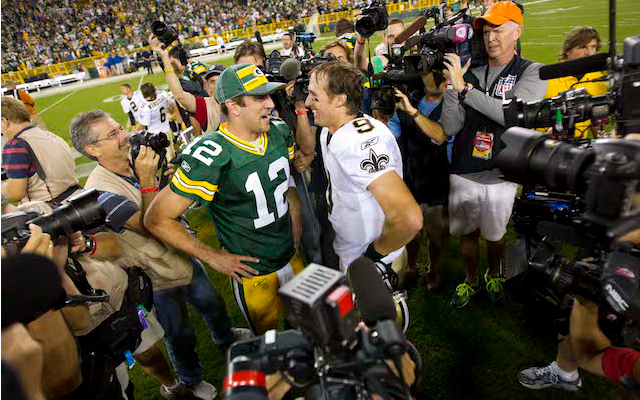 1. New Orleans Saints (NFC South Champ): The new contact rules in the NFL -- you know, the ones where defensive players aren't even allowed to breath the same air as a wide receiver -- are obviously going to benefit offenses and I think Drew Brees and the Saints offense will be one of the biggest benefactors. I won't be shocked if Brees breaks Peyton Manning's record for passing yards in a season, I will be shocked though if the Saints don't win the NFC South.
2. Green Bay Packers (NFC North Champ): The Packers won the NFC North last season despite the fact that Scott Tolzien, Matt Flynn and Seneca Wallace all started games in 2013. Seriously, SENECA WALLACE started a game even though he hadn't thrown a pass in a game since 2011. I think Aaron Rodgers stays healthy this season and the Packers roll to a first-round bye. 
3. Seattle Seahawks (NFC West Champ): No one here at CBSSports.com is picking the Seahawks to win the Super Bowl this year -- and people on Twitter took notice. 
SERIOUSLY?? Not a single one of you so-called "experts" even has the @Seahawks in the SB this year? #extramotivation http://t.co/HrQmcHIzDe

— Alaskan 12 (@tomrollman) August 27, 2014
Here's why I'm picking against the Seahawks: I don't think they're going to get home-field advantage like they did last season. If Seattle does earn the No. 1 overall seed in the NFC, then the NFL should just save everyone some time and cancel the NFC playoffs because the Seahawks will cakewalk to the Super Bowl. If they don't get home-field advantage though, and I don't think they will, then I can see them losing at Lambeau or the SuperDome in January. 
4. Dallas Cowboys (NFC East Champ): The Cowboys went 8-8 with a historically bad defense last year -- and when I say 'historically bad,' I mean the third-worst ever. Now, lets say the defense is just slightly better than historically bad in 2014 and they go 9-7. Then you have the Eagles, who went 10-6, thanks in large part to a ridiculously amazing season by Nick Foles. I think Foles can be good this year, but not ridiculously good. I think the Eagles also go 9-7, but Dallas wins the tiebreaker. I know, the Cowboys never win tiebreakers -- or Week 17 games when a playoff berth is on the line, but the law of averages has to work in their favor at some point, right?
5. San Francisco 49ers (Wild Card No. 1): As long as the 49ers defense doesn't collapse in the first few weeks without NaVorro Bowman and Aldon Smith, San Francisco should be OK. It's not going to be easy though, Smith will miss games against the Cowboys, Eagles, Broncos and Saints while Bowman will likely miss all of those games except for the Saints. Then there's the Ray McDonald domestic violence arrest, that's definitely not a distraction that's going to help things.  
6. Arizona Cardinals (Wild Card No. 2): If you watched the Texans last season, you may have noticed Matt Schaub seemed to throw a pick-six every week. Well, Carson Palmer is an expert at throwing pick-six's too. As of October 2013, he had thrown the ninth-most in NFL history. What I'm trying to say here is that if Carson Palmer doesn't spend all season giving away free points to the other team, then the Cardinals should be dangerous. 
Just missed at No. 7: Atlanta Falcons.  
AFC Wild Card
Bengals over Titans
Steelers over Colts
NFC Wild Card
49ers over Cowboys
Seahawks over Cardinals
AFC Divisonal Round
Bengals over Patriots
Broncos over Steelers
NFC Divisional Round
Packers over Seahawks
Saints over 49ers
AFC Championship
Broncos 34-27 over Bengals
NFC Championship
Saints 31-24 over Packers
Super Bowl XLIX
Broncos 30-20 over Saints
You can see a detailed explanation of my Super Bowl pick here, along with all the Super Bowl picks from the staff at CBSSports.com.