2014 NFL Schedule: Alex Smith at 49ers highlights reunion games
In 2012, 49ers coach Jim Harbaugh decided that Alex Smith wasn't his quarterback of the future. In Week 5, Smith will face the 49ers for the first time since being traded to Kansas City.
More NFL schedule: 10 best games | Ranking Thurs. | Reunion games | Full schedule
Before Wednesday, the only reunions anyone had to look forward to in 2014 involved Outkast, Fleetwood Mac and the Harvard class of 1974. By the way I'm only mentioning the Harvard class of 1974 because that reunion has its own website and I bet Harvard grad Ryan Fitzpatrick is their guest speaker.
Anyway, thanks to the NFL, we now have 10 more reunions to look forward to in 2014 and no, Fitzpatrick's return to Tennessee to take on the Titans didn't make the list. 
Top-10 Reunion Games of 2014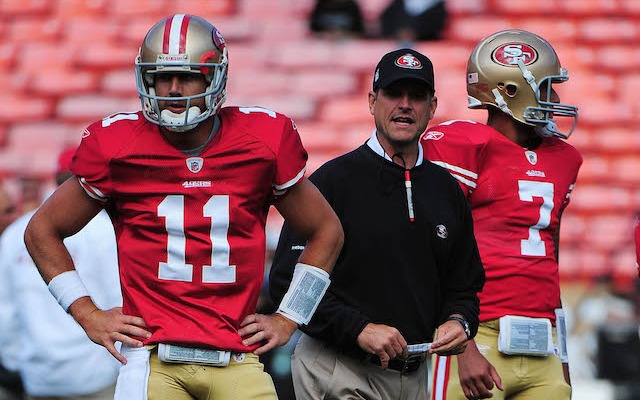 1. Kansas City at San Francisco (4:25 p.m., Oct. 5, CBS): "I feel like the only thing I did to lose my job was get a concussion." That was Alex Smith on Nov. 29, 2012. By the time Kansas City's game against the 49ers rolls around, Smith will have had one year, 10 months and seven days to plot his on-field revenge, so I expect it to be good. For those that need a quick refresher, Smith suffered a concussion during Week 10 of the 2012 season and never started for the 49ers again. With his final 28 passes in San Francisco, Smith went 26 of 28 for 310 yards and four touchdowns. Not bad numbers from the guy who the 49ers selected with the No. 1 overall pick in the 2005 NFL Draft.  
2. Washington at Philadelphia (1 p.m., Sept. 21, Fox): DeSean Jackson told Arsenio Hall on April 21 that there's going to be 'something special' about his two games against the Eagles. However, Jackson didn't say specifically what that 'something special' would be. Whatever that 'something special' is, I'm guessing it will involve several $20,000 bottles of champagne if the Redskins win. 
Desean Jackson partying with a $20k bottle of champagne last night pic.twitter.com/lT2yphBsa2

— Lee Harvey (@MusikFan4Life) April 18, 2014
3. Tampa Bay at Chicago (1 p.m., Nov. 23, Fox): Lovie Smith and Josh McCown are probably already in a locked room together drawing up an offensive gameplan for this November showdown. Actually, that's probably not true, Smith is a defensive coach and McCown is afraid of locked rooms. Anyway, Smith was dumped by Chicago in 2012, despite the fact that he went 10-6. And then there's McCown, who happens to be the only Bears starting quarterback who had a winning record in 2013. 
4. Carolina at Baltimore (1 p.m., Sept. 28, CBS): When Steve Smith said in March that there's going to be 'Blood and guts everywhere.' Was he A. Describing an episode of 'Game of Thrones' or B. Describing what would happen if he plays against the Panthers this year. This sounds like a trick question, but it isn't: The answer's B, which isn't good news for anyone that plays for the Panthers. 
5. Chicago at Minnesota (1 p.m., Dec. 28, Fox): If Jared Allen watched the Vikings offense last season -- and I'm guessing he did since he was on the team -- then I'm sure he noticed that Minnesota quarterbacks Christian Ponder and Matt Cassel got sacked quite a few times. As a matter of fact, Minnesota quarterbacks were sacked 44 times in 2013, the 10th highest total in the league. Allen's mouth is probably watering just thinking about that number, he might be able to reach half that total in two games against the Vikings. The new Bears defensive end has 45.5 sacks since 2011, the most in the NFL.   
6. Buffalo at Detroit (1 p.m., Oct. 5, Fox): It's probably best for both teams that this game isn't being played on Thanksgiving. In five seasons with the Lions, Schwartz went 1-4 in Thanksgiving Day games and the only win came against a Packers teams led by Matt Flynn, so I'm not even sure that technically counts. Schwartz was fired by the Lions in December and hired by the Bills to be the team's defensive coordinator in January. Buffalo will also be meeting up with fired defensive coordinator Mike Pettine when the Bills host the Browns in Week 13.
7. Denver at NY Jets (1 p.m., Oct. 12, CBS): One of things Eric Decker wants to prove in New York is that he can put up big numbers without Peyton Manning throwing him passes. A good time to prove that would be against Peyton Manning. Of course, leaving Denver might end up being a mistake, just ask Honey Boo Boo's mom. 
Eric Decker leaves Peyton Manning for Geno Smith. That's like leaving Kate Upton for Honey Boo Boo's mom.

— The Fake ESPN (@TheFakeESPN) March 13, 2014
8. NY Jets at Tennessee (4:05 p.m., Dec. 14, CBS): Chris Johnson probably would have been a better running back last season if had gotten to go up against the Titans defense, but that was impossible because Johnson played for the Titans. Tennessee's rushing defense ranked 20th in the league last year and since 2010, it's ranked 20th or lower. Johnson's career-high rushing total for one game is 228 yards, the new Jets running back will probably be hoping to double that against his former team.
9. Miami at Denver (4:25 p.m., Nov. 23, CBS): If you see Knowshon Moreno crying before this game, your first thought will probably be that he's crying because Ryan Tannehill's his quarterback and not Peyton Manning, but that's not it! Moreno cries before games because the 'emotion always gets' to him. However, at least one of those tears might be Manning-Tannehill related.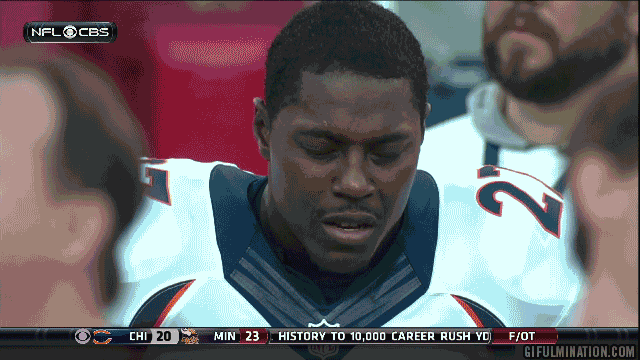 10. Houston at Oakland (4:25 p.m., Sept. 14, CBS): Houston used to have a problem and it was Matt Schaub throwing pick-six's, but now Schaub isn't the Texans problem because they traded him to Oakland in March. When Schaub's not throwing pick-six's, he's actually a decent quarterback, the question is can he be a decent quarterback for the Raiders. Schaub probably already has this game circled on his calendar, if he even has a calendar -- and if he does have a calendar, I wonder if it's a Texans calendar that maybe the team gave him for Christmas one year. Do NFL teams give calendars away for Christmas? I'll have to look into that. 
You can see the entire 2014 schedule by clicking here. 
The Chargers are finally looking like a playoff team after a 28-6 win over the Cowboys on...

The Vikings, led by Case Keenum, are one of the NFL's best teams

The Vikings' pass rusher revealed the latest addition to the family after sacking Matthew...
It's time to hook up that jersey of your favorite NBA player with some Black Friday deals

A Dallas Cowboys Salute to Service thermal pullover makes for the best early Black Friday...

It's time to hook up that jersey shirt of your favorite NFL player with some Black Friday...