2014 NFL schedule: It's not just who you play, but where and when
Super Bowl champ Seahawks will have a brutal stretch of games in the middle of the season, while the contending Colts catch a break.
• 5 min read
More NFL schedule: 10 best games | Ranking Thurs. | Reunion games | Full schedule
In the NFL, the schedule matters. Period.
The strength of a team's division, coupled with the division from the opposing conference their division happens to face any given year, is a big, big deal. It can make or break a season.
If, for instance, you don't think that part of the reason the New England Patriots have been such perennial contenders is due to the malaise infecting their division foes, or that, say, part of the reason the San Diego Chargers would look like world-beaters in the regular season only to collapse in the postseason was due to the fact the rest of their division was down, well, again, you're not seeing the larger picture.
It's hardly the end-all and be-all, but it makes a difference. The placement of a bye, the way home and road games are spread around, how many super-physical foes are placed back-to-back-to-back all add up. And, after doing a first perusing of the full NFL schedule released Wednesday night, there were a few areas in the schedule of a few teams that stood out to me. Admittedly, I'm focused on teams that have been contenders more years than not recently, and teams that have achieved at least a modicum of success.
We all know that by the time these games are play, many of the "easy" games on paper right now will turn out to be anything but, and some of the "difficult" games -- like some would have said of Houston and Atlanta heading into the 2013 season -- will end up being just the opposite.
That's part of the beauty and allure of the NFL, and there will be plenty of surprises ahead, but as it stands in April, still two weeks out from the draft and with these rosters anything but complete, here some key stretches that could settle the fate of these teams.
Good luck
Seattle, start and finish: It should be tough to repeat as Super Bowl champs, and the schedule doled out to the Seahawks proves as much. Look out. There are two pivotal stretches, and it just happens to be the beginning and the end.
Seattle opens against Green Bay, goes to San Diego and hosts Denver, and then, from Week 12-17 they have as brutal a series of games as I could imagine: Arizona, at San Francisco, at Philadelphia, San Francisco, at Arizona and St. Louis. Even with their extreme home-field advantage, the sheer physicality of some of those games will take a toll with in the NFC West, the best division in football.
Denver, Weeks 1-9: The Broncos aren't going to be cruising along, flirting with perfection and setting all sorts of offensive records out of the gate next season. The inferiority of their foes helped propel them early last year, and the Murderer's Row they face off the bat this season will do them no favors.
How will Peyton Manning fare against these pass rushes, and can he stay so injury-free again having to open up like this: Indianapolis, Kansas City, at Seattle, Arizona, at the New York Jets , San Francisco, San Diego, at New England. We'll find out if the Super Bowl blowout loss was an anomaly as they face elite defenses all over the place in that span, and some very difficult opponents overall.
NY New York Giants , Weeks 6-11: Some believe the Giants will bounce back this year after a dreadful start a year ago, and what appears to be a promising offseason to this point. But the middle of their schedule could end up telling the tale of the 2014 G-men. They go to Philadelphia, to Dallas, host Indianapolis, go to Seattle and host San Francisco. There could be an awful lot of Eli Manning Pick Six Specials in that span, and if the Giants aren't able to stabilize things here, it could render the rest of their season a moot point.
Cincinnati, Weeks 5-8, and December: The Cincinnati Bengals are aiming for a fourth straight playoff appearance, which is pretty amazing in its own right. But their inability to win a postseason game haunts them and if they can't get over that hump this season, what will that mean for coach Marv Lewis and quarterback Andy Dalton ?
After an early bye (Week 4), the Bengals go to New England, host Carolina, go to the Colts and host Baltimore, and in the final month of the season they get the Pittsburgh Steelers at home, go to Cleveland, host the Broncos in a game that might mean something for the Broncos and go to Pittsburgh. If they return to the playoffs, they'll have earned it (and Pittsburgh gets tested late as well, besides the two games with the Bengals they get the New Orleans Saints , Atlanta Falcons and Chiefs to close).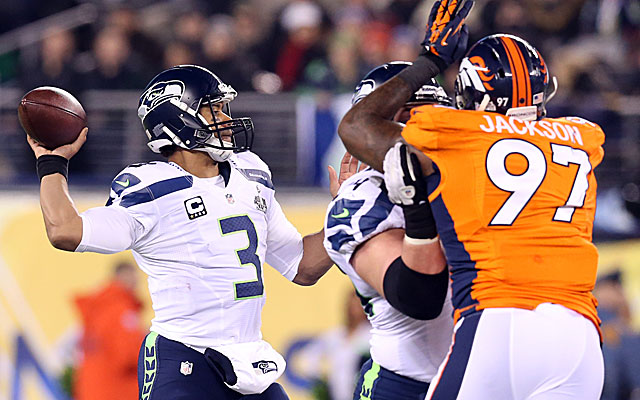 Looks good
New England, Week 1-7: The Pats might run away with the AFC East, again, and do it before Thanksgiving. Sure, they play four of their first six games on the road, but that should help them late, and they teams they are opening against don't exactly inspire fear. New England is on the road at Miami and Minnesota to start, both winnable, and they also get the Oakland Raiders , Chiefs, Buffalo Bills and Jets within the first seven weeks. A 6-1 start would have them sitting pretty, and I figure they win five or six of their first seven.
Indianapolis, Weeks 12-17: The Colts have quickly become a team to be reckoned with, and though they face quality opponents early on, they fact they play in the game's weakest division -- the AFC South -- will serve them well down the stretch. They get the Jags, Washington Redskins , Cleveland Browns (on the road), Houston Texans , Dallas Cowboys (road) and Tennessee Titans (road) to close out their season, which I believe will end with another division crown.
Baltimore, December: The Baltimore Ravens get their division games out of the way early, while foes Cincy and Pittsburgh battle it out late, and if the Ravens can hold serve in the AFC North and be half-decent on the road -- they are always stout at home -- than a return to the division crown might be in reach. They close at Miami, against Jacksonville, at the Texans and home to Cleveland, games that, at least in April, look like they might set up pretty well.
Carl Johnson, the NFL's former VP of officiating, is facing domestic violence allegations in...

The Falcons look like a team capable of repeating as NFC champions and returning to the Super...

After two consecutive weeks of ineptitude on offense, Giants fans are already sick of Ben...
Our computer model simulated every Week 3 NFL game 10,000 times with very surprising resul...

Without Nelson, the Packers' offense struggled in a loss to the Falcons

Kizer had to leave last Sunday's game after experiencing a migraine