2014 NFL schedule: Seahawks appear in four of 10 can't-miss games
A rematch of the 'Fail Mary' game is one of 10 can't-miss games. Other must-see matchups? Brady vs. Manning (Week 9) and Hawks at Niners (Week 13).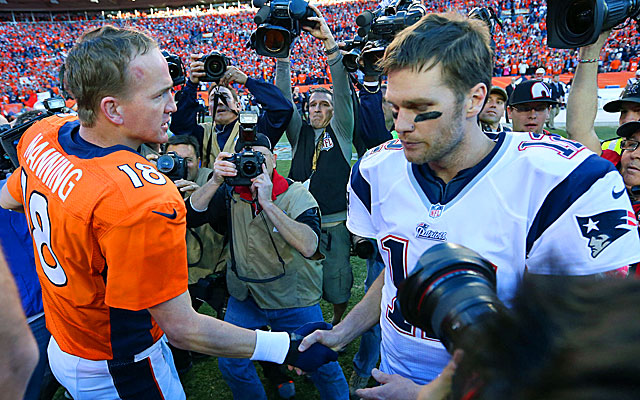 More NFL schedule: 10 best games | Ranking Thurs. | Reunion games | Full schedule
I love schedule-release day in the NFL, a time to map out your future, rush away your life and listen to fans complain about the hands their teams have been dealt.
Each year, I pick out the 10 can't-miss games for the upcoming season the day the schedule comes out, which I have done again here. These are what I think will be marquee games, headlined by four featuring the Super Bowl-winning Seattle Seahawks (and Seattle fans think I don't like their team).
This year, the choices were harder than ever to make. How do you cut it down to 10?
There are so many intriguing potential storylines out there that I didn't even include. I left off several good teams, including the Kansas City Chiefs, Cincinnati Bengals and perennial contenders Baltimore and Pittsburgh.
For the complainers, you try and cut it to 10.
I do know this: At least two or three of the teams I mention below will miss out on the playoffs.
I doubt it will be Seattle. But you never know (fire up the anger, Seattle).
Here are the 10 games I can't wait to see:
Week 1
Green Bay Packers at Seattle Seahawks: The last time the Packers were here we had "Fail Mary" and the replacement refs disaster. Now the Packers come back to face the Super Bowl champs to open the season. It won't be easy, that's for sure. What was lost in the "Fail Mary" game was how the Seahawks beat up Aaron Rodgers. The Packers need to work on that pass protection before this one.
Week 3
Washington Redskins at Philadelphia Eagles: These two are big-time rivals anyway, but now we have the DeSean Jackson factor. The Eagles let him go because they tired of his act, and the Redskins signed him as a free agent. This will be his return. The Eagles fans won't be nice.
Denver Broncos at Seattle Seahawks: The Broncos get the chance to make amends for the Super Bowl disaster -- even if a victory here wouldn't come close to doing that. But Denver has to show that their offense can have success against a dominant defense like Seattle. I can't wait to see what Denver has in terms of preparation this time around to counter the Seattle secondary. How about blocking that front? That might help.
Week 7
San Francisco 49ers at Denver Broncos: Peyton Manning vs. that defense will be fun to watch. The 49ers were close to getting Manning in the Super Bowl last season, and many think they were the second-best team to Seattle. Now they get a chance to stake their claim even more here. One more thing to watch: DeMarcus Ware and Von Miller chasing Colin Kaepernick around.
Week 8
Green Bay Packers at New Orleans Saints: First one to 50 wins. OK, so both teams think their defenses will be improved this season. I don't care. When it's Drew Brees against Aaron Rodgers on a fast track, I will take the passing game. Light up that scoreboard.
Week 9
Denver Broncos at New England Patriots: It's Peyton Manning vs. Tom Brady again. How could we not put this game on the list? Anytime these two get together, it's a treat. We don't know how many more they have left. Manning outplayed Brady to beat him in the AFC Championship Game last season, so this could be revenge for the Patriots. Why does this game always seem like it's played in New England?
Week 11
New England Patriots at Indianapolis Colts: The Patriots knocked Andrew Luck and the Colts out of the playoffs last season. In that game, Luck has some success for the Colts, but also made some bad throws. The Colts defense couldn't stop the Patriots running game. I love games matching a young, rising star at quarterback against a star passer coming to the end.
Week 12
Arizona Cardinals at Seattle Seahawks: The Cardinals went to Seattle late last season and won a tough, physical defensive game to hand the Seahawks their only home loss. Arizona just missed out on the playoffs last season, and coach Bruce Arians thinks this team is even better, so this is a chance to prove it. Win at Seattle again, and there will be believers.
Week 13
Seattle Seahawks at San Francisco 49ers: What a treat for Thanksgiving night with our full bellies and a day of football behind us already. What's not to love when these two get together? You have Richard Sherman vs. Michael Crabtree, two coaches that don't really like each other (despite what they say) and two nasty, physical defenses on arguably the two best teams in the league heading into 2014. Get the body bags ready. I doubt this will be a feel-good holiday for these two.
Week 16
Atlanta Falcons at New Orleans Saints: Why is this game on here? For starters, these teams hate each other. It's also because the Saints are coming off a playoff season and will again be one of the league's best teams. I also think the Falcons will bounce back from their sub-par 2013 season to be a playoff team again. I picked this one over the game in Atlanta that opens the season because who doesn't love a party in New Orleans?
Martz unloaded on the Rams for hiring the youngest coach in the league

Jackson is deciding between Brock Osweiler, Cody Kessler, and DeShone Kizer

The Giants star receiver says he hopes his sprained ankle isn't serious after a scary hit Monday...
The Giants got a scare in the second quarter against the Browns

Welcome to the NFL's version of a dress rehearsal

The Browns protested the anthem on national television