2014 NFL Trade Deadline: Vincent Jackson, Zac Stacy garnering interest
Names like Vincent Jackson, Zac Stacy, Doug Martin and Matt Schaub are floating around in advance of the 2014 NFL trade deadline.
• 2 min read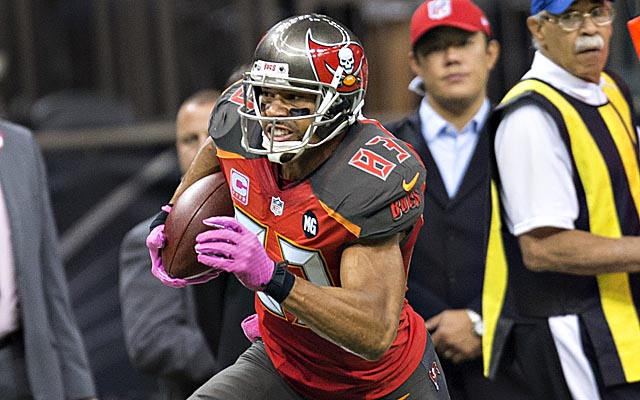 Traditionally there is little action at the NFL's trade deadline, even with it pushed back two weeks in recent years to try to spur more activity. Seattle's trade of Percy Harvin to the Jets is likely to serve as the biggest move before Tuesday afternoon's deadline. However, there have been some calls exchanged between teams and that will certainly pick up Monday and Tuesday, particularly as injuries inevitably mount.
Seattle Seahawks: The Seahawks remain among the more active teams, always aggressive, not-trade averse and looking to buttress their roster before the deadline. Specifically, league sources said Seattle has been seeking help at tight end or with a pass rusher if possible, and while there is nothing imminent at this point, calls will continue early next week.
Vincent Jackson, Buccaneers: A few teams, though not Seattle, have called the Buccaneers seeing what it might take to land receiver Vincent Jackson, who Tampa is very happy with and is not shopping. A trade seems unlikely at this point, given it would take a fair amount of compensation to land Jackson (likely a second-round pick), sources said, but is not out of the question. The Bucs are hesitant to make moves given they're still only two games out of first place in the woeful NFC South, but should they lose Sunday and the Panthers and/or Saints win, then the potential for a move could increase (running back Doug Martin could be a trade possibility as well, sources said). Dealing Jackson would free up about $5M in money, and any team acquiring him would have flexibility given there is no guaranteed money or signing bonus attached to Jackson's annual salary of $9.8M for 2015 and 2016.
Zac Stacy, Rams: With Zac Stacy falling out of favor in St. Louis and not playing last week, it's likely they fielded some calls about his availability.
Matt Schaub, Raiders: The Raiders would be willing to deal expensive back-up quarterback Matt Schaub, sources said, but there is not much of a market for him.
Brandon Graham, Eagles:  Several teams that had been dangling players in trade earlier in the season, like Philadelphia with linebacker Brandon Graham, have since told teams they are reticent to deal him, sources said.
One of the primary factors holding back trades is the fact that so few teams are really out of the hunt. The Raiders, Rams, Titans, Jaguars, Redskins and Jets would qualify as out of it. But many lack true commodities to trade for issues of age, salary or performance, and those that do, like Washington, do not intend to shop high-salaries players before the deadline, sources said, despite their woeful season.   
The Cardinals GM explains his process for finding Carson Palmer's successor

Stefen Wisniewski narrowly missed out on a chance to earn $250K, but the Eagles gave it to...

Shazier heads into the Steelers' facility every day and helps with 'personnel stuff'
Foles's life has completely changed by leading the Eagles to a win over the Patriots in Super...

For all of the attention Patrick Mahomes will receive, fixing the defense has to be Kansas...

Watt raised more than $37 million in the aftermath of Hurricane Harvey