2014 NFL Training Camp Battles: Can Derek Carr win the Raiders QB job?
Can Derek Carr win the starting quarterback job in Oakland or will Matt Schaub put his pick-six's from 2013 behind him and win the Raiders starting spot?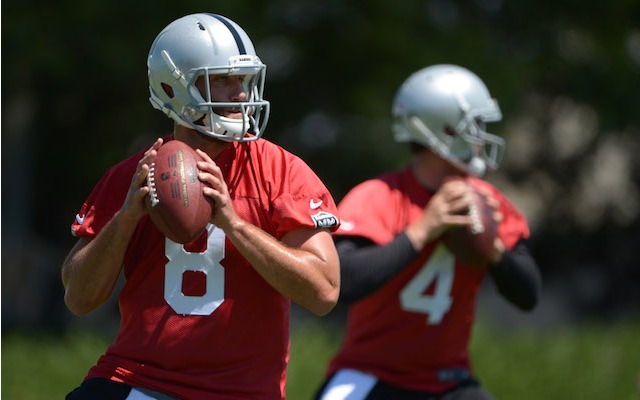 More NFL: Photos |   Videos & GIFs |  Stories | Training Camps | Johnny Manziel watch 
If right guard competitions are what get your football juices flowing, then the AFC West is definitely the division you should be following during training camp this year. Both the Chargers and Chiefs could have new right guards when the 2014 season kicks off in September. 
The most intriguing camp competition in the division though will probably be happening in the wine capital of the world as Derek Carr and Matt Schaub duel it out to win the Raiders starting quarterback job at the team's training camp in Napa, California.
As for the Broncos, their biggest problem heading into camp is that they don't have any problems. Well, they do, but they don't have many and none of Denver's problems are glaring. 
Training camp kicked off in the AFC West this week, so lets take a look at the best competitions happening around the division.
CAMP BATTLES TO WATCH: AFC WEST
OAKLAND RAIDERS
Key battle: Matt Schaub vs. Derek Carr, quarterback.
Conventional wisdom says Matt Schaub will be the Week 1 starter in Oakland, but the Raiders don't use conventional wisdom so I'm not going to either.
Coach Dennis Allen has already proved once during his Raiders tenure that he's not going to start a quarterback just because the Raiders traded for him and just because they owe that quarterback a lot of money. 
Last season, Terrelle Pryor won a quarterback battle with Matt Flynn, even though Flynn went into camp as the starter. 
If Carr looks better than Schaub, then there's no reason not to play him and by all accounts, Carr has looked pretty solid so far. Just ask Raiders offensive coordinator Greg Olson. 
"I really, really like him," Olson said of Carr in June. "Everybody knew he was accurate, but he is more accurate than we thought... We'll have to wait and see how he does against a live rush, but so far his intelligence, accuracy and quickness in getting the ball out has been excellent."
For a rookie quarterback, it doesn't get much better than a nice June compliment from your new offensive coordinator.  
Predicted outcome: Schaub is the unquestionable favorite in this battle, but after setting the NFL record for most consecutive games with a pick-six, it's not clear where his confidence is. That's not to say Schaub doesn't have confidence because he probably has a lot of it, but what will happen to the confidence if he makes a big mistake in Week 1 or 2 of the preseason or early in the regular season.
If that happens, Schaub might be able to mentally overcome it, but it will be hard for the Raiders coaching staff to do the same. The guess here is that Derek Carr is Oakland's starting quarterback sooner rather than later and it wouldn't be a complete shock to see him under center in Week 1 against the Jets. 
Other battles to watch (Predicted winner in bold): Running back -- Darren McFadden vs. Maurice Jones-Drew vs. Latavius Murray. Jones-Drew is one birthday away from turning 30, which is almost the same as turning 65 and joining AARP in the real world. Backs get old quickly in the NFL and there's no reason to think MJD will be any different. The question is: Does he have one or two more good seasons left? The guess here is that Jones-Drew wins the job, but his body won't take a beating because he'll be splitting carries with McFadden and to a lesser extent, Murray. 
SAN DIEGO CHARGERS
Key battle: Jeromey Clary vs. Johnnie Troutman vs. Chris Watt, right guard.
The Chargers probably weren't planning on having a competition at right guard, but it's going to happen thanks to Clary's health. The 2013 starter underwent hip and shoulder surgery in June and was placed on the PUP list on Wednesday. 
It's not clear when Clary will be back, which opens the door for either Troutman or Watt to win the starting spot. Clary has had his share of struggles, at least according to Pro Football Focus. PFF graded Clary out as one of the 10 worst offensive guards of 2013. 
If Troutman or Watt wins the job, it could be a blessing in disguise for the Chargers -- a salary cap blessing. With Troutman or Watt starting, Clary could become expendable, which would leave the Chargers with an interesting decision, considering Clary counts $6.55 million against the cap this season. Both Troutman and Watt count for under $600,000. 
Predicted outcome: Coming back from one surgery is difficult enough, but Clary's trying to come back from two different procedures. It's hard to imagine the 30-year-old lineman beating out one of the younger guys. Troutman started nine games for the Chargers last season and looks to be the frontrunner at right guard. 
Other battles to watch (Predicted winner in bold): Safety -- Jahleel Addae vs. Marcus Gilchrist. The loser of this battle will end up playing in 2014, just not as a starter. The Chargers coaching staff is high on Addae, a 2013 undrafted free agent from Central Michigan. 
KANSAS CITY CHIEFS
Key battle: Rishaw Johnson vs. Zach Fulton vs. Jeff Linkenbach, right guard.
The most interesting battle in Kansas City might be the competition going on for the backup quarterback job, but that's not the most exciting. You know what's exciting? Right guard battles. You can never have too many right guard battles in one division.  
While the Chargers job came open because of an injury, the Chiefs job is open for a different reason: Free agency. The two players who handled most of the right guard duties for the Chiefs last season -- Jon Asamoah and Geoff Schwartz -- are now playing for the Falcons and the Giants, so the Chiefs need to find someone on their team who can play right guard. 
That might sound easy, but it's not. Johnson has made one start in two seasons. Fulton is a 2014 sixth-round pick and Linkenbach is in his first-year with Kansas City after starting 33 games over four seasons in Indianapolis. All three saw first team reps in June, so it's almost impossible to say who has the advantage. 
Predicted outcome: The guess here is that Johnson wins the job. The former practice squad player in Seattle spent all of last season in Kansas City and even started in Week 17. That Week 17 game was the one where the Chiefs lost to the Chargers in overtime in a game that shouldn't have gone to overtime -- at least not on paper. The Chargers needed a win to get to the playoffs and Kansas City was starting its backups. Johnson played a decent game and that one start might just be the springboard he needs to win the job during training camp. 
DENVER BRONCOS
Key battle: Ronnie Hillman vs. C.J. Anderson, No. 2 running back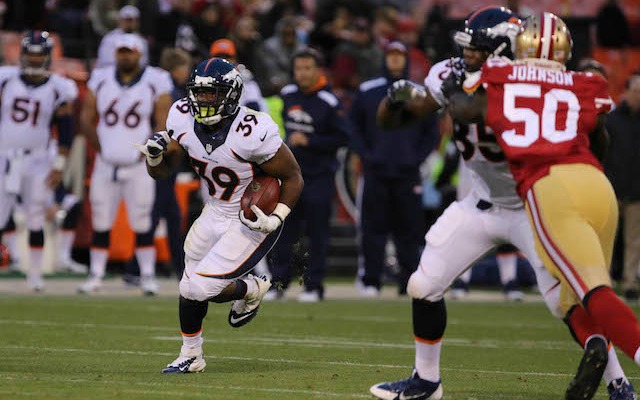 You're probably thinking, "Why do the Broncos even need a running back at all, they have Peyton Manning, they can just throw it on every down." While that's sound logic, the fact of the matter is that the Broncos will run the ball in 2014 and when they do, they're going to need a back to help take the load off of starter Montee Ball. 
Ball was the No. 2 running back in 2013, but with the departure of Knowshon Moreno, Ball's been elevated to No. 1, meaning someone has to replace him at No. 2. 
The No. 2 back job is usually a pretty big one in Denver. Since Manning's arrival in 2012, the No. 2 back has been given at least 120 carries and ran for at least 525 yards. 
Hillman has the advantage of two full seasons in the Broncos offense, but that might not be enough to hold off Anderson. The former Cal running back averaged 5.7 yards per carry in college and was impressing the coaching staff during camp last season before suffering a sprained MCL that sidelined him for six weeks.
The injury happened just one week after Anderson ran for 69 yards on seven carries against the 49ers in the first preseason action of his career. 
Predicted outcome: Hillman might the early favorite, but the guess here is that Anderson wins the spot. If he's going to do that though, he'll have to prove he can pass block because this is Denver and that's 50 percent of being a running back in Peyton Manning's offense.
On the other hand, maybe neither Anderson or Hillman wins the job. The Broncos are famous for churning out no-name running backs and they have several possibilities in 2014 with undrafted backs Juwan Thompson, Brennan Clay and Kapri Bibbs. 
Everything you need to know for Week 7 of the 2017 NFL season is here

The Cardinals now have to turn to Drew Stanton to keep their slim playoff hopes alive

Jacksonville took Jacoby Brissett down to the ground 10 times on Sunday
Let's check in on Cleveland's ever-changing quarterback situation

Thomas is a first-ballot Hall of Famer who hadn't missed a snap since coming into the league...

The Eagles quarterback honors Lukas "The Dutch Destroyer" Kusters after the latter's battle...