2014 NFL Training Camp Battles: Can Trent Cole keep his starting job?
As the Eagles defense looks to improve in 2014, Trent Cole will have to fend off Brandon Graham and Marcus Smith for his linebacker job.
• 6 min read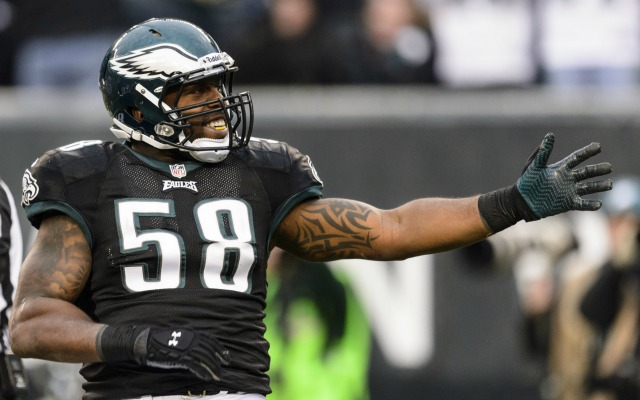 More NFL: Photos |   Videos & GIFs |  Stories | Training Camps | Johnny Manziel watch 
The NFC East was one of the most disappointing divisions last season. Sure, Chip Kelly made a big splash in his first season in the NFL, and the Eagles won 10 games before they were bounced out of the playoffs in the wild-card round. But the Redskins took a mind-blowing step back, going 3-13 and firing coach Mike Shanahan. The Giants (and quarterback Eli Manning) played some of the worst football in the league before rallying to fall just below the .500 mark. And once again, the Cowboys blew a chance in Week 17 to make the postseason for the first time in five years.
Will the division be any better this season? The Eagles very well could take the next step and become a true NFC conference contender, but the rest of the NFC East could be mediocre or worse. Here's something (we think) we know. If Dallas misses the postseason again, it'll be tough for coach Jason Garrett to keep his job, meaning that 3/4 of the division will have changed coaches since the end of the 2012 season.
CAMP BATTLES TO WATCH: NFC EAST
PHILADELPHIA EAGLES
Key battle: Trent Cole vs. Brandon Graham vs. Marcus Smith, outside linebacker
Cole has been a fixture on the Eagles front seven for the past nine years, and for a five-year period, he was one of the most consistent pass-rushers in the league, recording at least nine sacks per season from 2007-11. But the 31-year-old has begun to slow down in the past two years, and his starting spot is in jeopardy. While the rest of the linebackers should be set with Connor Barwin, DeMeco Ryans and Mychal Kendricks, Graham (Philadelphia's first-round pick from 2010) and Smith (Philadelphia's first-round pick from 2014) could make Cole's life more difficult.
Predicted outcome: Marcus Smith wins. Cole's talents have been steadily declining, and Smith's versatility will win him the job (while Cole likely will still find plenty of playing time). Also, of course, there was a reason Kelly picked Smith with the No. 26 overall pick. It's because the team likes him.
Other battle to watch: Mark Sanchez vs. Matt Barkley, backup QB
Nick Foles took the Eagles starting quarterback job from Michael Vick and put together an unexpectedly fantastic season. Now, Sanchez, who missed all of last season with a shoulder injury and lost his starting Jets quarterback job to Geno Smith, will try to hold off Barkley for the No. 2 spot in Philadelphia. Coach Chip Kelly took Barkley with a fourth-round pick in 2013, and when he played last season, he struggled. At this point, there's not much indication Barkley is a legit NFL starter. We know Sanchez can be because he has been -- even if he's not necessarily an effective one.
Predicted outcome: Mark Sanchez wins. Yes, Sanchez has disappointed for most of his career, but he'd actually be one of the better backups in the league. Ask yourself this: if Foles gets injured and has to leave the game and/or miss games, would you really feel more comfortable with Barkley than Sanchez? If so, please explain, because I certainly don't understand your reasoning.

DALLAS COWBOYS

Key battle: Justin Durant vs. Anthony Hitchens, middle linebacker
Two months ago, this position wouldn't have been up for grabs entering training camp. But with Sean Lee's torn ACL, the middle of Dallas' defense now has a real question mark. That means Durant, who recorded 103 tackles for the Lions in 2012, has a real chance to find another starting job. One issue, though, is that Durant doesn't have much experience at the middle linebacker spot, while Hitchens, the team's 2014 fourth-round pick, was a weakside linebacker in college. So, um, not good. Also, don't forget that the Cowboys also employ former Raiders first-round pick Rolando McClain. It's not out of the realm of possibility that he could compete for playing time at this spot.
Predicted outcome: Justin Durant wins. The team reportedly is worried about his pass-coverage skills, but there will be real questions about whether Hitchens is ready to play at this level as a starter. Either way, the team can't expect Durant to play at Lee's level, so whatever positives the Cowboys can get out of Durant will have to be good enough.
NEW YORK GIANTS
Key battle: John Jerry vs. Brandon Mosley, right guard
Chris Snee, who is expected to retire Monday, has been a solid guard for New York for most of the past 10 years, but he's badly struggling with his surgically-repaired elbow, and before training camp even began, he reportedly decided his body has been through enough.  Thus, look for Mosley, who's worked in Snee's No. 1 spot for the offseason, to battle with former Dolphins guard John Jerry for the opportunity to take the job. Graham, the team's fourth-round draft pick from 2012, has battled injuries and hasn't played much, but when he has been on the field, he's been effective enough.
Jerry, meanwhile, is coming off knee surgery, and he was involved in the Dolphins bullying scandal from last season while ranking 44th out of the 81 guards measured by Pro Football Focus. Also, remember that Weston Richburg, the team's second-round draft pick, could move from center to guard if need be.
Predicted outcome: Brandon Mosley wins. The team appears to like him, and as long as he can stay healthy, Mosley should be the Giants' best option.
WASHINGTON REDSKINS
Key battle: Tyler Polumbus vs. Morgan Moses, right tackle
Although Moses, the team's third-round pick, spent his entire final season at Virginia as a left tackle, he spent most of his college career as a right tackle. So, he has plenty of experience there. Polumbus actually was ranked as the fifth-best right tackle last season according to the Pro Football Focus metrics, but in 2012, he was rated as the fourth-worst overall tackle in the game. Either way, he's not one of the elite tackles in the NFL, and Moses has that kind of long-term potential.
Predicted outcome: Tyler Polumbus wins. At least one draft analysis believed Moses was one of the top-15 players in the 2014 draft, but there were concerns about his work ethic and his run blocking skills. Polumbus is not the long-term solution -- though his solid 2013 season seems to have bought him another year as a starter -- but he could serve as the temporary place-holder for Moses.
Other battle: Akeem Jordan vs. Keenan Robinson vs. Darryl Sharpton, inside linebacker
After the retirement of standout veteran linebacker London Fletcher, there's a hole in the middle of the linebacker unit that one of the above men will have to fill. Perry Riley likely will take the other inside linebacker spot, leaving Jordan (who arrived in Washington after one season in Kansas City), Robinson (a 2012 fourth-round pick who's torn two pectoral muscles since he was drafted) and Sharpton (who took over for the injured Brian Cushing last season in Houston) to try to win the job.
Predicted outcome: Keenan Robinson wins. Robinson has only played 69 snaps in his career, but coaches seem to like him and he worked with the first team all offseason. His athleticism and versatility will help win him this job.
Jeremy Kerley wins the award for most creative excuse for failing a PED test

Here's every official injury designation for each NFL team for Week 15

Chicago's young QB has steadily improved his game and was superb against the Bengals a week...
This why more people should get married at football games

Larry Hartstein has his finger on the pulse of the Bears and has a strong pick for Bears-Lions...

Peyton Manning has taken his talents to Hollywood