2014 NFL Training Camp Battles: Who will be the Vikings starting QB?
Mike Zimmer has a big decision to make in his first-year as a head coach: Should he start Matt Cassel, Teddy Bridgewater or Christian Ponder?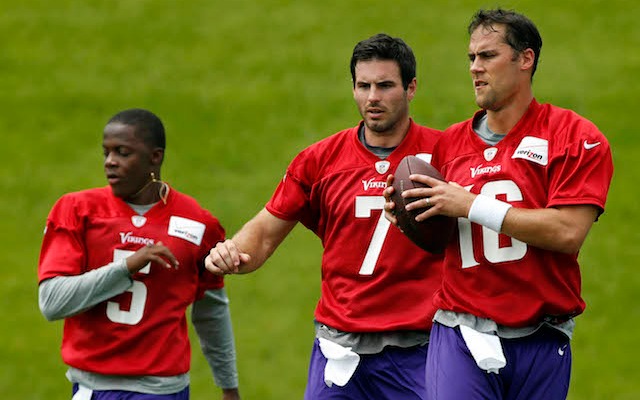 More NFL: Photos |   Videos & GIFs |  Stories | Training Camps | Johnny Manziel watch 
The Detroit Lions need a kicker, the Minnesota Vikings need a quarterback and Aaron Rodgers would like his starting center to stick around for more than one season. You would too if you were going on your fourth center in four years.
The Chicago Bears don't need a center, but they do have have a few question marks in the secondary and they're hoping one of the five safeties they added this offseason will provide the answer.
Training camp kicks off in the NFC North this week, so lets take a look at the best competitions happening around the division. 
CAMP BATTLES TO WATCH: NFC NORTH
MINNESOTA VIKINGS
Key battle: Matt Cassel vs. Christian Ponder vs. Teddy Bridgewater, quarterback
"Can we just run a single-wing offense and directly snap the ball to Adrian Peterson on every play?"
That thought probably ran through the head of a few Vikings fans last season as Cassel, Ponder and the now departed Josh Freeman combined to lead the team to a 5-10-1 record. And it was an ugly 5-10-1 record. 
Of those three quarterbacks, Cassel had the most promising season in 2013 and appears to be the front-runner to win the job in 2014 -- but don't call him the starter, though. First-year coach Mike Zimmer made it clear in June that there will be an open competition for the job during training camp.  
"I want to give everybody an opportunity and make sure it's a legitimate opportunity for all of them and start narrowing down the reps as we get going," Zimmer said. "The thing I want to guard against most is rushing into a decision where we make a decision quickly as opposed to making the correct decision."
Zimmer must have forgotten to tell Ponder that it would be an open competition because Ponder seems to be under the impression that Cassel's the starting quarterback.
"We'll see how it plays out once it goes to training camp," Ponder told the St. Paul Pioneer Press when OTA's ended. "but obviously there's an agenda to try to get Teddy ready, and Cassel's the starter right now."
So Ponder's vote seems to be anyone but him. 
Predicted outcome: This battle comes down to Bridgewater or Cassel and the guess here is that Norv Turner goes with the veteran. If Turner's proven one thing in over 20 years as an offensive coordinator, it's that he doesn't need an MVP running his offense. 
From 1991-2006, Turner held six different jobs and in each of those jobs, the team he took over for improved an average of 10.5 spots in its total offensive ranking in Turner's first year. Not only that, but Turner orchestrated these offensive turnarounds despite having quarterbacks like Heath Shuler, John Friesz, Jay Fiedler and Kerry Collins.
With Peterson taking heat off of Cassel or Bridgewater, there's no reason Turner can't run a successful offense in Minnesota. 
If the Vikings do go with Cassel, that doesn't mean we won't see Bridgewater. Minnesota has a rough slate to open the season (at St. Louis, New England, at New Orleans, Atlanta, at Green Bay) and if the Vikings struggle -- think 0-5 or 1-4 -- then Cassel could be sent to the bench for the rest of the season. 
DETROIT LIONS
Key battle: Nate Freese vs. Giorgio Tavecchio, kicker
The Pope probably doesn't have a rooting interest in Detroit's kicking competition, but maybe he should because Lions kicker is one of the few jobs in America that's as rare as the papacy. Since 1980, the Lions have only employed three placekickers. That's the same amount of Popes who have served in Vatican City. 
The point here isn't that you should've been praying during every single one of David Akers ' field goal attempts last season, the point is that the job doesn't come open often. Former kicker Eddie Murray held the spot from 1980 to 1991. Murray was then followed by Jason Hanson, who kicked for the Lions from 1992 to 2012. 
After Hanson retired following the 2012 season, Detroit signed Akers, who was canned after only one year in Detroit. That brings the Lions to where they are now: A kicking competition between two players who have never attempted a kick in a regular season game. 
Over the past two seasons, Tavecchio has been in training camp with both the San Francisco 49ers (2012) and Green Bay Packers (2013), giving him a slight, slight edge in experience. 
On the other hand, the Lions spent a draft pick on Freese -- he's a seventh-rounder out of Boston College -- so the team obviously feels confident in his abilities. 
Predicted outcome: Although the Lions drafted Freese, that doesn't mean they're going to hand him the job. A kicking competition is more black-and-white than most other competitions. Coaches want to see height, accuracy, consistency and power out of their starting kicker. Past NFL accomplishments are also nice to look at, but Freese and Tavecchio don't have those.
The prediction here is Tavecchio, who almost won the Packers job last year. Keep in mind though, whomever wins this job will be on a short leash.  
GREEN BAY PACKERS
Key battle: J.C. Tretter vs. Cory Linsley, center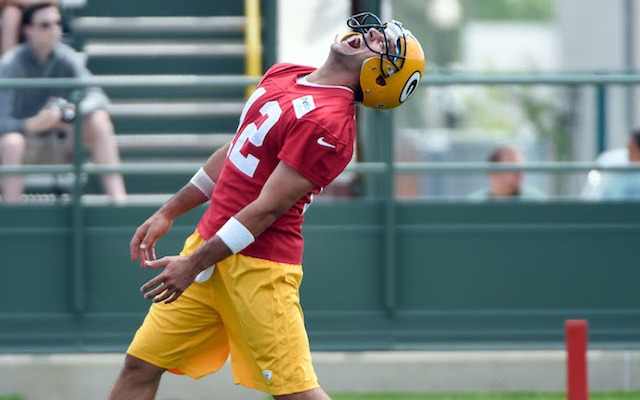 When it comes to centers in Green Bay, the only continuity is that there is no continuity. Whoever starts for the Packers in Week 1 will be the fourth different opening week center over the past four seasons.
"It's tough," Rodgers said of going through so many centers. "I think as a quarterback you really appreciate when you can have some continuity there and some consistency as far as the same guy being there for multiple years."
The two candidates for the job in 2014 are two players who have never played an NFL snap before at any position.
Tretter was a fourth-round pick in the 2013 draft, but he didn't see the field last season thanks to a broken fibula he suffered in May 2013. If there's a knock on Tretter, it's that he's never played center before. During his college career at Cornell, Tretter played left tackle. 
The Packers added Linsley in the 2014 draft. That pick came after the team decided to let 2013 starting center Evan Dietrich-Smith walk in free agency. Linsley was a two-year starter at Ohio State. 
Predicted outcome: If minicamp was any indication, then Tretter definitely has the advantage in this competition. The second-year player spent almost the entire offseason as the No. 1 center. It also doesn't hurt that Tretter has had a year to learn the Packers offense. The likely starter? Tretter. 
Other battles to watch (Predicted winner in bold): Safety -- Ha Ha Clinton-Dix vs. Micah Hyde . Tight end -- Andrew Quarless vs. Richard Rodgers vs. Colt Lyerla vs. Brandon Bostick .
CHICAGO BEARS
Key battles: Brock Vereen vs. Chris Conte , free safety. Ryan Mundy vs.  Adrian Wilson , strong safety. 
If you lost track of what the Bears did in free agency back in March, here's a brief summary: They signed a lot of safeties.
Not only did Chicago sign Ryan Mundy,  M.D. Jennings  and  Danny McCray , but the team also re-signed Craig Steltz . Lets not stop there though, the Bears also added a safety in the draft and that safety was Vereen, who was taken in the fourth round.
Oh wait, and we're still not done. Chicago also added five-time Pro Bowl safety Adrian Wilson in late June. 
Wilson's coming off an Achilles injury that cost him the 2013 season, so it's unclear if he's going be 100 percent going into training camp -- and even if he is 100 percent, it's possible the 34-year-old will have lost a step. 
At free safety, Conte will also be coming off an injury and likely won't be ready for the start of training camp. The 25-year-old underwent shoulder surgery in March and was expected to be out about four months.   
Predicted outcome: It's not likely that Mundy's going to lose the strong safety job to a 34-year-old coming off of Achilles surgery, so look for him to earn the starting spot. As for free safety, it's a tough position to predict without knowing where Conte is health-wise. That being said, defensive coordinator Mel Tucker seems to be a fan of Vereen, so it wouldn't be surprising at all to see the rookie win the job. 
It sure looks like the former top pick will be benched heading into the regular season for...

Someone asked him to start the press conference of course

Derrick Johnson wants to discuss players' First Amendment rights amidst the protests
High praise from one of the most athletically gifted quarterbacks ever to step on a football...

Nobody will mistake Joe Looney for his star teammates

Osweiler is being benched in favor of DeShone Kizer