2014 NFL training camps: How clubs can cope with festering LB crisis
Four clubs already have lost top LBs, like the Bills' Kiko Alonso. When the hitting starts, that number could rise, giving veteran free agents like Jonathan Vilma a new lease on life.
More NFL offseason: Training camp dates, locations | Latest news, notes
The first to report to camp, the Buffalo Bills are also among teams with a major hole to fill at linebacker, thanks to a season-ending knee injury to Kiko Alonso . The Bills are not alone, as the Atlanta Falcons ( Sean Weatherspoon ), Dallas Cowboys ( Sean Lee ) and Arizona Cardinals ( Daryl Washington ) all have lost their best linebackers for 2014 before anyone put on the pads.
With camps starting this week, there are sure to be more linebacker injuries when the hitting starts. I talked to former New York Jets GM Mike Tannenbaum about the brewing linebacker crisis, and he agreed it's time for these clubs to make a list of tradable position players, and it's also time to study depth charts around the league, looking for teams with a potential surplus at linebacker.
These four front offices should be working overtime to have answers especially if they lose another linebacker when practice starts. When I worked in pro personnel I would break down this situation into five paths to follow:
1. Check other clubs for veteran roster depth: After combing all 32 teams for a short list of potential candidates, reach out to GMs of teams on that list to check availability. Let them know they should look at your roster for a player or two who may fit a position of need for him. Here's a short list of linebackers who could be available in late August when clubs are confident they haven't incurred any injuries at linebacker heading into the season: Kevin Burnett ( Oakland Raiders , 75 NFL starts), Joe Mays ( Kansas City Chiefs , 35 starts), Kelvin Sheppard ( Indianapolis Colts , 31 starts), Jamar Chaney ( Denver Broncos , 23 starts) and Casey Matthews ( Philadelphia Eagles , five starts).
2. Look for players on the bubble: Some teams may have a player who doesn't fit their roster because of a scheme change or lack of production. I would have to make a call to Chicago about Shea McClellin , just in case the former first-round pick (6.5 sacks and 40 tackles his first two seasons) isn't working out.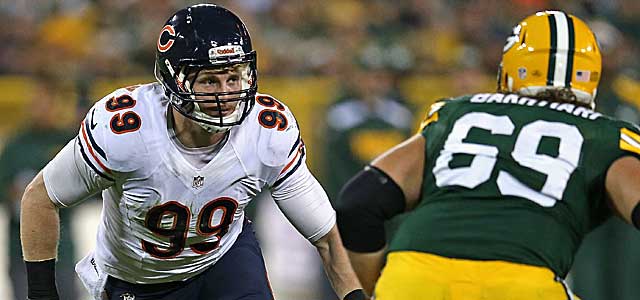 3. Scout practice squads: I'd set up a program to make sure I knew what rookie linebackers might be cut to pass through to the practice squad. The No. 1 guy on this list right now is Max Bullough, the undrafted former Michigan State inside linebacker with the Houston Texans . No. 2 would be former UCLA LB Jordan Zumwalt ( Pittsburgh Steelers ). Also keep an eye out for late- round picks like Corey Nelson (Broncos), Brandon Watts ( Minnesota Vikings ), Devon Kennard ( New York Giants ) and Trevor Reilly (Jets).
4. Check out free agents: Bring in some unrestricted free agents for a physical and workout. Jonathan Vilma and Pat Angerer top this list. They may not be 100 percent healthy, but a physical might indicate when they could be ready. These two can still call a defense and get players lined up and that could be critical for a few teams. Other candidates in this category: Nick Barnett , Marvin Mitchell and James Harrison .
5. Make sure retired guys want to stay that way: Find out if retired players have any desire to play, and are they still property of a club. Former Washington Redskins linebacker London Fletcher and Takeo Spikes, most recently of the San Diego Chargers , are the first two on this list.
There are drawbacks to any of these linebackers, but beggars can't be choosey and this situation is fast becoming a full-blown crisis. And when multiple teams are looking for the same position, the price goes up. This figures to escalate if another linebacker or two goes down with an injury in the first week of camp.
CBS All Access allows viewers to stream every NFL on CBS game in their local market

CBS All Access allows viewers to stream every NFL on CBS game in their local market

Two NFC East divisional foes face off this weekend in a big battle for both teams
Owners and CEOs from several teams released statements in response to Trump's remarks in A...

Nick Kostos won big on Monday nights last season and gives his best 3-team NFL parlay for Week...

CBS All Access allows viewers to stream every NFL on CBS game in their local market