With the 12th overall pick in the 2015 NFL Draft, the Cleveland Browns select Washington defensive tackle Danny Shelton. 
And a still of the bear hug of all bear hugs:
Here is Roger Goodell being lifted up by a 300-pound defensive lineman. pic.twitter.com/8oJ2S77jge

— Cork Gaines (@CorkGaines) May 1, 2015
CBSSports.com senior writer Pete Prisco gave the Browns a B for the pick:
This is a good, solid B pick for the #Browns, a team that needs to get better against the run. http://t.co/JH9dWaxEnl

— Pete Prisco (@PriscoCBS) May 1, 2015
Click right here to follow along as Pete grades every pick.
Shelton is huge and crazy strong, and he has surprising quickness for a player his size. Arguably the best run defender in this class, he is a prototypical nose tackle in today's NFL, equally capable of devouring multiple blockers to clear space for linebackers to clean up the trash, and discarding them to make his way into the backfield for a tackle himself. He was an Associated Press All-American as a senior at Washington, amassing 89 tackles including 16.5 for a loss, as well as 9.5 sacks.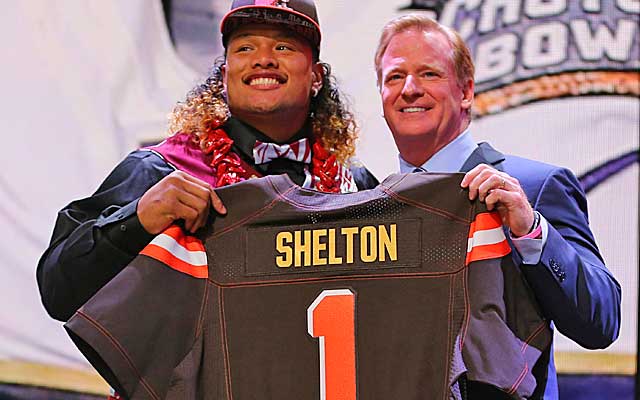 The pass-rush prowess was somewhat surprising, but his stoutness against the run had come to be expected after an also-excellent junior season. He is relentless pursuing ball-carriers into the backfield, and if they happen to break through, he'll also make his best effort to chase them down at the second level. 
We've been talking about Shelton and the Browns as a fit for weeks. It makes perfect sense. They were arguably the worst run defense in the league last season, and Shelton is arguably the best run stopper in the draft.
Danny Shelton highlighting his heritage tonight: pic.twitter.com/jqnM1qro7l

— Cian Fahey (@Cianaf) April 30, 2015
For an on-field look at Shelton's skill set, we have this tidbit from Rob Rang, who compared Shelton favorably to former Patriots All-Pro nose tackle Vince Wilfork:
"Shelton has a long way to go before justifying comparisons to the centerpiece of the Patriots' defense over the past decade, but both possess the thick frame, power and surprising agility to wreak havoc in the middle. Like Wilfork (who recorded 14 sacks at the University of Miami), don't expect Shelton to duplicate his pass rush success in the NFL."
Here are some of the fiscal details of Shelton's selection: He gets a four year deal worth $10,488,698 that carries a signing bonus of $5,888,144.