2015 NFL Draft: Interior D-line candidates looking better all the time
Names like Leonard Williams and Danny Shelton are no-brainers, but keep an eye out for the Eddie Goldmans and Jordan Phillipses of this draft, who could move up to fit some teams' needs.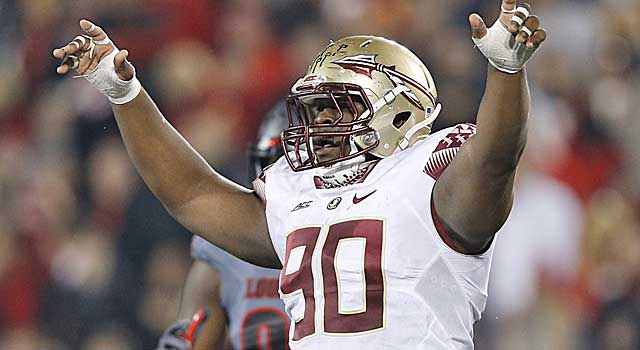 In looking at different positions in the 2015 NFL Draft, I'm encouraged by the pool of talent among interior defensive linemen, who are broken up into five different groups. Certainly, some cross into other groups -- depending on the level of versatility -- but identifying the player's No. 1 trait is important. The reason there are no two draft boards alike among the 32 clubs is because of the scheme they play, position requirements, the subjective analysis during the interview process and the traits some teams prioritize.
These are the position IDs for the defensive tackles:
0 (zero) technique: This is the bulky nose tackle for a 3-4 defense asked to force a double-team and free linebackers to make plays. He must control the line of scrimmage and needs power and push to collapse a pocket. He is thought of as a short-area player. Any range he possesses to make a play two or three gaps away from his alignment is a bonus.
1-technique: He is a shade nose tackle, lining up on an edge of the center and needs size, but also quickness, to penetrate a gap and get into the backfield. He may also be asked to stunt all the way around the end of the line of scrimmage to contain a quarterback in the pocket.
3-technique: This is a premier defensive lineman who is worth millions if he can do this job. He lines up on the outside shoulder of a guard and is asked to penetrate through the A or B gaps. A great 3-tech could have double-digit sacks. One coach calls this player as "a 300-pound man with 4.7 [40-yard dash] speed." He's hard to find and often described as a "Warren Sapp-type" player. Last year, Aaron Donald was the best to come into the league since Gerald McCoy and Ndamukong Suh.
2-technique: He's a combination of all three above but not necessarily great in one area. He will line up on the head of the guard and at times be asked to two-gap the guard and hold the point of attack. He could occasionally be asked to stunt. There aren't as many teams seeking this player as in the past, but those with two massive defensive tackles will line up with both in two-techs at times.
5-technique: He's listed as a defensive end by some teams and a defensive tackle by others. Height, bulk and long arms are the requirements and he's most common in 3-4 defenses as an end. They are asked to lock out their long arms on an offensive tackle and control the line of scrimmage at the B and C gaps.
In this draft, up to nine defensive linemen could wind up with first-round grades. In the 2014 draft, only two interior defensive linemen went in the first round (Donald, No. 13; Dominque Easley, No. 29) and only four in the second (Ra'Shede Hageman, No. 37; Stephon Tuitt, No. 46; Timmy Jernigan, No. 48; Ego Ferguson, No. 51).
This should be a better year than 2014, but aside from Leonard Williams, finding a player as good as Aaron Donald will be tough. Even so, this draft could produce more first-rounders, even if they are not stars. Here are the guys I see on the radar for inside D-line jobs in the first round. If I were a betting man, I would wager four or five hear their name on opening night in Chicago.
1. Leonard Williams , Southern California Trojans : He can play anywhere across the defensive line and in any scheme but is going to be looked at as a 3-technique. I watched his Stanford game, and see him as potentially the best player in the draft. In three seasons, he made 57 plays behind the line of scrimmage.
2. Danny Shelton , Washington Huskies : I watched him during Senior Bowl week and any team looking for a 3-4 0-technique has him high in the first round. He also has the quickness and effort to be a 1-technique in a 4-3 package.
3. Malcom Brown , Texas Longhorns : A fine athlete with quickness to penetrate and will get strong consideration as the second-best 3-technique. He recorded 31 plays behind the line of scrimmage the past two seasons. He is also a candidate at defensive end and 5-technique. His game vs. UCLA (six tackles, three TFL, one sack) was a solid glimpse at what's ahead.
4. Eddie Goldman , Florida State Seminoles : Strikes me as a 1-technique. He has the bulk and quickness to be disruptive. Made 13 plays behind the line of scrimmage in 2014, and after watching his NC State and Notre Dame tapes, I was left with a favorable opinion. There are games the production isn't there and there are teams that see him as a second-round talent.
5. Arik Armstead , Oregon Ducks : He's a 3-4 5-technique who has the size and athletic ability to become a solid player. His college basketball background is intriguing. There is room for growth and strength improvement. I watched his Ohio State game, and he was in on nine or 10 tackles, but he won't produce big sack numbers. In the NFL he could block his share of passes.
6. Jordan Phillips , Oklahoma Sooners : He is a massive 0-technique who is raw but interesting for teams looking for a 3-4 0-tech. He had back surgery in 2013, but experienced no problems last season. He might not be as high up draft boards for teams in 4-3 defenses looking for one gap penetrators. A team like Tennessee or Pittsburgh might value him more.
7. Carl Davis , Iowa Hawkeyes : Watched him practice all week at the Senior Bowl and interviewed him twice. I like his skills, motor and attitude but realize not everyone shares my opinion of his personality. He fits in most schemes but probably should be viewed as a 1-technique.
8. Mario Edwards , Florida State: He's labeled a defensive end, but one team said they like him much more inside. His 26 plays behind the line of scrimmage the past two seasons indicate penetration skills. Probably a candidate for a 3-technique spot if he has the mindset for inside work. He had four TFLs against Virginia, but only one in the five games after that.
9. Michael Bennett , Ohio State Buckeyes : Makes plays but he has to be on the move in a 4-3 stunt front to be at his best. He had five sacks in his final five college games and I was impressed with him vs. Wisconsin. Teams like Dallas, Seattle, and Jacksonville like one-gap penetrators and Bennett will be higher on their draft boards than others.
>> Looking for more draft? Latest mocks | Big Board
SportsLine's Mike McClure has made over $1M playing DFS and gives his best cash game lineup...

SportsLine's Nick Kostos wins big on Monday nights and gives his best three-team parlay for...

Belichick has always had the magic touch, but some of his offseason moves might backfire on...
Week 6 in the NFL was filled with shocking results. Let's go that route with this mock dra...

After stops in Chicago and Philly, the NFL Draft is now headed to Dallas

The Browns remain a team without a franchise quarterback