2015 NFL Free Agency: Five under-the-radar free agents to watch
Ndamukong Suh may be the biggest free-agent fish, but the real catch is finding young players on the rise. Here are five who look like great values.
The big-name free agents, the guys who will get the mega­deals, players like Ndamukong Suh and Justin Houston , are well known. They get talked about on a daily basis.
But the real hits in free agency come when a team pays a rising player -- ideal ages 26 and 27 -- and then that player becomes even better, taking his game to a higher level and proving to be worth every dollar.
Signing players going up is always a better deal than players going down. Sometimes fans -- and even teams -- lose focus of that. They want stars. They want names. Too often, teams target the bigger names on the market, which means the bigger deals, which means big expectations and often times disappointment.
Bang for the buck usually doesn't come that way. It comes from mining the players who are just hitting their prime. Often those players are cheaper, which means there is usually great value.
I have five players who will become free agents this March who I think fall into that category. It doesn't mean they won't be getting big deals, because a few of them will get that. But it means they are players who might not be the big names on the market, yet their best football is coming and they are worth a strong look.
My five guys are Baltimore Ravens defensive end/linebacker Pernell McPhee , Kansas City Chiefs center Rodney Hudson , Chiefs safety Ron Parker , St. Louis Rams tackle Joe Barksdale and Washington Redskins tight end Niles Paul .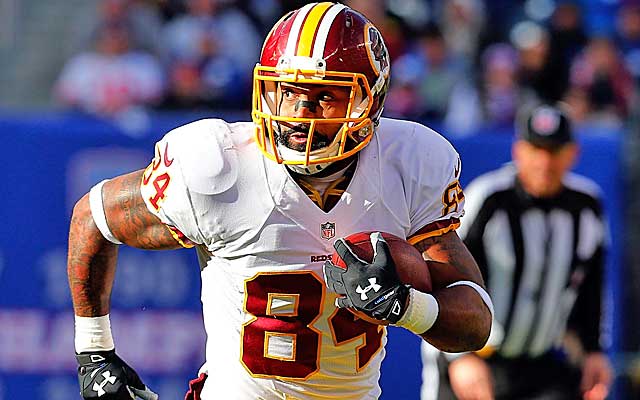 Of those five, McPhee will likely get the biggest deal, but he's on the list because he has just six starts in four seasons with the Ravens. Hudson and Barksdale are quality NFL starting linemen, while Parker and Paul are two players who I think can do a lot more than they've done so far.
The five range in age from 25­-27, which I think should be the target age for free agents.
Here's a look at each of the five players, with some plays broken out to show just what they can do.
Pernell McPhee, DE/­OLB, Ravens
McPhee is a 6-­foot-3, 280­-pound player who was once considered nothing more than an in-line tackle. But he has evolved into so much more.
With the push to more hybrid looks up front, versatility is important for a front­-seven player. McPhee provides that as well as any player in the league.
On a good Baltimore front, he hasn't made a start since 2012, when he had six, but he played 550 snaps last season. He did so in a variety of ways.
He can line up on the nose. He can line up as an outside rusher. He can line up as an end. He can stand up.
And he's tough as can be. He plays with a violent style, which helps him overpower bigger linemen at times.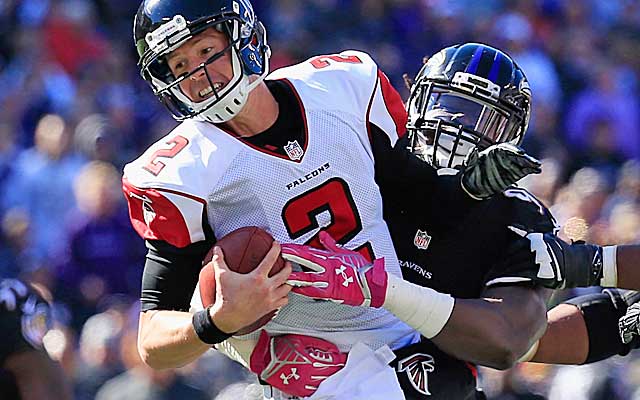 After getting 9 1/2 sacks in his first three seasons with the Ravens, McPhee had 7 1/2 last season. He's also stout against the run. This isn't a pass rusher who will just flat out beat you with his speed. His game is about power and a relentless style.
I pulled out a couple of plays to highlight here to show his versatility. The first one came in a Week 4 game against Carolina. It was second-and­-3 from the Carolina 27 with 1:48 left in the second quarter. It's the type of play that shows off his power as well.
You can see McPhee lined up over Carolina center Ryan Kalil . At the snap, he used his arms to slap Kalil aside, leaving the center off­-balance. He had no chance to block McPhee. Running back Darrin Reaves stepped up to try and take on McPhee, but he ran right through him to pressure Cam Newton into an incomplete pass. McPhee didn't get a sack on this play, but he certainly influenced it.
Here's a look at another McPhee rush, this time against Atlanta in Week 7. This time he did get a sack -- from the edge.
McPhee was lined up outside the left shoulder of left tackle Jake Matthews in a standing position. At the snap, he attacked Matthews and beat him inside with a nice, quick move.
When he did, left guard Justin Blalock was there waiting. That's when McPhee shifted into power mode. He pushed Blalock back and was able to drop Matt Ryan for a 7­-yard loss.
In studying his tapes, McPhee did this type of thing over and over again -- even if he didn't put up great sack numbers. He does influence the passer from a variety of spots. There were times when he stood up in the A­-gap and would loop around another Ravens pass rusher to get pressure. That shows athletic ability.
The Ravens have lost some defensive players in free agency the past couple of years, including Paul Kruger and Arthur Jones , but McPhee will end up being better than all of them -- for another team since it seems like the Ravens will almost certainly be forced to let him walk for cap reasons, even if they would like to keep him around.
Rodney Hudson, C, Chiefs
Hudson came to the Chiefs as a second­-round pick in 2012. He was a guard at Florida State, but the Chiefs thought he was a bit undersized for that position and moved him inside. That has worked well.
Hudson has 31 starts the past two seasons and has developed into a heady center who gets by with athletic ability and smarts more than power. He is one of the best at getting outside on screens and getting to the second level.
At 6­-2, 295 pounds, he can sometimes have problems with bigger players on his nose, but he uses his smarts to get around that sometimes. He knows how to play the angles.
He's also good in pass protection, and it's easy to see he has a good grasp of how to make line calls and slide protections.
I pulled out a play from a Week 10 game against Buffalo to show the type of ability he has in the run game.
This was a second­-down run from deep in the Chiefs' end. The play called for Hudson to double with right guard Zach Fulton . But when he saw Fulton handling Marcell Dareus , Hudson came off him to help get a piece of Kyle Williams . He then came off that block to get a piece of Preston Brown . That shows amazing athletic ability inside. The play gained only 3 yards, but Hudson did his part to make it even more.
At 25, there is great value in having a center with his type of ability and smarts. The Chiefs would be wise to try and keep him, even if they do like backup Eric Kush .
Joe Barksdale, RT, Rams
When Barksdale came out of LSU in 2011, I thought he had a chance to be a good starting tackle. He was even on my Better­-Than team that year, players I like more than the scouts.
But after being a third­-round pick by the Oakland Raiders , he was let go the following season because he didn't fit their scheme. The Rams signed him and he has started 29 games the past two seasons, 16 coming last season.
Some saw Barksdale as a left tackle when he came out -- he has started at that position in the league -- but he has evolved into a solid right tackle. I think he played better in 2013 than he did this past season, but he was still above average for the position in 2014. At the age of 26, there's value in that.
I studied several of his games, and two that I wanted to watch closely were the two against Seattle. That is a front that can overwhelm offensive linemen, but he held up in those games against both Michael Bennett and Cliff Avril . He did give up a sack to Avril in the second game, but did a nice job in both the run game and in pass protection for the most part.
This is a play from the second Seattle game in Week 17 where he's matched against Bennett, who is one of the best power rushers in the league.
On this play, Bennett powered right into the midsection of Barksdale. Against a lot of tackles, Bennett blows right through the player to dump the quarterback. But I liked the way Barksdale re­grouped, balanced himself, and pushed Bennett to the ground in front of Shaun Hill . That takes strength, and he showed it there.
Barksdale also does a good job in the run game. At times, he can have problems with speed rushers, but a lot of right tackles do. At his age, he's worth keeping for the Rams, and worth a look by a lot of teams if they don't.
Ron Parker, S, Chiefs
I didn't expect to include him on this list, but while watching the Chiefs defense he kept showing up all season long.
Count me as a believer in his ability to be a long-­term starter at safety, whether free or strong safety.
Parker, a former corner, made the transition inside this season and did a nice job. You could see his confidence grow week by week as he became more comfortable with the safety position.
He played some in the box as well as in the deep middle, which I think offers versatility to a team that would sign him. This is a kid who has overcome being cut eight times by three different teams before settling in at safety.
He has also started at corner and did a nice job last season against Buffalo's Sammy Watkins . He has also become a better player in the run game, which is key for a corner moving inside.
At 6­-feet, 210 pounds, he is big enough to handle tight ends, which he was asked to do a bunch. Against the Pittsburgh Steelers late in the season, he was beaten a few times by Heath Miller in man coverage, but he bounced back to do some good things. I like that in a secondary player because they all get beat. It's how they respond. He did.
Here's a look at a play from late in that game that shows why I like this kid's ability to cover, react and tackle.
It was a third­-and-­4 play from the Chiefs' 8 with 4:15 left in the fourth quarter.
Kansas City showed a zone look with Parker in the middle, but when the Chiefs blitzed they went to a man­-coverage scheme. Parker had Miller and when Roethlisberger came to him short, Parker reacted and was able to come up and make the tackle for a 3­-yard gain to limit the Steelers to a field goal. I loved the way he saw it, reacted to it, and then made a good tackle on a big player. That's not easy to do.
But it shows the type of ability Parker has now that he's inside. With so many teams looking to improve their coverage on the back end, especially with so many spread looks now, Parker could be a nice addition to the back end for a team looking for a rangy safety willing to tackle.
Niles Paul, TE, Redskins
So many teams are looking for move tight ends, those pass­ catchers who can create problems down the field and mismatches all over it. Paul, a former receiver, has developed into one of those players.
Paul caught 39 passes for 507 yards last season, but he had seven plays of 20­-plus yards and two of 40 yards or more. That shows big-­play ability. At 6­-1, 240 pounds, he isn't going to overpower anybody at the point of attack, but he is a willing blocker. Then again, that's not why a team would sign him.
He's a pass catcher. And at 25, I think his best football will come in the next few years, if he lands in the right offense.
I picked out two plays from Washington's Week 2 victory over Jacksonville to highlight Paul's ability.
The first one came one a first-­and-­10 play from the Jacksonville 24 in the first quarter.
The Redskins went to a double tight­-end look on the right side with Paul lined up outside of Logan Paulsen . They had run action to the left, but Paul faked like he was blocking and then ran a corner pattern, getting behind the linebackers. What I liked about this play was how he made it look so easy catching the football, showing off his soft hands.
The second play I wanted to highlight came in the fourth quarter on a second-­and­-goal from the 2.
The Redskins broke the huddle and Paul lined up on the right side of the line next to the right tackle. But before the snap, he motioned wide right and had a one-­on-one matchup with safety Chris Prosinski . Kirk Cousins threw a nice, high pass that Paul pulled down with soft hands for six.
It's these types of plays -- showing off his versatility, as well as his ability to get down the field -- that I think should make Paul attractive to some teams looking for a pass­-catching tight end.
Griffin says Moss is lying about the QB being happy when Shanahan was let go

LSU's star defender returned from injury this weekend and highlights our 2018 Draft Top 20

McCarron could gain a lot from a Dalton benching, but he's sticking up for the Bengals' embattled...
'Top Dog' Tierney is 26-10 on NFL over-under picks since last season, has strong play on 4...

The injured Lions left tackle does not take kindly to being called a Wolverine

The Cowboys owner doesn't sound too worried by Elliott's lack of effort on an interception...