2015 NFL Free Agent Tracker: See where the top 100 names go
Follow all of the top NFL free agents during 2015 NFL free agency.
by

Eye on Football staff

• 3 min read
The 2015 NFL free agent rankings are determined by CBSSports.com Senior NFL Writer Pete Prisco. Not all free agents will be listed.
2015 NFL free agent tracker
RANK
PLAYER/
AGE
POS
LAST
TEAM
NEW
TEAM
STATUS
1
Ndamukong Suh (28)
DL
Signs six-year deal with Dolphins
2
Justin Houston (26)
DE
Franchised (3/2)
3
Dez Bryant (26)
WR
Franchised (3/2)
4
Demaryius Thomas (27)
WR
Franchised (3/2)
5
Darrelle Revis (29)
CB
Signs with Jets
6
Jason Pierre-Paul (26)
DE
Franchised (3/2)
7
Randall Cobb (24)
WR
Re-signs with Packers for 4 years
8
Devin McCourty (27)
S
Re-signs with Patriots
9
Bryan Bulaga (25)
OT
Re-signs with Packers
10
Pernell McPhee (26)
DE
Signs 5-year deal with Bears
11
DeMarco Murray (27)
RB
Signs 5-year deal with Eagles
12
Julius Thomas (26)
TE
Signs with Jaguars
13
Rodney Hudson (25)
OG
Signs with Raiders
14
Greg Hardy (26)
DL
1-year deal with Cowboys
15

Nick Fairley

(27)
DT
Signs with Rams
16
Byron Maxwell (26)
CB
Signs 6-year deal with Eagles
17
Brian Orakpo (28)
OLB
Signs 4-year deal with Titans
18
Mike Iupati (27)
OG
Signs 5-year deal with Cardinals
19
Torrey Smith (26)
WR
Signs 5-year deal with 49ers
20
Brandon Graham (26)
OLB- DE
Re-signs with Eagles for 4 years 
21
Brandon Flowers (29)
CB
Signs with Chargers
22
Jeremy Maclin (26)
WR
Signs 5-year deal with Chiefs
23
Terrance Knighton (28)
DT
1-year deal with Redskins
24
Kareem Jackson (26)TBA
CB
Signs 4-year deal
25
Jerry Hughes (26)
DE
Re-signed to 5-year deal
26
Jason Worilds (26)
LB
RET
Says he will retire
27
Rahim Moore (25)
S
Signs with Texans
28
C.J. Spiller (27)
RB
Signs 4-year deal with Saints
29
Stefen Wisniewski (25)
C
Signs with Jaguars
30
Antonio Cromartie (30)
CB
Signs 4-year deal with Jets
31
Da'Norris Searcy (26)
S
4-year deal with Titans
32
Rolando McClain (25)
LB
Re-signs with Cowboys
33
King Dunlap (29)
T
Re-signed, 4-year deal
34
Stephen Paea (26)
DT
Agrees with Redskins on 4-year deal
35
Chris Culliver (26)
CB
Signs 4-year deal with Redskins
36
Jordan Cameron (26)
TE
Signs 2-year deal with Dolphins
37
Joe Barksdale (26)
OT
TBA
TBA
38
Doug Free (31)
OT
Signs 3-year deal
39
Malcolm Smith (25)
OLB
Signs with Raiders
40
Dan Williams (27)
DT
Signs with Raiders
41
Jabaal Sheard (25)
DE
Signs 2-year deal with Patriots
42
Clint Boling (25)
G
Signs 5-year deal with Bengals
43
Derek Newton (27)
OT
Signs 4-year deal
44
Michael Crabtree (27)
WR
Expected to sign with the Raiders
45
Ron Parker (27)
S
Re-signs on 5-year deal
46
Derrick Morgan (26)
OLB-DE
Re-signs with Titans on 4-year deal
47
Charles Clay (26)
TE
Report: To Bills after Dolphins don't match
48
Shane Vereen (25)
RB
Signs with Giants
49
Orlando Franklin (26)
OG
Signs 5-year deal with Chargers
50
George Johnson (27)
DE
Tendered, traded to Bucaneers
51
B.J. Raji (28)
DT
Re-signs with Packers
52
Jared Odrick (27)
DT
Signs with Jaguars
53
Mark Ingram (25)
RB
Re-ups with Saints
54
Louis Delmas (27)
S
Re-signs with Dolphins
55
Darren McFadden (27)
RB
Report: Signs 2-year deal with Cowboys
56
Brandon Spikes (27)
ILB
TBA
TBA
57
Justin Forsett (29)
RB
Report: Agrees to terms with Ravens
58
C.J. Mosley (31)
DT
TBA
TBA
59
Tramon Williams (31)
CB
Report: Agrees to 3-year deal with Browns
60
Corey Peters (26)
DT
Signs with Cardinals
61
Brian Hartline (28)
WR
Signs 2-year deal with Browns
62
Akeem Ayers (25)
OLB
Signs with Rams
63
Sean Weatherspoon (27)
LB
Signs with Cardinals
64
Kenny Britt (26)
WR
Re-signs with Rams on 2-year deal
65
James Carpenter (25)
G
Report: Agrees to terms with Jets
66
Jermaine Gresham (26)
TE
TBA
TBA
67
Ryan Mathews (27)
RB
Signs 3-year deal with Eagles
68
Brooks Reed (27)
OLB
Signs 5-year deal with Falcons
69
Cecil Shorts (27)
WR
Report: Agrees to 2-year deal with Texans
70
Frank Gore (31)
RB
Signs 3-year deal with Colts
71
Bruce Carter (27)
LB
Signs 4-year deal with Bucs
72
Hakeem Nicks (27)
WR
To sign with Titans
73
Mason Foster (25)
LB
Signs with Bears
74
Rob Sims (31)
G
TBA
TBA
75
Jermey Parnell (28)
T
Signs with Jaguars
76
Tyson Alualu (27)
DT-DE
Re-ups with Jaguars
77
Stephen Gostkowski (31)
K
Franchise tag (3/2)
78
Tommy Kelly (34)
DT
TBA
TBA
79
Bradley Fletcher (28)
CB
Report: To sign with Patriots
80
Pat Sims (29)
DT
Signs with Bengals
81
Lance Kendricks (27)
TE
Re-signs for four years
82
Kyle Wilson (27)
CB
Signs with Saints
83
Jake Locker (26)
QB
RET
Retiring
84
David Harris (31)
ILB
Re-signs for 3 years
85
Mark Sanchez (28)
QB
Re-signs with Eagles
86
Nate Allen (27)
S
Signs with Raiders
87
Justin Durant (29)
LB
Expected to sign with Falcons
88
Brian Hoyer (29)
QB
Signs 2-year deal with Texans
89
Tyler Polumbus (29)
T
TBA
TBA
90
Niles Paul (25)
TE
Re-signs on 3-year deal
91
Jeron Johnson (26)
S
Report: 2-year deal with Redskins
92
Adrian Clayborn (26)
DE
Signs with Falcons
93
Buster Skrine (25)
CB
Signs with Jets
94
Virgil Green (26)
TE
Re-signing with Broncos
95
Dan Skuta (28)
OLB
Signs with Jaguars
96
Antrel Rolle (32)
S
Signs 3-year deal with Bears
97
Rey Maualuga (28)
LB
Re-signs on 3-year contract
98
Patrick Robinson (27)
CB
Signs with Chargers on 1-year deal
99
Darnell Dockett (33)
DE
Two-year, $7.5M contract
100
Arthur Moats (26)
LB
Re-signs with Steelers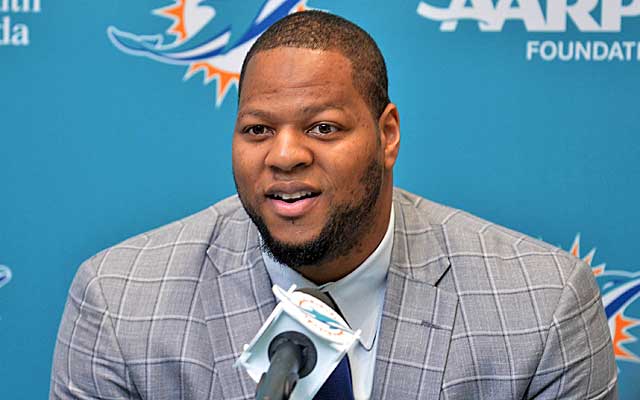 It turns out the Eagles center's epic parade speech is just the gift that keeps on giving

Fisher went on the non-football illness list last November but is now cleared to return

Tillman spent some of his offseasons during his career working with law enforcement
Forgetting about NFL projection and solely looking at college production makes for a much different...

Lawrence graded out as one of the NFL's best pass rushers last season

In three seasons, Taylor has 51 touchdowns and just 16 interceptions