This much we know: One NFL team out of 32 is going to win Super Bowl 50.
Past that, it's way too early to know much of anything entering the 2015 NFL season.
In a league where parity reigns and new playoff teams emerge every season, it's too early to really say which teams will be playing into January and which ones will begin their draft preparations a bit earlier than the rest.
Things happen. Circumstances change due to injuries, coaching issues, bad (or nonexistent) calls on the field or even a full-blown choke job. Sometimes a miserable start blossoms into a late-season rally. Big things will happen, in good ways and bad, that might dramatically change the fortunes of a team, player or coach.
But we've studied the tape. We've spoken with players, GMs and coaching staff. We've heard all sides of the story and we've come up with our own observations while visiting training camps.
The games will be decided on the field. This much we know. But as we knock the dirt out of our cleats and prepare for another NFL season, here are our predictions for 2015.
Super Bowl Champions
Jason La Canfora -- Packers: They overcome the loss of Jordy Nelson and Aaron Rodgers plays out of his mind and they take advantage of some recent NFC powerhouses being on the decline. And, most importantly, they win the head-to-head game with Seattle which gives them home-field advantage through the NFC playoffs.
Pat Kirwan -- Packers over the Colts
Pete Prisco -- Packers over the Patriots
John Breech -- Broncos over Eagles: Peyton Manning is too old to carry the team, which usually would be a negative thing, but it's good news for the Broncos this year because he shouldn't have to. The Broncos should actually have a good run game -- and there's a good chance Denver's defense will be able to carry the team when Manning's 39-year-old body starts to fall apart in Week 13. It feels like Manning has one more great season in him and I think we'll see it in 2015.
Will Brinson -- Eagles over Colts: Chip Kelly has been working like a mad scientist this offseason and the result is an unknown. Except to him. He has a plan and that plan involves a quarterback with quick-strike accuracy and a deep ball in Sam Bradford, two north-south running backs in DeMarco Murray and Ryan Mathews, and a pair of precise route runners who fit his offense in Jordan Matthews and Nelson Agholar. The gamble is everyone stays healthy, but that's always a gamble in the NFL. The Eagles' improved defense turns them into a surprisingly high-end unit that is capable of dominating on both sides of the ball. Meanwhile, Andrew Luck just throws everyone on his back again and takes an incredibly talented team to the Super Bowl. With Frank Gore, Andre Johnson, T.Y. Hilton, Phillip Dorsett, Donte Moncrief, Coby Fleener and Dwayne Allen, Luck has one of the best skill-position groups in the NFL at his disposal.
Jared Dubin -- Packers over Patriots: I momentarily considered moving away from the Packers as my pick after the Jordy Nelson injury, but then I remembered that Aaron Rodgers exists. You could do worse than predicting the best quarterback in the game to lead his team to a Super Bowl win. Nelson is incredible, and not nearly the Rodgers-only creation so many people think he is, but Rodgers just happens to be one of the few guys good enough to overcome the loss of a player of Nelson's caliber. Between him, Eddie Lacy and Randall Cobb, I think there's still enough there to get the job done.
Sean Wagner-McGough -- Patriots: Tom Brady won't miss any games and Bill Belichick is still a genius. The loss of Darrelle Revis hurts, but at this point picking against Belichick just seems silly. One way or another, you know the Patriots will at least be in a position to make a run in January. Outside of the Colts, I don't see a clear AFC team that can take down the reigning champs. And once the Patriots are in the Super Bowl, I'll take Brady in any matchup.
Ryan Wilson -- Packers: The Packers make up for last year's Marty Schottenheimer-inspired performance against the Seahawks in the NFC Championship Game and put the offense in the eminently capable hands of Aaron Rodgers. Green Bay's defense isn't great, and that's a concern -- until you remember that New England's defense is worse, having lost many key contributors off last year's Super Bowl team.
Super Bowl MVP
Jason La Canfora -- Aaron Rodgers: I usually over-think this stuff and try to get too cute with these predictions. Rodgers is the best player in the league and quarterbacks generally win this award. If I have the Packers winning the title, then it only stands to reason he brings home the hardware and the truck.
Pat Kirwan -- Aaron Rodgers: Aaron Rogers, even without Jordy Nelson, has enough weapons to put points on the board.
Pete Prisco -- Aaron Rodgers: If the Packers win, you know it will be on his right arm. This is an easy pick.
John Breech -- Peyton Manning: If the Broncos win Super Bowl 50, there's no way Manning's not being named the MVP. By the way, the other part of my prediction here is that after the game, Manning will announce his retirement in a Papa John's commercial that leads to 47 percent higher sales at the Papa John's locations that Manning will manage in the Denver-area after he retires.
Will Brinson -- Darren Sproles: If the Eagles win, you gotta pick someone random. And Sproles is the type of dude to show up in a big, random way via the return game and in the passing/running game.
Jared Dubin -- Aaron Rodgers: It's usually the quarterback of the winning team, and when that quarterback is either a legend or on his way to becoming one, it's a stone-cold lock that he takes down Super Bowl MVP unless something crazy happens.
Sean Wagner-McGough -- Rob Gronkowski: The obvious choice is Brady, and really the only way Rob Gronkowski beats out Brady for this award is if all of Brady's touchdowns and big plays go his way. I'll take that risk, mainly because it's fun to imagine a summer of Gronk after he wins a Super Bowl MVP.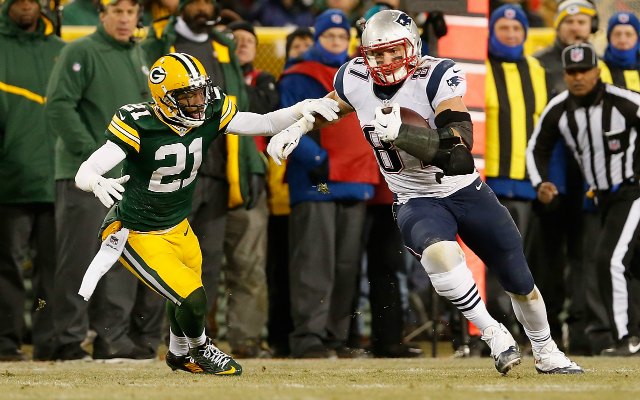 Ryan Wilson -- Aaron Rodgers: Not sexy, not surprising and, ultimately, not wrong. The Packers go as Rodgers goes, which is what we saw in the 2014 playoffs when the quarterback was hamstrung by coach Mike McCarthy's oddly conservative play-calling. "Give it Aaron and let him handle the rest" is the type of game plan that will get you a lot of wins.
Regular Season MVP
Jason La Canfora -- Aaron Rodgers: Again, I'm not going to try to go outside the box. Many of the great quarterbacks in the game are aging or have aged. He is still very much in his prime, he has a tremendous head coach and great continuity and an excellent scheme and even without Jordy Nelson, a plenty-fine cast around him.
Pat Kirwan -- Andrew Luck: Andrew Luck is emerging as a superstar and he has lots of weapons to put points on the board. It isn't impossible that he throws another 40 touchdowns.
Pete Prisco -- Aaron Rodgers: His arm will be the reason Green Bay is in the spot to win it all. He will roll up amazing numbers, no matter who is playing receiver.
John Breech -- Andrew Luck: Luck has so many weapons that his weapons have weapons. Luck threw for more than 4,700 yards last season and with the addition of Andre Johnson and Phillip Dorsett, I won't be surprised at all if Luck hits the 5,000 yard mark in 2015, something that's only been done eight times in NFL history.
Will Brinson -- Andrew Luck: The combination of Luck's weapons (Frank Gore, Andre Johnson, T.Y. Hilton, Phillip Dorsett, Donte Moncrief, Coby Fleener and Dwayne Allen), a lack of defense (Indy shouldn't be great this year) and an easy division and schedule (12 wins feels like the floor for this team) means Luck can take his team to its best season thus far, put up his biggest numbers so far and win his first (of many) MVPs.
Jared Dubin -- Andrew Luck: You almost never see a player win back-to-back regular season MVP awards. It's only been done five times, and two of those included a year with split MVPs, so even though Rodgers is probably the actual most valuable player, I'm going against him here. Luck seems like a logical bet to lead the NFL in both passing yards and passing touchdowns and the Colts will probably win the AFC South by 15 or 16 games, so he's my guy.
Sean Wagner-McGough -- Aaron Rodgers: He's still the best quarterback in the league, even with Jordy Nelson out for the season. If anything, the loss of Nelson will only strengthen Rodgers' case for MVP after he carries the Packers to the NFC North title.
Ryan Wilson -- J.J. Watt: If we've learned anything from Hard Knocks, it's that Watt is not, in fact, of this world. And while he doesn't play a high-profile position, he's unquestionably dominant. So much so that he's regularly mentioned as one of the top five players in the game. Think about that for a second: A defensive end in a 3-4 scheme is a top-five player. And if the Texans turn things around this year, Watt will have a legitimate case for MVP honors.
Offensive Player of the Year
Jason La Canfora -- Andrew Luck: He will put up otherworldly numbers. He will get a ton of MVP votes, though I am giving the nod to Rodgers there. The Colts delaying his new contract by a year unnecessarily will come back to bite them in the butt as he continues on the historically significant path he's already on.
Pat Kirwan -- Adrian Peterson: Back after a year and fresh. The Vikings line isn't bad. I think it's a 1400 yard season for the best back in the NFL. He could easily win Comeback Player of the Year.
Pete Prisco -- Aaron Rodgers: Hey, if he's the MVP he will take this award as well.
John Breech -- Sam Bradford: Since Chip Kelly arrived in Philadelphia, Eagles quarterbacks have had trouble staying healthy: No QB under Kelly has been able to start more than 10 games in a season. If Bradford can break that trend and make it through the entire season unscathed, he might break every passing record that exists. (Note: If he does break every passing record that exists, I'm assuming he won't get MVP because everyone will say he did it because of Kelly's system, so as a consolation prize, Bradford will be voted offensive player of the year.)
Will Brinson -- Adrian Peterson: He's going to run angry and when Peterson runs angry it means 2,000 yards is within reach. The Vikings are an improved playoff team and Peterson is a big reason why.
Jared Dubin -- Aaron Rodgers: It's the, "You're the best player in the league but we think it's boring to give back-to-back MVPs" award.
Sean Wagner-McGough -- LeSean McCoy: Rex Ryan and Greg Roman are carrying a playbook with the most running plays in the history of man. And they have a deadly weapon in LeSean McCoy. If he stays healthy, he'll be their entire offense.
Ryan Wilson -- Antonio Brown: The Steelers' offense was prolific last season, the third under offensive coordinator Todd Haley. And they're expected to be even better in 2015. Which means, more opportunities for Brown, who is grossly underpaid, and will make his case for a raise through his on-field exploits. Arguably the best receiver in the game, Brown is sometimes overlooked because he doesn't have the size of Dez Bryant, Demaryius Thomas or Calvin Johnson. But he's a four-down player (Brown's a dangerous punt returner) who is critical to Pittsburgh's success.
Defensive Player of the Year
Jason La Canfora -- J.J. Watt: Again, I'm not going to defy logic. He is the best defensive player in the game and might just be the best damn player period in the game. I don't rule him out being the MVP of the league overall, either, should he end up, say, knocking Luck out for a period of time and the Texans take the AFC South (which I don't believe is entirely out of the question). He may set the single-season sack record. Hell, he might score double-digit touchdowns. I put nothing past him.
Pat Kirwan -- Von Miller: This was a tough call with J.J. Watt playing at a very high level but after watching Denver practice and it being a contract year for Miller I am anticipating a 20-sack season in the Wade Phillips' scheme.
Pete Prisco -- J.J. Watt: He is so dominant, he can almost retire this award every year. The 20-20-20 season -- 20 sacks, 20 passes batted down and 20 tackles for loss -- might be coming in 2015.
John Breech -- J.J. Watt: The only way someone's going to beat Watt is if they break Michael Strahan's single-season sack record, which means I give Justin Houston a five percent chance of winning this award. Every other defensive player in the NFL gets a combined .01 percent chance, which means J.J. has a 94.99 percent chance of winning.
Will Brinson -- Von Miller: J.J. Watt will be the BEST defensive player in the NFL this year, but voter fatigue is a real thing. Watt won't get every single vote every single year. Miller is primed to explode in Wade Phillips' 3-4 defense, moving to outside linebacker and being turned loose against opposing quarterbacks. He's in a contract year and is exceptional against the run.
Jared Dubin -- J.J. Watt: So long as they don't limit the candidates to actual human people, Watt is the rightful winner every year until further notice.
Sean Wagner-McGough -- J.J. Watt: I mean, who else?
Ryan Wilson -- Ndamukong Suh: It would certainly make for a nice story if Suh, whom the Dolphins paid $114 million in the off-season, played like one of the league's top defenders. And he's certainly capable. Plus, that type of success would go a long way in keeping the Dolphins in the mix in the AFC East, where the Patriots are always penciled in atop the division.
Coach of the Year
Jason La Canfora -- Bill Belichick: I do this every year. All he does is produce. And coming out of the shadows of Deflategate and going for back-to-back Lombardi Trophies, this maybe being a year where there isn't a Bruce Arians-type coming out of nowhere, well, I'll stick with my chalk predictions and go with the best coach in the game.
Pat Kirwan -- Mike McCarthy: Often the great coaches get ignored for this award and the attention goes to a fast riser. McCarthy surrendered his play-calling duties in order to see the big picture.
Pete Prisco -- Tom Coughlin: He will somehow get his team to the playoffs in a year when nobody expects it.
John Breech -- Chip Kelly: It's only a matter of time before Kelly wins this award, so I might as well go with him this season.
Will Brinson -- Dan Quinn: Taking the Falcons to the division title in your first year while managing to improve a terrible defense? That's enough to land you this award easily.
Jared Dubin -- Mike Zimmer: Zimmer will be lifted to this award by the return of Adrian Peterson and the development of Teddy Bridgewater, but the very quick work he has done improving the Vikings defense should not go unnoticed. Minnesota rose only from 27th to 23rd in defensive DVOA last season, but I think they jump into the top half of the league this year. Anthony Barr is set to be a monster, Eric Kendricks was a terrific draft pick and Harrison Smith might be the most underrated secondary player in the league. Add Terence Newman and holdovers like Sharrif Floyd, Xavier Rhodes and Everson Griffen, and you've got the makings of a solid group.
Sean Wagner-McGough -- Bill Belichick: Again, picking against Bill "Do Your Job" Belichick is insane at this point. Unless some bottom-dwelling team emerges from the depths to claim a playoff spot, the award will go to the coach of the best team. I think the Patriots will be that team.
Ryan Wilson -- Rex Ryan: Humble Rex inherits a great defense in Buffalo, and if the team can muster anything resembling an offense -- and having Sammie Watkins and LeSean McCoy certainly helps -- there's every reason to believe the Bills will make the playoffs. We've seen this script play out before when Ryan took the 2009 and 2010 Jets to back-to-back AFC Championship Games with a stout D, a solid running game ... and Mark Sanchez. The wild card is a distinct possibility with his group.
Offensive Rookie of the Year
Jason La Canfora -- Nelson Agholor: He is in the offense to succeed, he fits it perfectly, he doesn't have to fight too many people for targets and he flashed good chemistry with all of the Eagles quarterbacks in the preseason and camp -- which is important because he might end up playing with more than one this season. In a year in which the skill players taken in the first round weren't overwhelming by and large, this looks like another safe pick to me.
Pat Kirwan -- Jameis Winston: The Bucs aren't ready for prime time but I am impressed with how Winston is prepping for his first season. He's going to throw picks, but he's going to throw touchdowns as well with that big-time arm of his.
Pete Prisco -- T.J. Yeldon: He didn't play much in the preseason, but when he was on the field during practice he showed big-time ability. He will impress behind an improved line.
John Breech -- Marcus Mariota: The bar has been set so low in Tennessee after 2014 that Mariota might actually trip over it. If the Titans, who finished 2-14 last year, can get to five or six wins, there's a good chance that will be because of Mariota, and if that happens, there's a good chance Mariota will win the award. Dark Horse: Phillip Dorsett.
Will Brinson -- Amari Cooper: You SEE what he did to Patrick Peterson in the preseason? There's usually a built-in quarterback bias for these awards, but Cooper is such a polished receiver -- he runs excellent routes and has superb hands -- that he should be able to overcome it. Playing for a team that should be coming from behind frequently in the Raiders and having a decent quarterback in Derek Carr sets Cooper up for a huge rookie season.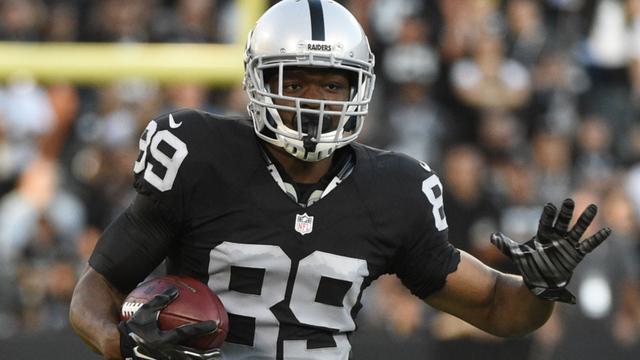 Jared Dubin -- Nelson Agholor: Rookie of the Year is all about opportunity, and as the No. 1 or No. 2 (with Jordan Matthews) receiving target on the fastest-paced offense in the NFL, Agholor should have plenty of it. A season with 100-plus targets is not out of the question, which should allow him to rack up big numbers.
Sean Wagner-McGough -- Nelson Agholor: I'm expecting big things from Chip Kelly's offense this season and for Sam Bradford, which means I'm expecting plenty of targets and yards for Nelson Agholor. I also think both rookie quarterbacks in Tennessee and Tampa Bay will experience growing pains in their first pro seasons, leaving this award race wide open, unless Amari Cooper pulls an Odell Beckham and runs away with it.
Ryan Wilson -- Melvin Gordon: Gordon gives the Chargers instant offense out of the backfield, and he'll be helped by playing behind one of the league's most underrated passers in Philip Rivers. The two should complement each other nicely, helping to make San Diego our favorite in the AFC West.
Defensive Rookie of the Year
Jason La Canfora -- Marcus Peters: He's going to get all kinds of chances in Kansas City to make plays on the ball, especially with Sean Smith suspended for the first four games. He has big-boy cover skills and ball skills and he plays a position where he will get noticed for better or worse. Pick off Peyton Manning a few times and people start to know your name. And he has a dominant pass rush helping out. Oh, and look out for Randy Gregory in Dallas as well. Bet he figures into this equation as well.
Pat Kirwan -- Leonard Williams: He's such a great athlete for the defensive line and opponents have to worry about Mo Wilkerson and Sheldon Richardson. I could see Williams getting some impressive sacks/pressures this year.
Pete Prisco: Kwon Alexander: He is fast and can really run to the football. He is already the starter in the middle for Tampa Bay and will stay on the field on third downs.
John Breech -- Vic Beasley: By the end of the season, Beasley might be the best player on the entire Falcons defense. Sure, that's not saying much, because we're talking about the Falcons defense here, but if Atlanta's D does improve, it's going to be because of Beasley, who I fully expect to terrorize opposing quarterbacks this season.
Will Brinson -- Vic Beasley: A perfect fit for a Dan Quinn system with the Falcons, Beasley should be able to pile up pass-rush statistics, especially without the need to play every single down for Atlanta.
Jared Dubin -- Danny Shelton: This dude is just a monster. There wasn't a single team in the league more in need of Shelton than the Browns, and they actually snagged him in the draft. He should improve their borderline offensive run defense right from the jump, helping nudge the Browns toward respectability (though the Josh McCown-led offense will likely do enough to nudge them back in the other direction). If he can manage to get to the quarterback even a few times, Shelton should be noticeable enough to take home the hardware.
Sean Wagner-McGough -- Randy Gregory: Randy Gregory is better than your typical second-round pick. If not for off-the-field issues, he would've been taken in the opening round. With pass-rushing guru Rod Marinelli as his coach, Gregory should flourish at getting to the quarterback.
Ryan Wilson -- Marcus Peters: Peters slipped in the draft because of issues he had with his college coaches, but most experts considered him the best cornerback in the draft. And he'll get plenty of chances to prove that in Kansas City, where he'll face Peyton Manning and Philip Rivers twice each. And yes, we know, it's nearly impossible for a defensive back to earn Rookie of the Year honors, but Peters is special, something the rest of the league will learn sooner rather than later.
Breakout Player
Jason La Canfora -- Blake Bortles/Derek Carr: The Jags will still be an afterthought, by and large, but this quarterback will have big moments and he'll lead a comeback or two and he'll begin to really look the part of a kid who is on a major upswing and just might bring some legit hope to his long-suffering franchise. I could say exactly the same for Carr, and I actually expect the Raiders to surprise some people with how competitive they are, so maybe he'd be the better pick here. I'm going to name them both.
Pat Kirwan -- Jeremy Hill: Last year we saw the tip of the iceberg with this guy and now he gets a full season with the Bengals and should be very close to the leading rusher in the NFL.
Pete Prisco -- Melvin Ingram: He's finally healthy and should be able to post double-digit sacks for the Chargers -- if he stays on the field. I loved him coming out of South Carolina, and this is the year he lives up to it.
John Breech -- Jordan Matthews: With Jeremy Maclin and his 1,318 receiving yards from last year now in Kansas City, someone's going to have to pick up the slack in Philadelphia and I expect that to be Matthews. As a rookie in 2014, Matthews finished with 872 yards and I'm guessing he's going to add at least 500 yards to that total in 2015.
Will Brinson -- Ryan Tannehill: All the signs are there for Tannehill to explode for the Dolphins this year. It's his second year in Bill Lazor's system. He's coming off an impressive 2014. He has more weapons (Kenny Stills, Greg Jennings, DeVante Parker) to take defenses away from Jarvis Landry. Tannehill is a lock for 4,000 yards this season and could push towards 4,500 with 30 touchdowns.
Jared Dubin -- Lamar Miller: Miller has seen his carries, rushing yards, rushing touchdowns, receptions and receiving yards increase with each passing season, and that should continue to be the case this year. He ran for just south of 1,100 yards last season on only 215 carries, and if that total gets bumped up into the 275 range, 1,400 to 1,500 rushing yards is not out of the question. Now the unquestioned No. 1 back in Miami for the first time, Miller should have a huge role in an offense that looks ready to take a jump to the next level.
Sean Wagner-McGough -- Latavius Murray: He showed flashes in limited carries last season and he'll be the No. 1 guy in Oakland this season. One thing that won't be lacking is carries and I expect Murray to run with the role. Last season, Murray averaged 5.2 yards per carry. Those numbers should carry over as he takes over as the Raiders' top running back.
Ryan Wilson -- Martavis Bryant: This seemed like a no-brainer a few weeks go, but Bryant has been suspended for the first four games of the season for violating the league's substance abuse policy. Another suspension would mean a 10-game suspension. Put another way: Bryant, a second-year player out of Clemson, will use the mandated month off to mature, get his mind right, and come back better than ever. Given that he had eight touchdown catches in just 10 games last season, that's troubling news for the rest of the league.
Comeback/Most Improved Player
Jason La Canfora -- Carson Palmer: He was finding his way in Arizona and on to something big when he got hurt last year and he was a madman in returning from this latest injury setback -- an ACL tear. He's not a spring chicken anymore, but he'll look like one with Bruce Arians in control of this Cardinals' offense.
Pat Kirwan -- Sam Bradford/Blake Bortles: Chip Kelly knows how to get the most out of this often-injured signal caller and the team has weapons around him to boost his numbers. Bortles left school early last year and it showed. With a year under his belt it is time for a big jump in production.
Pete Prisco -- Adrian Peterson: That's an easy choice. He will be back to rushing for 1,400 yards and his lost 2014 season will be long in the rearview mirror.
John Breech -- Sam Bradford: Thanks to two ugly injuries, Bradford hasn't played in a regular season game since October 2013. If the Eagles quarterback makes it to Week 3 alive, he should win this award.
Will Brinson -- Sam Bradford: If he doesn't win this, then my Super Bowl prediction is probably off the rails (or in a ditch with Mark Sanchez). CPOY tends to lean towards guys who suffer injuries and then put up big numbers in a healthy season and Bradford fits the bill to a tee.
Jared Dubin -- NaVorro Bowman: Bowman is one of the NFL's best linebackers. He missed the entirety of last season after his brutal knee injury the year before, and with both Patrick Willis and Chris Borland having retired, his importance to the San Francisco defense has never been greater. This unit has lost way too much talent to be one of the NFL's best this year, but Bowman himself should pick up right where he left off.
Sean Wagner-McGough -- Sam Bradford: I'm all in on Bradford and the Eagles. If Bradford stays healthy (and yes, I'm aware that's a big if), he has a shot to revive his career. Chip Kelly not only turned Nick Foles into a viable starter, but he also made Mark Sanchez a somewhat decent quarterback last season. In the preseason (yes, I know how little the preseason can mean), Bradford looked like a perfect fit for the system. He's also surrounded by weapon after weapon after weapon.
Ryan Wilson -- Ryan Tannehill: We've long been fans of Tannehill, the Dolphins' first-round pick in 2012, but he rarely gets his due nationally. That'll change in 2015 when he'll lead an improved Dolphins team to a shot at the playoffs. (We don't think Miami will make it as a wild-card team.) It'll help that Ndamukong Suh is shoring up the defense, but unless you're a Rex Ryan-coached team, a franchise is only as good as its quarterback. And by November, we'll be talking about Tannehill as one of the 10-12 best passers in the game.
Free-fall Teams
Jason La Canfora -- Panthers, 49ers, Lions, Ravens, Steelers, Broncos: The 49ers season started to look like it was over way back in the spring and what was a gradual slide a year ago will be a full-throttle plummet this year. The Panthers suffered injuries everywhere they could least afford them and the Lions face a different challenge this year as the hunted rather than the hunters, and lost a lot on their defensive line. Baltimore's lack of play makers on offense will send the Ravens back out of the postseason for the second time in three years and the Steelers' lack of defensive firepower will set them back as well. Oh, and this is the end in Denver.
Pat Kirwan --49ers: The 49ers were Super Bowl contenders for the past three years but there was a mass departure of players and coaches. The division is very strong and they may have to fight to stay out of the basement.
Pete Prisco -- Detroit Lions: Not a free fall, but I think they miss the playoffs this season.
John Breech -- Detroit Lions: I'd say the Panthers, but you can't really free-fall from a losing record, and that's what Carolina had in 2014. I'm going with the Lions because I give them a zero percent chance of getting back to 11 wins. Also, I don't think they're emotionally over the way last season ended. Just in case you forgot, here's a refresher on the pass interference that was called and then not-called in the fourth quarter of the Lions playoff game against the Cowboys.
Will Brinson -- 49ers: Too easy? They only went 8-8 last year so it's kind of cheating. Also, the 49ers had the off-season from hell, losing Patrick Willis, Justin Smith, Chris Borland, Mike Iupati and Frank Gore. That's their identity on each side of the ball. Finishing .500 would be an outstanding effort for Jim Tomsula in his rookie season as coach here. Jarryd Hayne is going to be fun to watch though.
Jared Dubin -- Washington, Lions: Washington is a disaster on and off the field. Kirk Cousins is not good at football. That's just a bad team. The Lions lost so much talent from the front of last year's No. 3 overall defense (by DVOA), which was the strength of the squad. DeAndre Levy, Darius Slay, Glover Quin, Ezekiel Ansah and more are still good, but without Ndamukong Suh, that unit is going to take a step back.
Sean Wagner-McGough -- Panthers: I know the Panthers only won seven games last year, but they managed to win their division and a playoff game. I don't think they're headed back to the postseason in 2015. The injury to Kelvin Benjamin derails their chances on offense, as does their leaky offensive line. An improved division is also bad news for Carolina.
Ryan Wilson -- 49ers: The 49ers are the easy answer and cutting ties with Jim Harbaugh -- along with the litany of player retirements that followed -- as the easy reason. The Lions also make the list, but we don't expect them to plummet to the NFC North cellar. Instead, we think the upstart Vikings will make life difficult for them in the division.
Bounce-back Teams
Jason La Canfora -- Cardinals, Raiders: The Cardinals will bounce back from the awful way they ended last season to push the Seahawks for the division title, again. And, dare I say it, the Raiders just might flirt with .500 this season, which obviously is always an accomplishment for them on the rare occasions they do so.
Pete Prisco -- Giants: I know it sounds crazy with all the defensive issues, but I think Eli Manning will have a monster year in his second season in the Ben McAdoo offense. Tom Coughlin does some of his best coaching when nobody is expecting his team to do well.
John Breech -- Atlanta Falcons: The Falcons made it to the NFC title game in 2012 and then fell off the face of the planet. After going 10-22 over the past two seasons, the team decided to fire coach Mike Smith. I'm not saying Mike Smith was the problem, but I am saying that I think this team will be better without him.
Will Brinson -- Falcons: With an improved running game (Tevin Coleman) and the same dangerous weapons in the pass attack (Matt Ryan, Julio Jones, Roddy White), the Falcons will put up points. The difference is the defense will be better than expected, with Dan Quinn helping turn this unit into a surprisingly scary team. The result is an NFC South title.
Jared Dubin -- Falcons, Rams: Replacing Steven Jackson with running backs that aren't on the wrong side of 30 should help the Falcons offense immensely, while the hiring of Dan Quinn as head coach should boost what was one of the NFL's worst defenses last season. If the Falcons can make the leap to respectability on that side of the ball (a la the 2014 Cowboys), I like the Falcons to win the NFC South. The Rams struggled badly to get to the quarterback at the start of last season despite having arguably the NFL's best defensive line. That won't be the case this year. Robert Quinn, Aaron Donald, Michael Brockers, Nick Fairley and Chris Long are going to make opposing offensive lines look silly. Nick Foles isn't great, but he's better than what the Rams have been throwing out there at QB with Sam Bradford hurt for most of the last two seasons. Between him and Todd Gurley, the St. Louis offense should be improved as well.
Sean Wagner-McGough -- Minnesota Vikings: I've been a bit more mellow on their chances than others, but I think they've got a shot at becoming a wild-card team in 2015. Of course, much of this is about Teddy Bridgewater and whether or not he makes the leap this season, but don't forget about Adrian Peterson. He sat out all of last season without an injury, which means he'll be ready to run over some folks this season. The last time he did that, the Vikings won 10 games and made the playoffs in 2012. With a better team around him now, similar -- if not better -- results could be coming.
Ryan Wilson -- Vikings: Teddy Bridgewater will have a solid sophomore season and, along with Adrian Peterson's return, will help lead the Vikings to the playoffs. Nick Foles and the Rams will also be a postseason participant after years of false hope and empty promises. Then, of course, the team will relocate to Los Angeles.
Teams Still Undefeated at Week 4
Jason La Canfora -- Colts, Patriots, Packers, Dolphins: The Colts open the first quarter with teams that went 18-46 a year ago. With the early Week 4 bye, give me the Pats to still be undefeated then. Sign me up for the Packers and Dolphins to open 4-0 as well.
Pat Kirwan -- Cardinals and Colts: It requires a very good team and a favorable early schedule with at least two home games to make this category. My two picks are Arizona and Indianapolis.
Pete Prisco -- Steelers, Colts, Packers
John Breech -- Colts and Dolphins: Do the names Tyrod Taylor, Ryan Fitzpatrick and Blake Bortles ring a bell? If you feel like those three quarterbacks are beatable, then you already agree with me that Miami and Indy will both win three of their first four games because both teams play Buffalo, Jacksonville and New York in the first four weeks of the season. The only difference for Miami and Indy in the first four weeks is that the Dolphins play the Redskins and the Colts play the Titans. I smell 4-0.
Will Brinson -- Patriots, Eagles, Dolphins
Jared Dubin -- Patriots, Colts, Dolphins: New England only plays three games in the season's first four weeks: Pittsburgh without Le'Veon Bell, Buffalo and Jacksonville. Tom Brady is going to come out destroying people. The Colts start off the year with the Bills, Jets, Titans and Jaguars. Andrew Luck is not losing to any of those teams, especially if the Bills are without LeSean McCoy. Miami -- and you might be noticing a theme here -- begins the season with a Redskins-Jaguars-Bills-Jets slate. That's not exactly murderer's row.
Sean Wagner-McGough -- Colts and Patriots: I'm expecting both of these teams to be among the best in 2015 and their first four weeks are looking favorable. The Colts have the Bills, Jets, Titans and Jaguars. The Patriots have the Steelers, Bills, Jaguars and then a bye week. Fittingly, the Colts and Patriots match up against each other in Week 6.
Ryan Wilson -- Cowboys, Patriots, Colts and Packers
Last Team to Get a Win
Jason La Canfora -- Bears: I don't like what I've seen in the preseason at all, don't like the roster at all, and don't like the way the season opens up for them. Packers, Cardinals, (at) Seahawks, Raiders -- they better beat Oakland at home, but I am just not convinced they will -- (at) Chiefs, (at) Lions, Vikings, (at) Chargers. I don't see too many wins in the first half of the season. And they stunk at home a year ago, which makes me think they'll do so again in 2015. That Raiders game is damn-near must win. The bottom might fall out really quickly, again, in Chicago.
Pat Kirwan -- Jaguars: Jacksonville's schedule and some of the injuries this year could make it a tough start for the Jags.
Pete Prisco -- Bears: When I played out the season, I had them winning their first game in Week 8 after a bye.
John Breech -- Rams or Redskins: These two teams play in Week 2 and I feel like there's a good chance the loser will be winless until at least Week 7. Also, based on how the Redskins offseason went, let's not pretend like 0-16 is out of the question.
Will Brinson -- Redskins: They'll probably prove me wrong in Week 1 against Miami but there's nothing easy on the schedule until they play at the Falcons in Week 5 and at the Jets in Week 6.
Jared Dubin -- Redskins: If they lose to the Giants in Week 3, I can't see them getting a win until the Week 6-7 stretch where they play the Jets and Bucs.
Sean Wagner-McGough -- Redskins: Washington is a mess. Even before all of the RG3 drama, this team wasn't even good to begin with. I don't see one clear win on their schedule. I'm not saying they're going 0-16, but I am saying they'll be bad.
Ryan Wilson -- Redskins: No quarterback to speak of; a coach on the hot seat and he probably has no idea; a general manager brought in to fix it all only to have, uh, stuff happen (distractions!); and, of course, an owner who has presided over it all since taking over the team in 1999. So, yeah, the chips are stacked against the Redskins before they take a snap in 2015. Which brings us to the schedule: They face the Dolphins, Rams, Giants, Eagles and Falcons to start the season. The Week 5 matchup against Atlanta might be Washington's best chance to get a win, and if it doesn't happen, there will be opportunities against the Jets (Week 6) and the Bucs (Week 7). Go winless during that three-game span and we could be having the "Is this an 0-16 outfit?" conversation. We know, it sounds like hyperbole -- until you remember who we're talking about.