2016 Super Bowl Halftime: Coldplay joins historic list of performers
Coldplay, Beyonce and now Lady Gaga. Super Bowl 50 certainly isn't lacking when it comes to star power. The artists join a well-regarded list of recent halftime acts that includes legendary names like U2, Paul McCartney, Prince, the Rolling Stones, and Katy Perry.
Coldplay, Beyonce, Lady Gaga and Bruno Mars.
Super Bowl 50 -- which will pit Cam Newton's Panthers against Peyton Manning's Broncos on the field -- certainly isn't lacking when it comes to star power.
Coldplay, which has sold more than 80 million records worldwide and is best known for songs like "Yellow," "Fix You" and "Viva La Vida," will be the headline act for the Super Bowl halftime show on Sunday night. And to spice things up, the British rock band will be joined by Beyonce during the show at Levi's Stadium in Santa Clara. The two artists recently collaborated on a pair of songs -- "Hymn for the Weekend" and "Up and Up" for Coldplay's new album A Head Full of Dreams.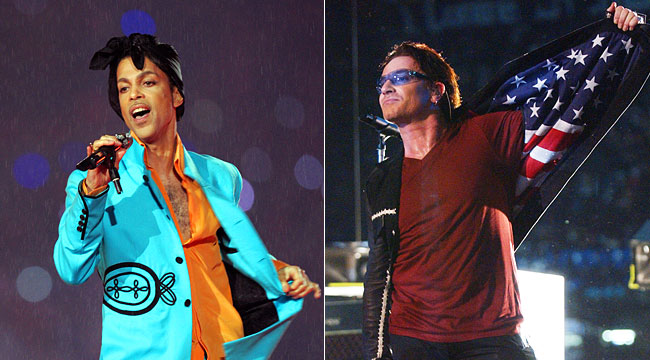 And to kick things off, Lady Gaga will belt out The Star-Spangled Banner before the league's golden anniversary game. Also, Academy Award winner Marlee Matlin will perform the anthem in sign language for the hearing impaired.
The artists join a well-regarded list of recent halftime acts that includes legendary names like U2, Paul McCartney, Prince, the Rolling Stones, Madonna, The Who, Bruno Mars, Bruce Springsteen & The E Street Band, Tom Petty and the Heartbreakers and Katy Perry.
https://t.co/eYLiUl3v6Y @katyperry, @LennyKravitz, @MissyElliott did an amazing job, best halftime performance in years! #SuperBowlXLIX

— Sandy Gracia (@GHCVB_SandyG) February 2, 2015
Perry's crazy halftime performance last year, which included a giant mechanical Tiger and dancing sharks, was the most-watched halftime show in history with 118.5 million viewers.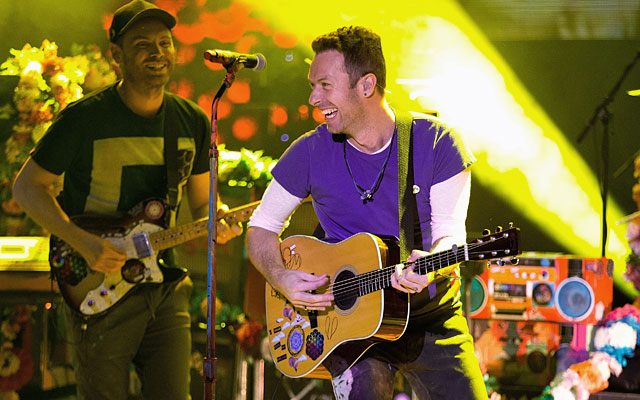 Here is the complete list of previous Super Bowl halftime performers and themes:
2015: Katy Perry, Lenny Kravitz and Missy Elliott
2014: Bruno Mars, Red Hot Chili Peppers
2013: Beyonce
2012: Madonna
2011: The Black Eyed Peas, Usher, Slash
2010: The Who
2009: Bruce Springsteen and the E Street Band
2008: Tom Petty & The Heartbreakers
2007: Prince and the Florida A&M marching band
2006: The Rolling Stones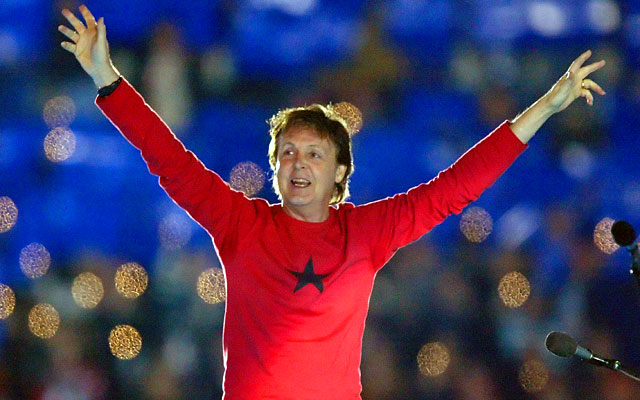 2005: Paul McCartney
2004: Janet Jackson, Kid Rock, P. Diddy, Nelly and Justin Timberlake
2003: Shania Twain, No Doubt and Sting
2002: U2
2001: "The Kings of Rock and Pop" featuring Aerosmith, 'N'Sync, Britney Spears, Mary J. Blige and Nelly
2000: "A Tapestry of Nations" featuring Phil Collins, Christina Aguilera, Enrique Iglesias, Toni Braxton and an 80-person choir
1999: "Celebration of Soul, Salsa and Swing" featuring Stevie Wonder, Gloria Estefan, Big Bad Voodoo Daddy and tap dancer Savion Glover
1998: "A Tribute to Motown's 40th Anniversary" including Boyz II Men, Smokey Robinson, Queen Latifah, Martha Reeves and The Temptations
1997: "Blues Brothers Bash" featuring Dan Akroyd, John Goodman and James Belushi (also featuring "The Godfather of Soul" James Brown and ZZ Top)
1996: Diana Ross celebrating 30 years of the Super Bowl with special effects, pyrotechnics and stadium card stunt. Finale featured Diana Ross being taken from the stadium in a helicopter
1995: "Indiana Jones and the Temple of the Forbidden Eye" featuring Tony Bennett, Patti LaBelle, Arturo Sandoval, the Miami Sound Machine and stunts including fire and skydivers. Finale included audience participation with light sticks
1994: "Rockin' Country Sunday" featuring Clint Black, Tanya Tucker, Travis Tritt, Wynonna & Naomi Judd. Finale included flashlight stunt
1993: "Heal the World" featuring Michael Jackson and 3,500 local children. Finale included audience card stunt
1992: "Winter Magic" including a salute to the winter season and the winter Olympics featuring Gloria Estefan, Brian Boitano and Dorothy Hamill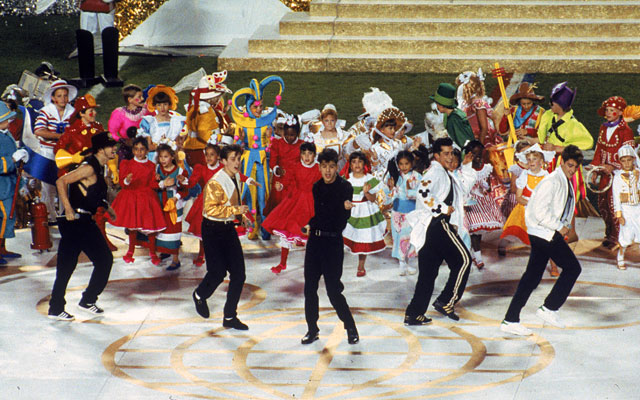 1991: "A Small World Salute to 25 Years of the Super Bowl" featuring New Kids on the Block
1990: "Salute to New Orleans" and 40th Anniversary of Peanuts' characters, featuring trumpeter Pete Fountain, Doug Kershaw & Irma Thomas
1989: "Be Bop Bamboozled" featuring 3-D effects
1988: "Something Grand" featuring 88 grand pianos, the Rockettes and Chubby Checker
1987: "Salute to Hollywood's 100th Anniversary"
1986: "Beat of the Future"
1985: "A World of Children's Dreams"
1984: "Super Bowl XVIII's Salute to the Superstars of the Silver Screen"
1983: "KaleidoSUPERscope" (a kaleidoscope of color and sound)
1982: "A Salute to the 60s and Motown"
1981: "A Mardi Gras Festival"
1980: "A Salute to the Big Band Era" with Up with People
1979: "Super Bowl XIII Carnival" Salute to the Caribbean with Ken Hamilton and various Caribbean bands
1978: "From Paris to the Paris of America" with Tyler Apache Belles, Pete Fountain and Al Hirt
1977: "It's a Small World" including crowd participation for first time with spectators waving colored placards on cue
1976: "200 Years and Just a Baby" Tribute to America's Bicentennial
1975: "Tribute to Duke Ellington" with Mercer Ellington and Grambling State band
1974: "A Musical America" with University of Texas band
1973: "Happiness Is." with University of Michigan marching band and Woody Herman
1972: "Salute to Louis Armstrong" with Ella Fitzgerald, Carol Channing, Al Hirt and U.S. Marine Corps Drill Team
1971: Florida A&M band
1970: Carol Channing
1969: "America Thanks" with Florida A&M University band
1968: Grambling State band
1967: University of Arizona and Grambling State marching bands
Kickoff at Levi's Stadium is set for 6:30 p.m. ET. For more information on how to watch Super Bowl 50, go here.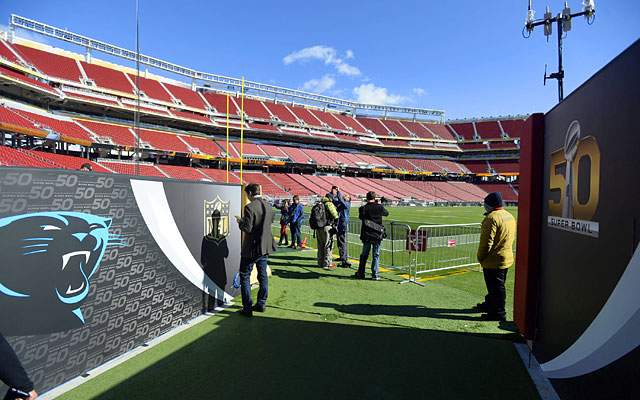 Pick Six Newsletter
Get the day's big stories + fun stuff you love like mock drafts, picks and power rankings.
Please check the opt-in box to acknowledge that you would like to subscribe.
Thanks for signing up!
Keep an eye on your inbox for the latest sports news.
Sorry!
There was an error processing your subscription.
A minor groin injury kept Aiyuk out of the Senior Bowl

Brees will join Tom Brady as the second QB to play 20-plus seasons with two or fewer franchises

Despite the fact that it may not be in Washington, Reed wants to keep playing
Minnesota's 1,000-yard receiver recently removed every Viking photo from his Instagram account

Unlike a year ago, there could be a handful of cornerbacks who find their way into Round 1

Is Joe Burrow trying to talk his way out of Cincinnati?
Kansas City won its first Super Bowl in 50 years as San Francisco struggled to maintain a late...

A Vince Lombardi Trophy is heading to Kansas City

Live scores, highlights and updates from the Broncos vs. Raiders football game