49er fans write to newspaper objecting to Seahawks loud stadium
Some fans in San Francisco didn't like all the loud noise all the fans in Seattle made during Sunday night's game between the Seahawks and 49ers, so they wrote to their local newspaper to complain.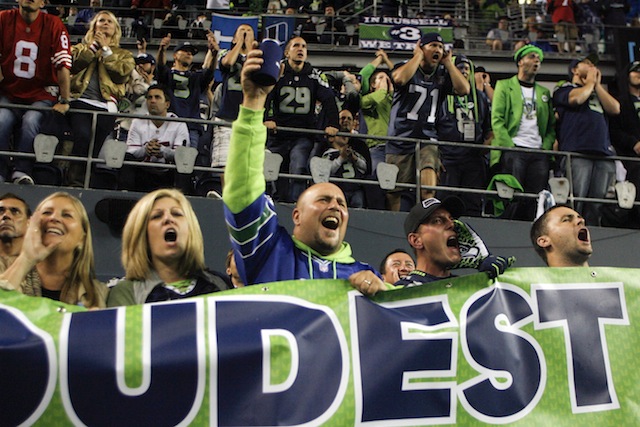 If you watched the Seahawks-49ers game on Sunday night and had the volume on anything over moderate, there's a 50 percent chance you went deaf. That's because the Seahawks fans at CenturyLink Field were loud. Jet-taking off, 136.6 decibels, Guinness World Record loud.
Not everyone likes loud though. Like two 49ers fans who took some time to write to the San Francisco Chronicle this week to complain about how loud CenturyLink Field was.
In a letter to the editor published on Tuesday, two 49er fans complained that they were 'appalled by the unsportsmanlike conduct of the Seattle Seahawks and their fans, juiced on noise...'
Here's the letter, as published in Tuesday's Chronicle. 
Was anyone else appalled by the unsportsmanlike conduct of the Seattle Seahawks and their fans, juiced on noise, which surely creates as big an advantage over an opponent as any performance enhancing drug and which, to their shame, NFL officials turn the same blind eye they have to concussions and drugs ("Seattle states case loudly, clearly in rout," Sports, Sept. 16)?

It would be simple to fix. Seahawks players and managers would ask their fans to cease and desist, and the NFL would implement a new rule: The visiting team may stop the game when fan noise is greater than a specified decibel level, and should this rule be violated in more than three games, no home games will be played at the offending field for the rest of the season, including playoff games. Things would quiet down.

At a time when the world seems sour, sports give us a place of joy, community and hope, and to have it spoiled is a bigger loss than it seems on the surface.
Now you're probably thinking, 'That's the weirdest letter I've ever read and can I please get that 30 seconds of my life back and please tell me there's not another one.' Well, I have bad news, there's another one. On Wednesday, the Chronicle published a second letter to the editor complaining about the noise at the Seahawks game.
Here's the text of that letter.
I couldn't agree more with [the first letter].

It wasn't a game of skill anymore; it was an exhibition of excessive stadium noise, posturing obscenities in your opponent's face to draw a foul and street-punk behavior to fire up tensions to gain any advantage to get the win.

I hope the NFL will listen before the fans go deaf. Please stop the excessive stadium noise, and just play football.
The moral of the story here seems to be: Seahawks games shouldn't be televised. They're too loud.  
The NFL announced on Friday that 32 compensatory draft picks have been awarded to 15 teams

Jonathan Martin's old high school was forced to close on Friday after he appeared to threaten...
It doesn't look like the Jaguars will be making any front office changes anytime soon

The Buccaneers quarterback received a citation after causing a car wreck February 13

It's time for NFL teams to get creative and here's some moves to make it possible