49ers' Aldon Smith pleads no contest to six charges, could face jail time
San Francisco 49ers linebacker Aldon Smith could face anywhere 'from zero days to four years and four months' in jail after pleading no contest to six separate charges on Wednesday.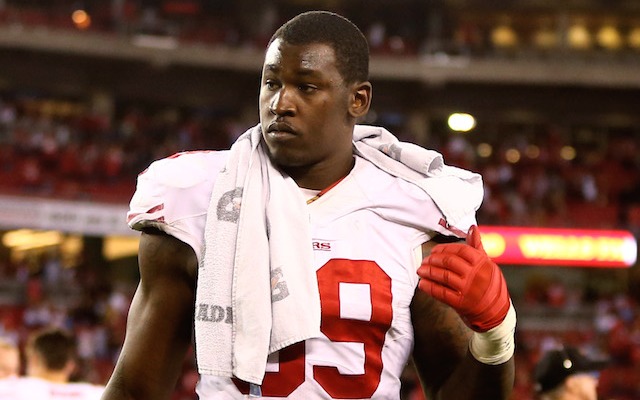 San Francisco 49ers linebacker Aldon Smith will find out on July 25 if his legal woes will lead to him serving jail time. The 24-year-old was in a California courtroom on Wednesday where he pleaded no contest to six separate charges, according to the San Jose Mercury News.  
Smith was facing three counts of possessing an illegal assault weapon. The felony charges against Smith were filed in October. The charges stem from a house party Smith threw at his San Jose residence in June 2012.
The 49ers linebacker was also in court facing three charges from a September DUI arrest. 
Smith will be sentenced on July 25 and could face up to 52 months in prison. Prosecutor Brian Buckelew told the Mercury News that the length of Smith's sentence will come at the sole discretion of the judge, "It's from zero days to four years and four months," Buckelew said of how long Smith's sentence could go. 
If Smith stays out of trouble, he's expected to see a lighter sentence. "There is an acceptance of responsibility here that is factored in by the sentencing judge," Buckelew said. 
There will also likely be more punishment for Smith from the NFL in the form of a suspension. Smith violated the league's substance-abuse policy with the DUI. The no contest plea to the weapons-related charges also constitutes a violation of the NFL's personal conduct policy.
Smith missed a total of five games in 2013 after entering rehab following his Sept. 20 DUI arrest. 
The no contest plea that Smith entered on Wednesday puts two criminal cases behind him, but he could still face charges from his April arrest at LAX. That case has been referred to the Los Angeles City District Attorney's Office for misdemeanor consideration.
Everything you need to know about the Packers-Panthers game on Sunday afternoon

The Lions will be wearing their Color Rush uniforms for the first time on Thursday

The Lions look to maintain playoff positioning while the Bears attempt to play spoiler
The Panthers have hired an outside law firm to conduct the investigation

Here's every official injury designation for each NFL team for Week 15

Bennett was one of the few players who escaped punishment after Sunday's melee in Jacksonv...