49ers DL Ray McDonald charged with felony domestic violence
Less than a week after the NFL announced new punishment for domestic violence, defensive tackle Ray McDonald has been charged with it.
• 1 min read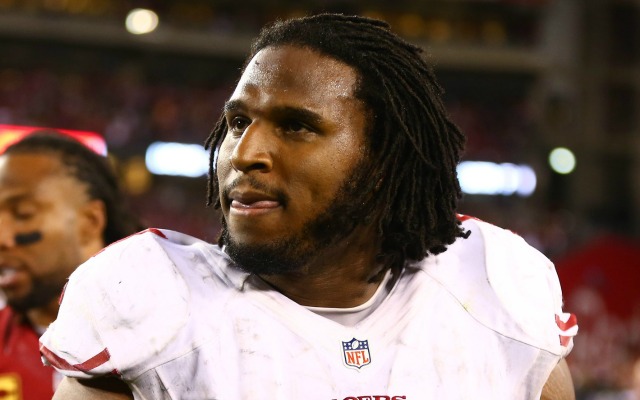 San Francisco 49ers defensive tackle Ray McDonald has been arrested and charged with felony domestic violence, according to NBC Bay Area. He was booked at 5:30 a.m. Sunday for "inflicting injury on a spouse or cohabitant," reports the Sacramento Bee.
According to the Santa Clara County department of corrections, no bail has been set for McDonald.
Ray McDonald mug shot pic.twitter.com/vax00TWbJz

— Damian Trujillo (@newsdamian) August 31, 2014
The NFL announced this past week the new punishment for those who are involved in domestic violence disputes. In the wake of the Ray Rice two-game suspension news that was met with derision, the league said a player would be suspended for six games for the first offense. The second offense would bring a lifetime ban.
But McDonald could face a harsher first-time punishment.
Added detail on McDonald from @newsdamian: Alleged victim is pregnant. Goodell cited pregnant victims as criteria for harsher punishment.

— Mike Garafolo (@MikeGarafolo) August 31, 2014
According to the Bee, McDonald was having a birthday party that stretched into Sunday morning. When police arrived at 2 a.m., officers said she showed them she was bruised by McDonald. That's when he was arrested.
"The 49ers organization is aware of the recent reports regarding Ray McDonald and we take such matters seriously," general manager Trent Baalke said in a statement, via the Bee. "As we continue to gather the facts, we will reserve further comment."
49ers coach Jim Harbaugh doesn't seem to have much tolerance for those who partake in domestic violence. As PFT points out, this was a quote by safety Donte Whitner in regards to Harbaugh's views on the matter.
"He said that we can do anything in the world and we can come and talk to him and he'll forgive us except put our hands on women," Whitner said. "If you put your hand on a woman, then you're done in his book."
McDonald is slated to start at defensive tackle in the 49ers 3-4 defense. He's started 45 games in the past three seasons, and during that time, he's accumulated 11.5 sacks.
He's scheduled to make $3.5 million for 2014 and $4.1 million in 2015 before he becomes a free agent.
The 49ers defense, meanwhile, already will start the season without linebackers Navarro Bowman (still recovering from a gruesome knee injury from the 2013 season) and Aldon Smith (nine-game suspension). 
A decision is expected to come down on Tuesday

Nick Kostos, a.k.a. 'Mr. Monday Night,' has a bold pick for Monday Night Football

Burfict, who has a lengthy history of suspensions, could still be fined for his actions
The Giants aren't happy about a controversial call that went against them

The Jaguars racked up 10 sacks on Jacoby Brissett in a 27-0 blowout loss

Hunt isn't just an Offensive Rookie of the Year candidate, he's also a legitimate MVP cand...