49ers fan suing Seahawks, NFL for $50M over selective ticket sales
Thanks to a selective ticket sales process implemented by the Seahawks, fans in 44 different states were unable to buy NFC title-game tickets. Now one fan is suing.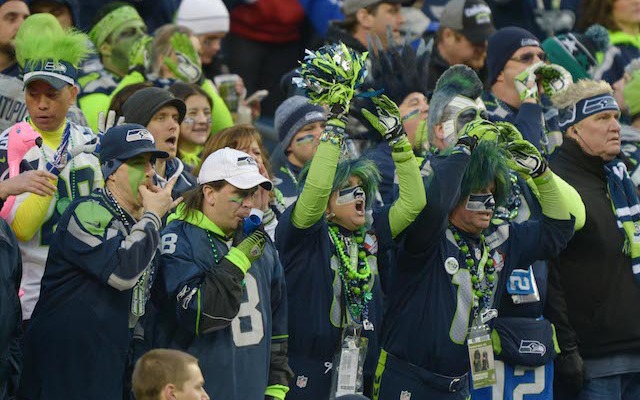 More NFL offseason: Mock Drafts | Prospect Rankings | Pro days | Top free agents
If you watched the NFC Championship Game on television back in January, you may have noticed that there weren't a lot of 49ers fans at the game. One of the reasons for that is that the game was in Seattle. So that makes sense. 
Another reason 49ers fans weren't there though is because the Seahawks didn't want them there: The team restricted ticket sales to only the fans who had a credit card billing address in Washington, Oregon, Montana, Idaho, Alaska or Hawaii -- and Canada. Let's not forget Canada. Canadians could buy tickets too.
Thanks to the restrictions, there were 44 states where fans couldn't purchase tickets. One of those states? Nevada. And now one fan in that state is suing.
John E. Williams III has filed a $50 million lawsuit against the NFL because he says the Seahawks and the league used a selective ticket process that violates the law.
From the lawsuit, which was filed in a US District Court in Las Vegas.
The practice of withholding the sale of tickets from the public at large and allowing only credit card holders limited to certain areas is a violation of the Federal Consumer Fraud Act and/or common law.
Of the $50 million that Williams is seeking, he's hoping to get $10 million in punitive damages and $40 million in real damages. In an interview with the Associated Press, Williams said that, by limiting ticket sales, the Seahawks "fixed" the game.
"They're always boasting up there about their 12th player and everything else," Williams said. "But by allowing the NFL to decide who can or cannot attend the games, you make it an unfair game. Seattle fixed it."
Williams said he doesn't believe any NFL team has the right to limit ticket sales since most teams play in publicly funded stadiums.
Although Williams has a problem with the Seahawks restricting ticket sales to certain areas of the country, 49ers coach Jim Harbaugh seemed to be OK with the strategy. Back in January, Harbaugh said he respected the Seahawks' plan to restrict ticket sales.
If Williams' lawsuit is successful, then the Broncos might want to get their lawyers ready. Before the AFC title game against the Patriots, Denver restricted ticket sales to fans in Colorado, New Mexico, Utah, Wyoming, Nebraska, Montana, South Dakota and western Kansas.
Chargers coach Anthony Lynn did not provide details on whether or not Henry will play

Panthers owner Jerry Richardson no longer has day-to-day control of the team

Rally cries for 'St. Nick' are echoing across Pennsylvania as Eagles trudge forward without...
The Panthers will be missing their star linebacker for the rest of the regular season

The Cowboys running back now looks like a tank

Former Atlanta sportswriter Larry Hartstein knows the Falcons and locked in a pick for 'Monday...