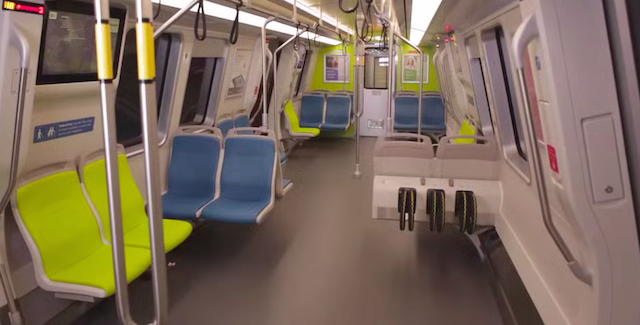 More NFL offseason: Mock Drafts | Prospect Rankings | Pro days | Top free agents
I've got some good news and some bad news for you San Francisco. 
The good news is that the Bay Area Rapid Transit (BART) system in your city is getting new train cars. Cities never get new train cars! So that's exciting.
Now the bad news though: Apparently no one working for BART watches football because the seats in the new train cars are Seahawks colors. As you can see in the photo at the top of the page, the people at BART decided to go with colors that are eerily similar to the colors of the 49ers most bitter rival. 
Some people have definitely noticed, like this guy. 
In addition to Seahawks-colored seats, TVs on new BART trains will play a constant loop of @RSherman_25 highlights http://t.co/kZZZjS4C9t

— Daniel Jacobson (@danieljacobson_) April 3, 2014
A few 49ers fans have also noticed and are trying to do something about it. One fan even started a Change.org petition asking BART to change the colors of the seats. 
Here's what the petition says: 
To: Bay Area Rapid Transit (BART), General Manager Grace Crunican 

Please refrain from outfitting the seats in BART cars in neon green and blue, the colors of the NFL's Seattle Seahawks (as per the picture on BART.gov).
Was this an accidental mistake or a conspiracy at the highest levels of BART?
Probably the first one, but it's worth noting that BART general manager Grace Crunican was the Director of Seattle's Department of Transportation before taking the BART job in 2011. 
The BART website talks at length about the seats -- they're 50 percent lighter, they use silicone cushions -- however, the site never mentions why lime green and blue were picked as the colors for the new seats. 
If you live in San Francisco and want to see the Seahawks-colored seats first-hand, the train cars will be on display at various locations throughout the city until May 9.