49ers' Jed York: Chip Kelly era is 'fresh start' for Colin Kaepernick
Colin Kaepernick had a forgettable season but there's no question in CEO Jed York's mind that he can become the 49ers' starting QB in 2016.
Colin Kaepernick had a forgettable 2015 season. He played in just nine games for the 49ers and eventually landed on injured reserve -- but not before he was benched for former Jaguars first-round bust Blaine Gabbert.
But 2015 is over and the coaching staff is gone, replaced by Chip Kelly, who has a history of success with athletic quarterbacks. And any speculation that the organization was ready to move on from Kaepernick is just that, which owner Jed York made clear this week.
"I'm not going to decide who the starting quarterback is. That's our coach, and then the staff," York said Thursday during an appearance on The Rich Eisen Show, via CSNBayArea.com. "But I think the nice thing is we have the third-most salary cap room in the league, and everybody wants to make a big issue of, 'Well, you need to make a decision on Colin.' Et cetera, et cetera. We want Colin to get back healthy as soon as possible. We want to make sure that he's able to take the field whenever he's available."
A second-round pick in 2011, Kaepernick flourished under then-coach Jim Harbaugh, helping the 49ers to two NFC title games and a Super Bowl before Harbaugh was run out of town a year ago. Things promptly went sideways under Jim Tomsula, who was in an untenable situation with no real chance to succeed. Tomsula was fired after a season, and now it's up to Kelly to resurrect Kaepernick's career.
York has complete confidence that that's exactly what will happen.
"And we've all seen what Colin can do," York said, continuing, "He's had a great career here. Obviously last year wasn't a great year for any of us in red and gold. And I think Chip is going to be a great addition, not just for Kap, but for the rest of the team. I'm excited to see where it goes."
It also means Kaepernick can return to the starting role he lost midway through last season.
"There's no question in my mind," York continued. "I've always had a very, very high opinion of Kap. Kap's a great kid, he's done a lot of great things for us. And again, this is a fresh start for everybody."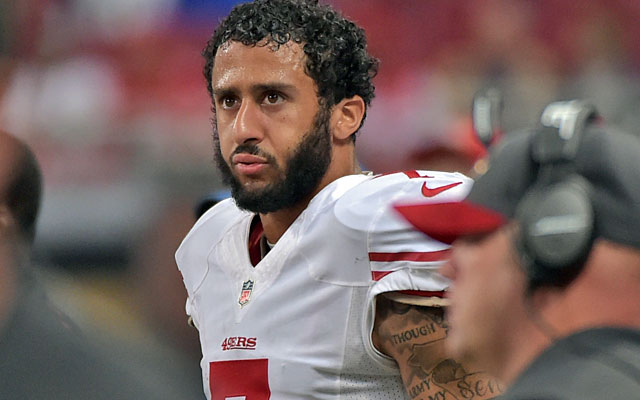 The bulletin board material is piling up for Sunday's AFC Championship game

The right tackle was behind the underdog masks and is now selling 'Home Dogs' shirts

Everything you need to know about the AFC and NFC title games
The Jaguars are poised for the biggest upset in recent playoff history

The Broncos might have tipped their hand as to which player they're targeting at No. 5

The Jags were laughingstocks as recently as this summer; now they're 60 minutes from an AFC...