49ers Jed York: 'No interest in pursuing' Browns Jim Harbaugh offer
Jed York confirmed that the Browns called San Francisco about trading for Jim Harbaugh but San Francisco had 'no interest in pursuing' the deal.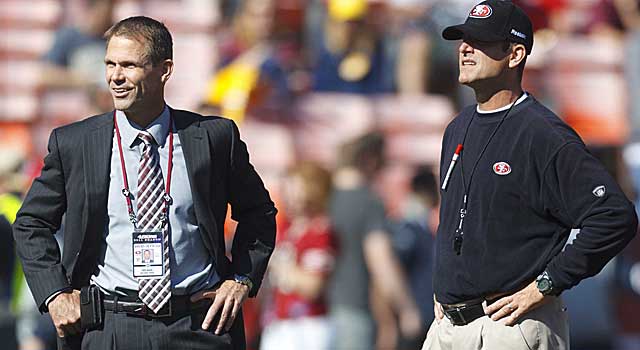 Indianapolis was ablaze over the weekend with the rumor of Cleveland making a run at Jim Harbaugh, as the Browns (allegedly? reportedly?) tried to trade for the 49ers coach.
There were initial denials and non-denial denials from both sides before Browns owner Jimmy Haslam confirmed Cleveland's attempt to acquire Harbaugh. Now Jed York -- who previously said the report "isn't true" -- has also confirmed that Cleveland tried to acquire Harbaugh.
"The Browns reached out to me, and we had no interest in pursuing it," York told Peter King of The MMQB.
We'll probably never know exactly how far this hypothetical trade went. Whether it was Mike Lombardi who attempted the play for Harbaugh (that makes the most sense; Lombardi worked with Harbaugh in Oakland and Lombardi's son, Mick, works for Harbaugh) or someone else, it's unlikely we'll hear about highly-specific compensation that was discussed.
Or whether the 49ers even invited any discussion or who basically shut it all down. 
What we do know now, as CBS Sports Jason La Canfora wrote Monday, is there's some serious tension between Harbaugh and GM Trent Baalke, who are "barely speaking" at this point.
Baalke danced around that idea when asked at the NFL combine about Harbaugh's input in the draft process.
"There's been no change. We continue to work hard at it," Baalke said. "What we're trying to do is get it right for the 49ers. And the best way to get it right is for everybody to be on the same page and to work hard together and try to make the best decisions that you can for the team and the organization as a whole. We'll continue to do that. From that standpoint, nothing's changed."
The reality is a lot has changed in the last few days since the report of a possible Harbaugh trade emerged. Whether or not York and the Niners ever considered it, even the notion of a deal is going to crank up the tension in Niners land. 
LSU's star defender returned from injury this weekend and highlights our 2018 Draft Top 20

McCarron could gain a lot from a Dalton benching, but he's sticking up for the Bengals' embattled...

'Top Dog' Tierney is 26-10 on NFL over-under picks since last season, has strong play on 4...
The injured Lions left tackle does not take kindly to being called a Wolverine

The Cowboys owner doesn't sound too worried by Elliott's lack of effort on an interception...

The Eagles DE is making the donations in response to the racial violence in his hometown