49ers LB Aldon Smith pleads not guilty to weapons charges
San Francisco 49ers linebacker Aldon Smith was in court on Tuesday where he pleaded not guilty to three felony counts of possessing an illegal assault weapon.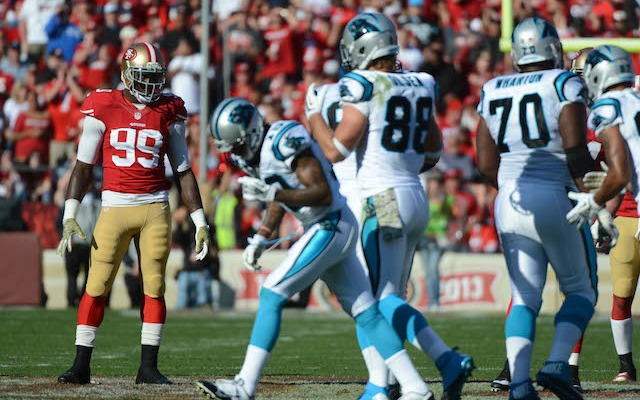 San Francisco 49ers linebacker Aldon Smith spent part of his Tuesday in a California courtroom where he pleaded not guilty to three felony counts of possessing an illegal assault weapon. Smith was charged with the felonies in October. The charges stem from a house party Smith threw at his San Jose residence in June 2012.  
Smith was accompanied to court by his parents and his defense attorney, Josh Bentley. "Aldon's very interested in answering to these charges, and you have to understand that this is a process, and today's court appearance was the first step in that process," Bentley said, via NBCBayArea.com.
Two men suffered gunshot wounds and Smith was stabbed at the June 2012 party before authorities broke it up. Besides the felony charges, Smith is also facing separate lawsuits from the men who were wounded at the party.  
Sixteen months after the party, the Santa Clara County District Attorney's Office finally pressed charges against Smith and released this statement in October: 
Following the [June 2012] shooting, the Santa Clara County Sheriff's Department searched Smith's residence for evidence related to the assaults. As part of that search, Sheriff's investigators recovered two rifles from Smith's bedroom, including an Armalite AR10-T .308 caliber rifle. In a second search two weeks later, Sheriff's investigators recovered three additional firearms from Smith's bedroom and closet, including a Bushmaster ACR rifle chambered for 5.56mm NATO and a Bushmaster Carbon-15 .223 caliber rifle. None of the five weapons were registered with the California Department of Justice. Sheriff's investigators documented several additional large-capacity magazines strewn about the floor of Smith's bedroom.
Smith is also facing two charges stemming from his Sept. 20 DUI arrest, charges that he has not entered a plea for yet. Smith will return to court on Jan. 15 for a hearing that will combine the DUI case and weapons charges, according to NBCBayArea. 
Three days after the DUI arrest, Smith took a six-week personal leave of absence from the team and checked-in to a rehab facility for counseling and inpatient rehabilitation. Smith returned from his rehab stint on Oct. 31 and began practicing with the 49ers as they prepared for their Week 10 game against Carolina. Smith played a total of 12 snaps in San Francisco's 10-9 loss to Carolina on Sunday. 
According to the San Jose Mercury News, Smith faces a maximum of four years and four months in jail if he's convicted on all three felony weapons charges.
Forget being the highest paid receiver, Odell Beckham has loftier goals for his next contr...

There was a Rolls-Royce at Steelers training camp, but no Le'Veon Bell

'It ain't about 2016 and it ain't about 2018. It's about 2017,' Doug Williams told his qua...
Philip Rivers will not be moving to Los Angeles with the Chargers

Bryant has had off-the-field issues keeping him off the field for the past few years

Technically Woody Johnson is the Jets' owner, but on the other hand, Brady does own the Je...