49ers LB Aldon Smith suspended for first nine games of 2014 season
The 49ers will be without linebacker Aldon Smith until November after the NFL announced a nine game suspension on Friday.
San Francisco 49ers linebacker Aldon Smith has been suspended for the first nine games of the 2014 season, the NFL announced on Friday. In a statement, the league said Smith was punished for violating both the substance-abuse policy and the personal conduct policy.
The suspension means that Smith won't be allowed to return to the team until Nov. 10.
"Our organization has known this decision would come and we have prepared for it," 49ers general manager Trent Baalke said in a statement. "Aldon has taken responsibility for his actions and has continued to show growth personally and professionally. We will continue to support him, but it is time to put this matter behind us and focus on the season ahead."
Smith's suspension means that the 49ers will be without their top two linebackers for at least the first six weeks of the season.
All-Pro linebacker NaVorro Bowman was placed on the reserve/physically unable to perform list this week, meaning Bowman can't return until Week 7 at the earliest. Bowman has been out since tearing his ACL against the Seahawks in the NFC Championship Game in January. 
As for Smith, the harsh punishment was handed down after the linebacker had several run-ins with the law. Back in May, Smith pleaded no contest to six separate charges, including three counts of possessing an illegal assault weapon and three charges from a September 2013 DUI arrest.
Smith returned to court in July, where he was setenced to 12 days in jail for his no contest plea. Smith also had an incident at Los Angeles International Airport in April, where he made a bomb threat. However, Smith isn't facing any charges stemming from that issue at the airport. 
The nine-game suspension means Smith will have missed a total of 14 games over two seasons due to his legal problems. Smith missed five games in 2013 after entering rehab following his DUI arrest. The DUI arrest was the second one of Smith's 49ers career. The seventh overall pick in the 2011 NFL Draft was also charged with DUI in January 2012 in Miami Beach.
According to ESPN.com, Smith was given a five-game suspension for violating the league's personal conduct policy and a four-game suspension for violating the league's substance abuse policy.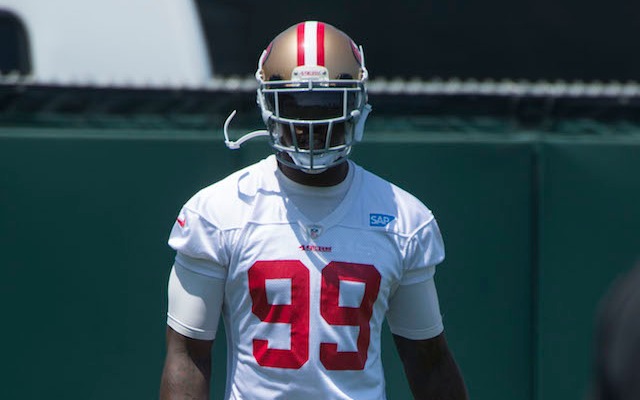 The Seahawks are trying to beef up their offensive line with George Fant out

Tom Brady had an interesting Sunday

Cutler's teammates rave about his arm and football IQ but can he keep playoff hopes afloat...
Odell Beckham broke all the rules for watching the solar eclipse on Monday

For the second straight year Siemian has won the starting job in Denver

The soon-to-be Las Vegas Raiders played in Los Angeles from 1982-1994 before moving back to...