49ers No. 3 QB could be first to make two London trips in one season
San Francisco third-string quarterback McLeod Bethel-Thompson will do something in Week 8 that no NFL player has ever done before: travel to London twice in one season for two different teams.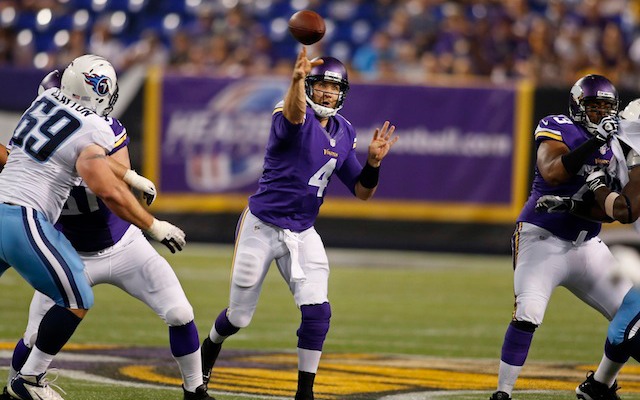 If the NFL's serious about eventually putting a franchise in London, someone in the league office should probably talk to San Francisco quarterback McLeod Bethel-Thompson first. Barring any roster moves, Bethel-Thompson will be making his second trip to London in 2013 when the 49ers play the Jaguars at Wembley stadium.
When that happens, Bethel-Thompson will become the first player in the NFL to have been on the roster for two games in London in the same season, according to ESPN.com. 
When all is said and done, Bethel-Thompson will have spent two games -- or 25 percent of an NFL team's eight-game home schedule -- on the other side of the pond. 
Bethel-Thompson made his first trip of the season to England in Week 4 when he was Minnesota's No. 3 quarterback. Less than two weeks after the trip to London, the Vikings signed former Buccaneers quarterback Josh Freeman and released Bethel-Thompson.  
The 25-year-old San Francisco native wasn't a free agent for long though because the 49ers picked him up on Oct. 9 after releasing John Skelton. 
Bethel-Thompson was a media hit during his first trip to London and that's mainly because his maternal grandfather, Wilbur "Moose" Thompson won a gold medal in the 1948 Olympics at Wembley Stadium for throwing a shot put. 
"I got some interviews for sure," Bethel-Thompson said. "They love their Olympics over there."
Bethel-Thompson's record of being on the roster for two games in London could potentially be broken next year, but it would have to be done by a true journeyman free agent. For the first time, the NFL will be holding three games in London in 2014, with Atlanta, Oakland and Jacksonville all set to host one game each. 
Here's an up-to-date look at the 2018 Pro Bowl roster

New England is 3-0 wearing white in Super Bowls under Bill Belichick

Bettors are favoring the Eagles to keep Super Bowl LII close, but the Patriots remain clear...
No one wants to give the Eagles any respect

The three-time Grammy winner will sing before Super Bowl LII on Feb. 4

Here's a look at the NFL's entire postseason schedule for 2018