49ers OL Daniel Kilgore arrested, charged with public intoxication
Forty-Niners offensive lineman Daniel Kilgore was arrested in Tennessee on Jan. 26 and charged with public intoxication.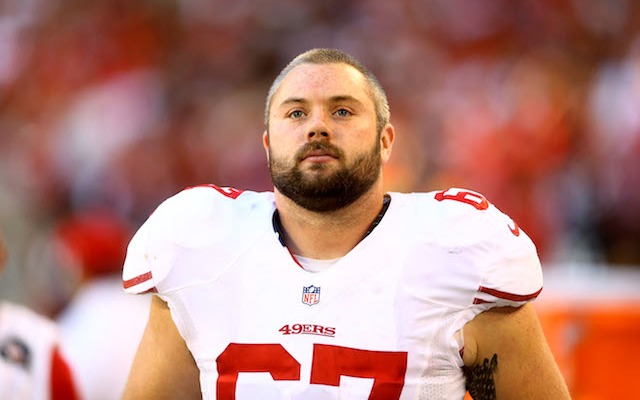 More SB coverage: XLVIII odds | Expert picks | Super Bowl weather | Latest news
There's been an arrest during Super Bowl week, but it didn't happen in New York City and it didn't involve the Seahawks or Broncos. San Francisco 49ers offensive lineman Daniel Kilgore was arrested on Jan. 26 in Kingsport, Tenn., and charged with public intoxication. 
The 26-year-old lineman has been in San Francisco since the 49ers selected him in the fifth-round of the 2011 NFL Draft.
"The 49ers organization is aware of the recent matter involving Daniel Kilgore," the team said in a statement. "We are monitoring the situation closely, but will reserve further comment at this time, as this is an ongoing legal matter."
According to the Kingsport Times-News, Kilgore was staggering down the street with a male friend when they were stopped by a police officer. After smelling a strong odor of alcohol, the officer decided that Kilgore was 'too intoxicated to be in public,' which led to the duo being arrested for 'their safety and the welfare of the public.'
The third-year lineman has made an appearance in every game the 49ers have played since 2012, including San Francisco's NFC championship loss to Seattle. Kilgore is from Kingsport and attended high school there before playing football at Appalachian State. 
Here are 10 things to watch in Week 15, including a hot Bortles, a cold Brady and a new Eagles...

A couple of potential playoff teams have trouble covering against cellar dwellers in Week...

Siemian said he knew the injury was serious as soon as it happened
After an injury to Trevor Siemian, Brock Osweiler entered the game and helped the Broncos to...

The 32-year-old running back is done for the year

Brandon Williams was involved in a scary situation in the first half against Denver