49ers RB LaMichael James tweets he's 'not trying to be insurance'
San Francisco running back LaMichael James has only been active for one game this season and on Monday, he took to Twitter to voice his frustrations about his role on the team.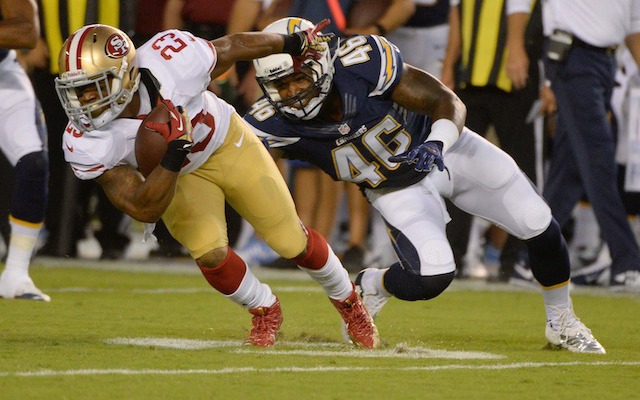 The San Francisco 49ers may want to start keeping their backup running backs away from Twitter. Last season, Brandon Jacobs was suspended and eventually released in part due to his social media complaints about the way the team was utilizing him. 
Running back LaMichael James took to Twitter on Monday to voice similar complaints. Although unlike Jacobs, James seemed to have a sense of humor about his lack of playing time. James sent out the tweet below on Monday (via CSNBayArea.com), but later deleted it. 

After he deleted the tweet, James sent out this follow-up tweet and hasn't tweeted since. 
I don't tweet bout football or anything related to my team so don't need ur input

— LaMichael James (@LaMichaelJames) October 1, 2013
James' frustrations seem to stem from a lack of playing time. The 2012 second-round pick was inactive for the 49ers first three games this season before finally seeing some playing time against St. Louis in Week 4. James didn't do much to earn more playing time though, carrying the ball three times for zero yards. 
The odd thing is, James was on the team last season when the Jacobs fiasco happened, so you'd think he'd have learned to take his complaints to his coach and not to Twitter. And if his coach isn't available, Jake from State Farm would probably listen.  
Grab some turkey and get ready for this NFC North showdown

SportsLine's top NFL and college football experts pick a 4-team parlay that pays 10/1

After an epic collapse against the Saints, the Redskins are hoping to right the ship
Brice Irvin is not a happy camper right now

Linda Del Rio is not happy with the president

The former New Orleans Saints wideout leads the NFL in 40-yard catches with New England