49ers RB Marcus Lattimore ready to begin pro career
After missing all of last season while rehabbing his knee injury, 49ers running back Marcus Lattimore is ready to play.
• 1 min read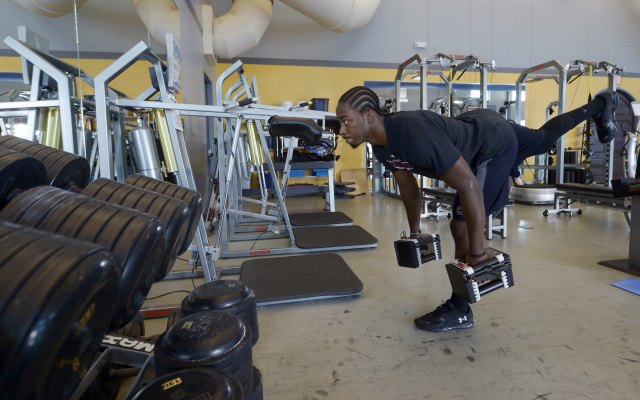 More NFL offseason: Mock Drafts | Prospect Rankings | Pro Days | Top free agents
Marcus Lattimore hasn't stepped on a field to play a game of football since October 2012 when, as a South Carolina running back, he blew out his knee in one of the most gruesome injuries you'll ever see.
Even so, the 49ers drafted him in the fourth round last year, and he sat out all of 2013 as he recovered. But on Monday, he'll attend the first day of the 49ers offseason workouts, and he's anxious to get back to playing football once again.
"After my injury, I just wanted to walk again," Lattimore said Friday, via The State. "It was tough, very tough. We're a playoff team, so we play 20-plus games. Being on that sideline, we got so close to the Super Bowl title the last three years.
"But I'm blessed to be in this situation. Never would have thought in a million years I'd be in this situation."
Lattimore's situation could be improving even more. The 49ers reportedly are shopping 2012 second-round pick LaMichael James, and if the team can find a trade partner, it stands to reason that Lattimore could move into that No. 3 running back slot behind Frank Gore and Kendall Hunter.
"Me and Kendall want to have a chance to do [back up Gore]," Lattimore said. "Go out there and help that team. If we can go and take some pressure of Frank, we can also help [Colin Kaepernick] move around."
Overall, though, Lattimore is just eager to get going and to start his pro career.
"If I prove it in practice, I don't think there's no excuse why I can't play," Lattimore said. "I'm ready."
The NFL is going to have to look for a new commissioner

The Washington Redhawks are not an actual thing

CBS All Access allows viewers to stream every NFL game on CBS in their local market
CBS All Access allows viewers to stream every NFL game on CBS in their local market

CBS All Access allows viewers to stream every NFL game on CBS game in their local market

This should be a galvanizing moment for an NFL process that's just not good enough