49ers storylines: Kaepernick's growth key to Super Bowl return
The 49ers were 5 yards from winning a Super Bowl, and Colin Kaepernick is a huge reason. Can the face of the 49ers sustain the improvement?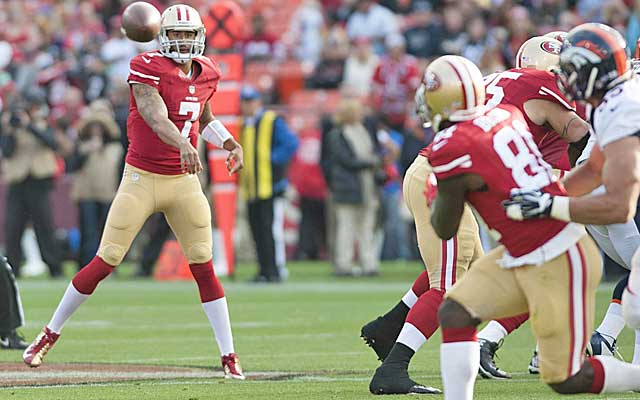 The San Francisco 49ers were oh-so-close to winning the Super Bowl, and in an attempt to get back there, the organization kept an outstanding coaching staff and most of the roster intact.
"For the veteran players," defensive end Justin Smith said, "it feels good that we have most of the team back for another shot at the title."
While I was at camp the new edition of GQ was released with Colin Kaepernick on the cover. Even though he has only 10 NFL starts, his teammates have no problem with the budding star as the face of the organization. It felt like the glory days of Joe Montana and Steve Young at quarterback, though Kaepernick has a lot to prove before he belongs in the conversation with those two Hall of Famers.
But there is no question, Kaepernick's continued development and replacing Michael Crabtree are two key storylines for the Niners this season.
Top storylines
1. Will Kaepernick keep improving? There is no doubt the big, strong-armed QB is a work in progress, but he will put up impressive numbers this year. TE Vernon Davis told me how hard and accurate his passes have been coming in at practice. Newcomer Anquan Boldin loves his arm and really likes him in scramble drills.
2. Can the O-line protect the QB better? Last season, the 49ers were 30th in percentage of sacks allowed in the NFL. Kaepernick is a mobile, and that help the cause, and the offensive line was impressive at practice with their pass protection. This is an area we will see significant improvement.
3. Boldin sees similarities to Flacco: Boldin, who played for the Super Bowl champion Ravens last season, had some interesting things to say about Kaepernick. Boldin said people don't realize what a good QB he is because there's too much emphasis on his running ability. Boldin feels there are strong similarities to Joe Flacco when it comes to arm strength. He also said he has already developed a strong relationship with Kaepernick and they can communicate via eye contact to know when it's time to find Boldin. Boldin could have a big year in this offense and surpass his 2012 production (65 catches, 921 yards, four TDs in Baltimore).
4. Who picks up the slack for Crabtree? Preseason expectations were for former first-round pick A.J. Jenkins , but his confidence and mental toughness are a question marks. Boldin will become the go-to guy but they still need a vertical threat opposite him. Keep an eye on the third preseason game to see who emerges from the pack. Some believe Austin Collie will rise up, others hope its rookie Quinton Patton but he can't catch yet because of an injury. My bet is on Marlon Moore . There are rumors Jenkins could be cut, but I seriously doubt that will happen. But next season is a different story should Moore not pick it up.
5. Depth on defense: 6. Third corner for nickel defense: Chris Culliver (knee) has been lost to injury, but there is solid competition between Nnamdi Asomugha , Perrish Cox and Tramaine Brock . At some point, Eric Wright will enter the picture and make the battle even more intense.
7. The kicker: The acquisition of Phil Dawson cannot be underestimated. He looked great in practice, and we talked about his leg strength and kicking in San Francisco. In the past two seasons, Dawson is 15 of 16 on FG attempts of 50-plus yards, and he figures to win a game with that strong leg.
8. The Seattle rivalry: The rivalry between San Francisco and Seattle is the sole focus of those fan bases. They play each other in Week 2, and it's already a talking point for both clubs. While neither unit sells the Rams or Cardinals short, this thing is starting to resemble Bears-Packers. I think home field for both teams is the deciding factor.
9. Prediction: The 49ers are a playoff team. My radio partner Tim Ryan does the color for their preseason games and is around the club a lot. He believes they are a 14-2 or 13-3 team. I like them, but not that much, because of the receiver situation and some depth issues. Nonetheless this team wins 11 games and makes another playoff run, getting in as a wild card.
Things I saw or heard at practice
1. Taking up the slack: Instead of focusing on the slow development of Jenkins with Michael Crabtree and Mario Manningham still on PUP, the focus is on receivers making plays. That's what good teams do -- push on and ask who's next? Of course, the Boldin move looks like a stroke of genius, though the WR making the most noise at practice is Marlon Moore.
2. O-line depth: "I like our depth on the offensive line," says GM Trent Baalke, and I agree. I've been to 13 camps and offensive line depth is an issue at almost every stop. But this is an outstanding starting group with three solid backups. Adam Snyder can play any of the five line spots and is the perfect sixth lineman, Daniel Kilgore is battling Jonathan Goodwin for the center spot -- the loser will be a tremendous backup. The eighth lineman should be 2012 fourth-round pick Joe Looney , who coaches are high on.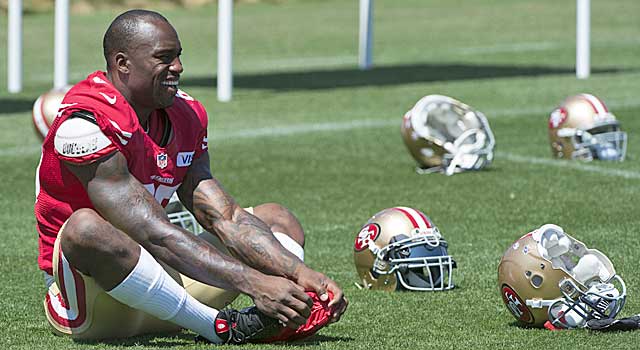 3. Glue is gone at TE: Can the 49ers still be a great 12 personnel team (one RB, two TEs, 2 wide receivers)? Delanie Walker , who one coach called the glue of the offense, moved on to Tennessee. However, coaches are excited about rookie Vance McDonald as the complement to Vernon Davis, but McDonald is out 7-10 days with an injury at the most important time in his development. Even so, after watching practice the Niners still look like a good 12 personnel team. Davis looks lean and more dangerous as a vertical threat than ever. He ran two wheel routes during practice and was wide open for touchdowns -- making it look easy.
4. In store for Frank Gore : I talked with Frank about his role, considering his touches have gone down a little in each of the past few seasons. He said game situations dictate how much he is featured. He's also such a team-first guy that you will not hear a peep if his touches go down again. He also said he was excited about other running backs, mentioning LaMichael James and Kendall Hunter .
5. York on Boldin: CEO Jed York said he wanted Anquan Boldin on his team even in his early years with the Cardinals. York felt Boldin had the Gore-like that is the foundation of this roster.
6. York on coaches: York also discussed why the club strives to keep the coaching staff together when other clubs come calling for assistants to join their staffs "I have no problem paying our coaches to stay in San Francisco because they earned that pay raise," York said. That continuity is smart business.
7. Baalke on up-and-coming personnel: Baalke really likes some of the young defensive players, particularly Tank Carradine, who has gone from a 265-pound defensive end to a 290-pound man ready to spell starters. Baalke also singled out third-round pick Corey Lemonier , who adds depth at OLB. Last season, the 49ers had only veteran Clark Haggins backing up Aldon Smith .
8. Aldon Smith continues to impress: Speaking of Aldon Smith, his considerable skill as a pass rusher is still growing. He rarely engages the blockers with his eyes during a rush. Instead his eyes are on the prize -- the QB or RB. He seems to easily toss aside blockers. I might add on a less serious note I didn't recognize him at first with his new hairstyle. He called it a bad hair day. One of his teammates called it Aldon's attempt to start a new style but assured me it it's going nowhere.
9. Epic weight-room strength: Justin Smith and Ray McDonald are the starting defensive ends, and their weight room strength is almost legendary. They have been known to be squatting 600 pounds 3-4 days before a game. Smith described their new starting nose tackle, Ian Williams as a "sawed off tree stump," who can hang with the two big guys in the weight room. The defense is so good (yielding only 17 points a game in 2012) because they control the line of scrimmage.
10. Whitner on rookie FS Eric Reid : Whitner, who has a lot of coach-like tendencies, has taken Reid under his wing. Whitner describes Reid as a "student of the game," who takes a lot of notes, asks tons of questions and communicates on the field rather than freezing up and hoping he guesses right. Whitner said he likes that Reid is earning his way into the starting lineup rather than being handed the job. But after watching practice it appears Reid has already earned that spot next to Whitner.
In the past week, Marshawn Lynch and Michael Bennett have both sat during the national ant...

As expected, the internet had jokes about the Chick-fil-A at Mercedes-Benz being closed on...

Harrison is the franchise's all-time leading sacker, but J.J. Watt's brother will get the starting...
More than 17 percent of fans say they would never consider dating a Pats fan

Brady said that his lack of speed is why he fell so far in the draft in the first place

If Thomas is right, that means it's bad news for DeShone Kizer's chances of starting early