49ers TE Vernon Davis would like to see an interesting new NFL rule
Rams safety T.J. McDonald used an interesting technique to tackle Vernon Davis on Sunday. Davis would like to see the technique outlawed.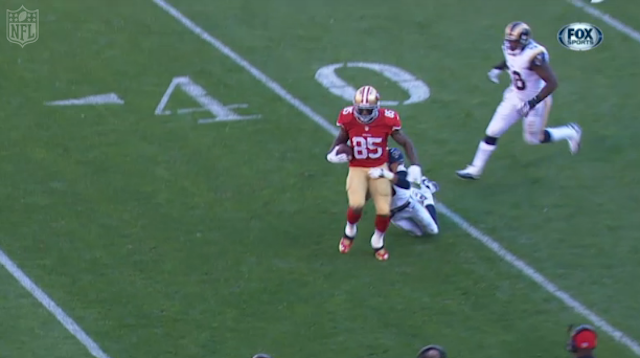 Every offseason, the NFL competition committee proposes several rule changes to add to the league rulebook. I'm not sure if they take suggestions from players, but if they do, 49ers tight end Vernon Davis has an idea for a new rule. 
It should be a league rule saying that a defender can not tackle a player by his penis. #NFL the most painful thing ever! #NFL

— Vernon Davis (@VernonDavis85) December 2, 2013
Davis deleted the tweet about two hours after publishing it. Why come up with such a rule though?
Davis came up the idea for his new rule after being tackled by Rams safety T.J. McDonald in the third quarter of San Francisco's 23-13 win over St. Louis on Sunday. As you can see below, McDonald grabbed on to whatever he could to make the tackle. 
The tackle left Davis writhing in pain on the ground for a couple of minutes. The 49ers tight end talked about the play after the game on Sunday, "I'm still thinking about it. I can feel it," Davis said. "It was a crossing route, I made the play and as soon as I got my hands on the ball, [McDonald] was grabbing me right there in that space, that area, and I kept telling him, 'Let go, get off me, get off me,' and he wouldn't let me go."
Davis will probably be campaigning hard to get 'T.J. McDonald, Don't tackle me there' rule enacted by next season. 
Everything you need to know heading into Week 15 is right here

Haden has been out since Week 10 with a fractured fibula

There's also the possibility Goodell steps aside early if his potential successor is progressing...
The league could return to its pre-2009 policy after a year in which pregame protests took...

Arians hasn't said he's retiring, but the team has discussed contingencies for a coaching...

O'Brien would be a coveted coaching candidate if he were to hit the open market