49ers to sign Torrey Smith: 4 things to know
Smith will provide a deep complement to the underneath prowess of former Ravens teammate Anquan Boldin.
According to Jamey Eisenberg (by way of wide receiver Anquan Boldin), the San Francisco 49ers are set to sign former Baltimore Ravens wide receiver Torrey Smith. Boldin apparently did some recruiting to secure his former teammate's services, and one imagines this means the end of the Michael Crabtree era in San Francisco as well. Here are some things to know about the Smith signing.
1. The money: No official contract terms have been released just yet, but San Francisco is operating with about $22 million in cap space, so there's plenty of room to fit Smith on the books. There are some holes left to fill on the roster after the mass exodus of this offseason, and they have the money to do it.
2. Torrey's production: In his four seasons with the Ravens, Smith caught 213 passes for 3,591 yards and 30 touchdowns. That puts his average season at about 53-898-7.5, which qualifies as "good but not great" production. 
Smith's catch rate of 49.1 percent is pretty low, but much of that is owed to the fact that over a third of his targets (142 of 434) came on throws 20-plus yards down the field. He got 42 of his receptions and 15 of his scores on those throws, and has been one of the league leaders in pass interference penalties drawn the last few years. Joe Flacco seemingly perfected the purposely underthrown deep ball where Torrey would stop on a dime and let the cornerback run into him for a long gain despite not actually hauling in the pass.
Ravens owner Steve Bisciotti compared Smith to former Pittsburgh Steelers wideout Mike Wallace a few weeks back, noting Wallace's production in Miami as a cautionary tale when it comes to signing Smith.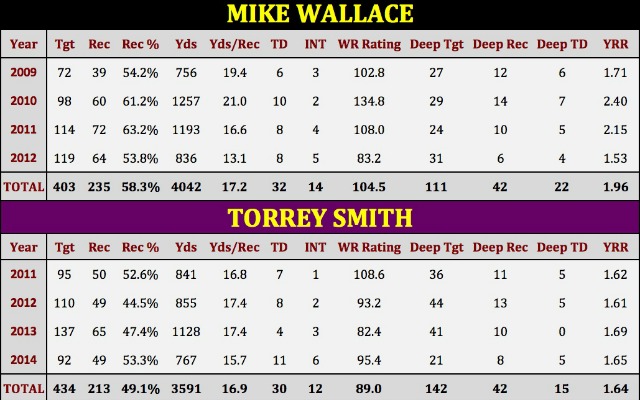 The comp makes a good deal of sense, as you can see from the numbers above. Obviously, Wallace signing in Miami with a quarterback who almost never throws deep has had a great effect on his numbers. That brings us to...
3. How he fits: It remains to be seen how much San Fran's offense will change without Jim Harbaugh, Greg Roman, Mike Iupati and Frank Gore, but Smith likely gives 49ers the best true deep threat Colin Kaepernick has ever had. Kaep has a huge arm, and despite not carrying that reputation, San Francisco actually threw deep (20-plus yards down the field) more often than all but six teams last season. Kaepernick, though, completed only 22 of 69 such passes, for four touchdowns and five interceptions. Smith should help in that area, and if Kaepernick can master the Flacco-style dark art of the underthrown deep ball, they could see a rise in pass interference penalties as well.
That all makes Smith a good complement to Boldin's strength on the short and intermediate throws over the middle, and should help open things up a bit for Vernon Davis. His presence on the outside might force some teams to remove a safety from the box, which should help presumed new starting running back Carlos Hyde as well.
4. The rest of the market: Smith was the fourth-highest ranked wide receiver and 19th-ranked player overall on our free agent big board. The top two options, Dez Bryant (3) and Demaryius Thomas (4) were franchise tagged, while the third guy on the list (Randall Cobb, 7) re-signed a few days ago and the fifth-highest ranked receiver (Jeremy Maclin, 22) is expected to sign with the Chiefs.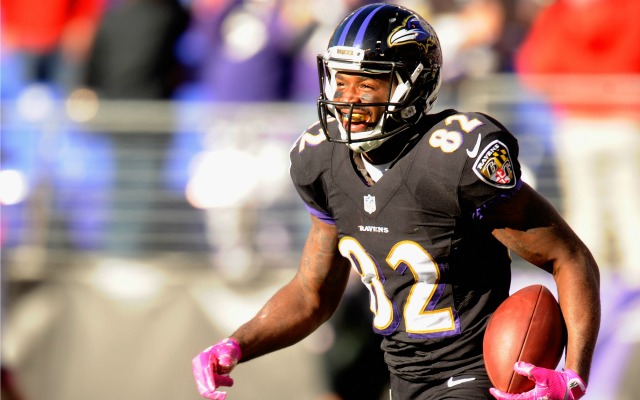 The top remaning receiver options are Crabtree (44), Kenny Britt (64), Cecil Shorts (69) and Hakeem Nicks (72), though Percy Harvin is expected to be cut by the Jets before the 4 PM start of free agency and he'll be on the market as well. Teams with cash to spend and a need at receiver talent include the Raiders, Titans, Eagles, Browns and Colts, among others.
R.J. White, who nearly won the Las Vegas SuperContest, locks in his pick for the NFC Championship...

Mike Tierney has owned NFL totals and has a strong pick for the AFC Championship Game

The Saints coach wasn't in the mood to answer questions about Drew Brees on Tuesday
This is footage that you'll definitely want to see

It wasn't the matchup that we expected, but the Jaguars would argue that's everyone else's...

The Eagles quarterback and the Vikings quarterback have paths that have crossed many times