50 years ago, Sonny Jurgensen made the Eagles pay for trading him
Maybe it wasn't the right move for Philadelphia to get rid of Sonny Jurgensen in 1964.
• 2 min read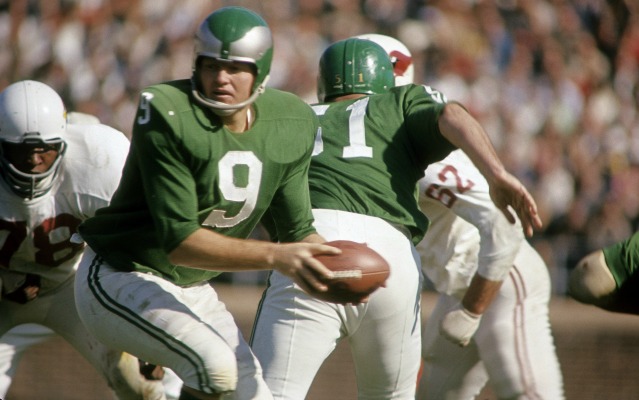 With the news that former Eagles receiver DeSean Jackson signed a three-year, $24 million deal with the Redskins, we almost immediately thought ahead to next season to ponder how Jackson would play when he meets Philadelphia twice in 2014 (and every year thereafter).
This is important stuff.
Because 50 years ago, the Eagles rid themselves of a top-notch player only to watch him succeed in Washington. And that player was especially dominant against Philadelphia.
It was March 31, 1964 when the Eagles traded quarterback Sonny Jurgensen to Washington for quarterback Norm Snead.
Jurgensen had spent the first four years of his career backing up Bobby Thomason and then Norm Van Brocklin in Philadelphia, but before the 1961 season, the Eagles finally turned the team over to Jurgensen. And he promptly was fantastic, going 10-4 that year and leading the league in completed passes, passing yardage, touchdowns, and yards per game (and interceptions).
He was set to be a superstar.
But Jurgensen lived an active night-life and he missed half the 1963 season with an injury, and even though he had led the league again in 1962 in passing yardage and yards per completion, the Eagles went 5-15-2 combined in 1962 and 1963 when Jurgensen started. Oh, and he tried to stage a quarterback strike with backup King Hill and walked out of training camp before the 1963 season.
So, Philadelphia did this.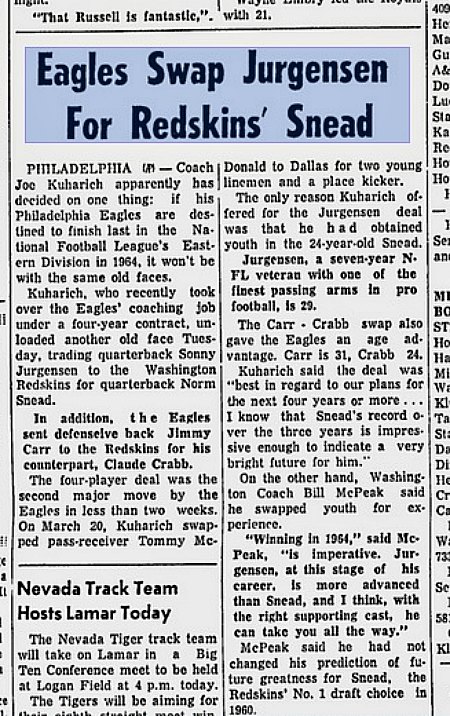 And on Oct. 11, 1964, Jurgensen, in a Redskins uniform facing his old team for the first time, did this in response.
In that 35-20 victory, Jurgensen went 22 of 33 for 385 yards, five touchdowns, two interceptions and a quarterback rating of 120.6. Making matters worse for Philadelphia, the two teams played again three weeks later, and though Jurgensen was mostly ineffective, the Redskins scored another win vs. the Eagles.
This was a trend that would continue throughout his career -- Jurgensen went 13-3 as a starter vs. Philadelphia while throwing 33 touchdowns against 16 interceptions.
"After they traded me, it was always a special game for me," Jurgensen has said. "Anybody who tells you differently is lying."
Jurgensen didn't only have success against his old team. After he was traded, he made the Pro Bowl in three of the next four seasons and eventually was elected to the Hall of Fame.
If you know much about Snead in a context other than this trade, congratulations on your football knowledge. While Snead made the Pro Bowl in 1965 and though he played until he was 37 during the 1976 season, he led the league in interceptions twice in Philadelphia while racking up a 9-26-2 starting record in his final three seasons there.
The Eagles would prefer not to see Jackson do his best Jurgensen impression, at least when he plays against them. But hey, no worries Philadelphia. Jackson is only coming off the best season of his career, and at 27, he's two years younger than Jurgensen when he was sent to Washington.
Warren Sapp was one of several players named in a lawsuit against NFL Network

Check out the uniforms that Denver and Indianapolis will be wearing on Thursday

The Cowboys are going to need a few things to go their way to get into the postseason
Rudolph will be put under the microscope in Mobile by clubs looking for a quarterback early...

This fan is taking the Saints to court for using 'football games as a platform for protest...

Can Aaron Rodgers get the Packers to the postseason? Even if they win out, they'll need he...