A guy joins Tinder and uses only Arian Foster tweets to communicate
Arian Foster has unknowingly taken a second job as a dating coach.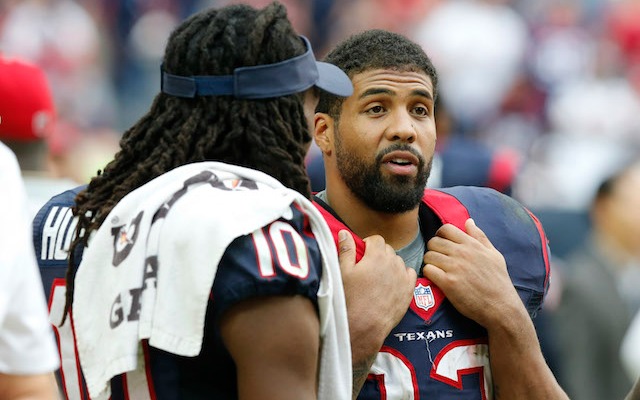 Dating online isn't easy, but it is if you let Arian Foster do all the talking for you -- and thanks to the internet, that's now completely possible. 
A radio host in Houston decided to make a profile on the dating app Tinder and then let Foster do all the 'talking.' 
Real quick, if you don't know what Tinder is, it's an app you can download on your phone. Basically, you look at pictures of people and then decide if you're interested in them. If you are, you swipe right on their picture and pray to the Tinder Gods that they swipe back. If you hate the person, you swipe left and never have to see them again.
Also, you shouldn't download Tinder if you have a significant other because if they see it on your phone, I'm guessing they will either punch you or break your phone. 
Anyway, back to the Foster experiment. The Tinder excitement started with this tweet. 
I don't think I've ever not peed in the hot tub.

— Feeno (@ArianFoster) August 15, 2014
That tweet started this short conversation.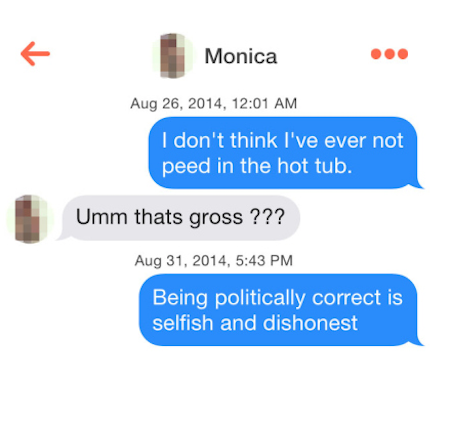 Our radio host wasn't deterred though and he kept going -- because giving up isn't an option in online dating.
This time he led with a fascinating Foster tweet about carrot burgers. 
Here's the tweet. 
A carrot burger would be awful.

— Feeno (@ArianFoster) June 22, 2014
Here's the conversation.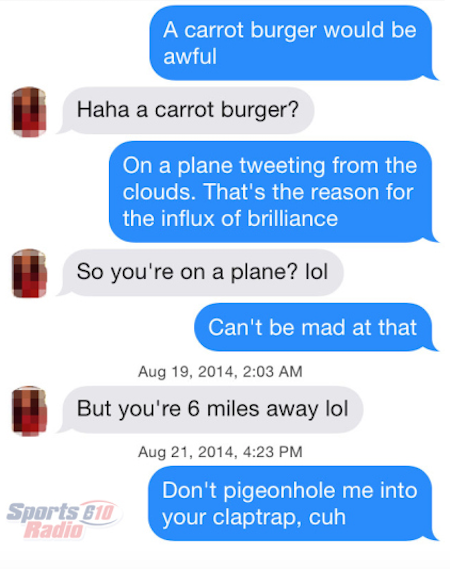 HE HAD HER. She was clearly intrigued by the carrot burger and a carrot burger date might have been on the horizon, but then he had to lie about being on a plane.
Also, keep in mind that our radio guy didn't lie though, everything in blue is something Foster actually tweeted at some point. 
Finally, we move on to the final and longest conversation.
The Foster tweet below got one girl going. 
Classism is more prevalent than racism now days.

— Feeno (@ArianFoster) April 3, 2014
She even replied with a Jezebel article. You know things are moving fast if a girl is sending you links to Jezebel. 

If you want to use Foster's tweets to enhance your dating life, you can see how all of the Arian Foster inspired conversations went by heading here. 
Donald Trump would like to see NFL owners cut any players who kneel for the national anthe...

One of the biggest penalties in Thursday's game was a controversial flag that went against...

If Ezekiel Elliott gets suspended, it likely won't come until Week 5 at the earliest
The NFL is apparently concerned that the Chargers might not be viable in Los Angeles

Everything you need to know for Week 3 of the 2017 NFL season is here

You can find every official injury designation for each NFL team shortly after its Friday report...