A happy birthday to Y.A. Tittle, one of the best middle-aged QBs ever
Y.A. Tittle turned 88 on Friday. He had quite a football career.
• 2 min read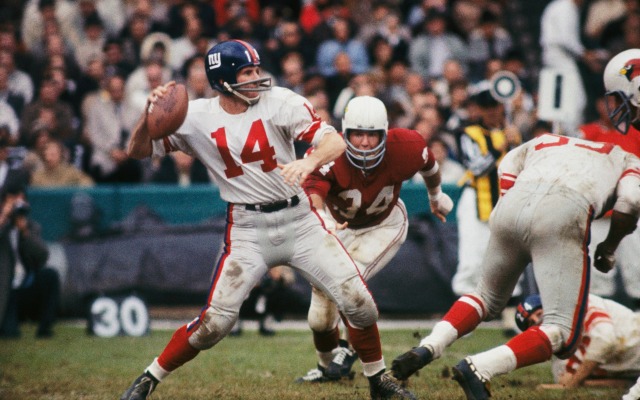 Peyton Manning is 38 years old. Tom Brady is 37. Drew Brees is 35.
All have played wonderfully well into their mid-to-late-30s, but perhaps that shouldn't be a huge surprise. All three are probable Hall of Famers, precisely because they've been so good for most of their careers.
Y.A. Tittle -- who celebrates his 88th birthday Friday -- was a little different.
Though Tittle was one of the best quarterbacks of the early to mid-1950s, he didn't necessarily play his best football when he was in his 20s. But after his 30th birthday, that's when he hit his peak performance, and -- along with Sammy Baugh and George Blanda -- became one of the best middle-age quarterbacks in the game's history.
Consider this:
| Year | Age | Tm | G | GS | QBrec | Cmp | Att | Cmp% | Yds | TD | Int | Y/A | Rate |
| --- | --- | --- | --- | --- | --- | --- | --- | --- | --- | --- | --- | --- | --- |
| 1961* | 35 | NYG | 13 | 10 | 8-1-1 | 163 | 285 | 57.2 | 2272 | 17 | 12 | 8.0 | 85.3 |
| 1962*+ | 36 | NYG | 14 | 14 | 12-2-0 | 200 | 375 | 53.3 | 3224 | 33 | 20 | 8.6 | 89.5 |
| 1963*+ | 37 | NYG | 13 | 13 | 11-2-0 | 221 | 367 | 60.2 | 3145 | 36 | 14 | 8.6 | 104.8 |
Everything bolded, by the way, were the stats in which he led the league in those years.
Yes, Tittle, inducted into the Hall of Fame in 1971, played three of the best years of his career with the Giants when he was in his mid-30s. Awesome stuff.
"Despite his age, Tittle still had a very strong arm and was an exceptionally accurate passer," writes Big Blue Interactive. "His quick release was regarded as second only to that of Johnny Unitas. Tittle also was a resourceful diagnostician of defenses; he called brilliant games and possessed rare leadership skills. 'Here was a 34-year-old quarterback,' Giants president Wellington Mara said [after trading for Tittle]. 'But we knew he would be a top hand for us. He's been in the league a long time and he knows defenses and he would fit in with our club real well.'"
And it was those experienced smarts -- similar to the attributes of Manning and Brady these days -- that helped make Tittle a success late in his career.
"After every game people ask me questions about how I figured the other team," Tittle said at the time. "You have to be in the league a long lime and remember things, and at last you get a feel about it. If you could learn it by studying movies, a good smart college quarterback could learn all you've got to learn in three weeks and then come in and be as good as the old heads. But they can't."
The iconic image of Tittle -- the photo we remember most -- occurred in 1964 when Steelers defensive end John Baker slammed his helmet into Tittle's sternum, eventually leading Tittle to the conclusion that he should retire. It was only a year removed from three of the best seasons of his career.
Thus, a fond happy birthday to Tittle -- who, despite suffering from dementia, continues to believe in himself.
"I can walk anywhere," Tittle said in June as ESPN's Seth Wickersham was reporting on this fantastic feature. "I can run anywhere. I can still play football."
Pick Six Newsletter
Get the day's big stories + fun stuff you love like mock drafts, picks and power rankings.
Please check the opt-in box to acknowledge that you would like to subscribe.
Thanks for signing up!
Keep an eye on your inbox for the latest sports news.
Sorry!
There was an error processing your subscription.
Brees has pulled ahead of Mahomes, garnering all five first-place votes this week

The Pro Football Hall of Fame is one step closer to announcing the Class of 2019

The Redskins and Cowboys will play again, while the Falcons and Saints will also square of...
In the least surprising news ever, Tom Brady did not have a very exciting bye week

Brock Osweiler is headed back to the bench

The Rams could do something this week that no team has pulled off since 1938