A primer for when/if the Texans trade Andre Johnson
Andre Johnson isn't sure he wants to be part of the 2014 Houston Texans. Here's a primer on what it would take to trade the wideout.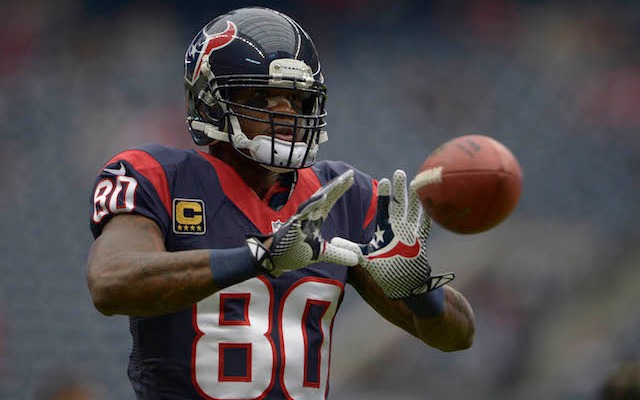 More Draft coverage: 2015 Mock Drafts | 2015 Top 100 | 2014 Draft Grades | News
 Andre Johnson hears "Father Time" ticking and he once again is looking up at a big mountain to climb in Houston and doesn't know if he feels like taking on another rebuilding project.
Understandable, considering Bill O'Brien is the fourth head coach of the Texans since Johnson arrived 11 years ago.
If he plays for Houston this year, the eldest statesman of the team will probably be at the receiving end of his fourth and most likely fifth different quarterback in three seasons. Over the past two years the soon-to-be 33-year-old receiver had Matt Schaub, T.J. Yates and Case Keenum throwing to him and still managed 233 receptions and nine touchdowns to say nothing of the 157 receptions that went for first downs and 24 for more than 25 yards.
Johnson signed a big contract a few years ago and doesn't really have much leverage if he really wants out of Houston but it is possible if a number of things come together. Andre Johnson still has three years left on his deal for a grand total of $34.5 million, which is a positive and a negative at the same time.
Let's look at the questions that have come up since Andre Johnson's comments Tuesday:
Is there a situation recently this reminds you of? What would a compensation package look like for Houston? I think the Texans would go back and look at what the Kansas City Chiefs got in the Tony Gonzalez trade to Atlanta. The Chiefs got a second-round pick for a 33-year old tight end that in the two seasons leading up to the trade had 195 receptions, 15 touchdowns, 126 first downs and 10 receptions over 25 yards. If Johnson could ever duplicate what Gonzalez did in Atlanta (five years, 428 receptions, 37 touchdowns, 281 first downs) he would be worth every bit of compensation. If the Texans could get a second-round pick or a combination of a young player or two and a third- or fourth- round pick a deal would make sense.
What are the possible landing spots? At this point in Johnson's career he doesn't want to go to another rebuild situation so I would eliminate teams like the Browns, Jaguars, Raiders and Titans even though all of the teams mentioned have plenty of salary cap space and a real need for a player like Johnson. Andre Johnson needs to go to a team with a solid quarterback situation and a strong contender for the postseason. Teams like New England, Carolina and Kansas City have to get strong consideration.
Would he be willing to restructure his contract? None of the three teams mentioned for consideration have the kind of salary-cap space to take on Johnson's contract. Keep in mind every team in the league has to get their rookies signed, which will take its toll on remaining cap space. As of now the Patriots have $7.7 million, Carolina has $5.7 million and the Chiefs have $4.4 million. A trade for Johnson would be an immediate $11 million cap hit and only 10 teams in the NFL could incur that hit without an adjustment. Of those 11 teams, I don't believe Johnson wants to go to any of those teams or that they would have little interest in him. If Johnson really wants to move on he has to restructure and strongly consider a pay cut as well. Johnson has made more than $30 million in the past four years and has been a high-priced player for all 11 years of his career. A willingness to do a cap friendly deal that averages $7million to $8 million a year but has a first-year cap number closer to $4 million-$5 million could put him on a real playoff contender.
How much gas is left in the tank? Wide receivers aren't like running backs as they can play at a high level well in to their 30s. Terrell Owens played four more years after he turned 33 and caught 277 passes and 39 touchdowns. Marvin Harrison played three more years had 175 receptions and 18 touchdowns. Art Monk is a Hall of Fame receiver who I signed well past his 33rd birthday and from 33 to the end he caught 210 passes and 16 touchdowns. Andre Johnson with a top-flight quarterback should project to 200-plus reception over the next three seasons at a minimum considering the great care he takes of himself and what he has done with less than elite quarterbacks.
What's the timetable? The Texans really shouldn't move Johnson until they get to June 1 so they can split up the dead money issue facing them. Houston has $12.5 million of cap space and could absorb the whole $11 million cap hit but is better off taking a $4 million hit this year and a $7 million hit next year.
What if you can't get a second-round pick? If New England was involved I would want a wide receiver like Aaron Dobson and a third-round pick. If Carolina was the team then I would want a linebacker like A.J. Klein and a third-round pick. If Kansas City showed some interest it would be Donnie Avery and a third. Anything less than a third would warrant two players as well.
Pick Six Newsletter
Get the day's big stories + fun stuff you love like mock drafts, picks and power rankings.
Please check the opt-in box to acknowledge that you would like to subscribe.
Thanks for signing up!
Keep an eye on your inbox for the latest sports news.
Sorry!
There was an error processing your subscription.
Here are the Week 7 grades for every team that played on Sunday

What you need to know about the trade deadline, which could be busy based on the events of...

All of the best highlights from Week 7 are right here
Despite dealing with a chest injury, Watson helped the Texans beat the Jaguars on Sunday

Our advanced computer model simulated Sunday's Chiefs vs. Bengals game 10,000 times

The Patriots hung on for a sloppy seven-point win even without Rob Gronkowski