A year after visiting the Super Bowl, Russell Wilson helps win it
Russell Wilson, two seasons removed from being a third-round draft pick, certainly has the respect of his teammates.
• 3 min read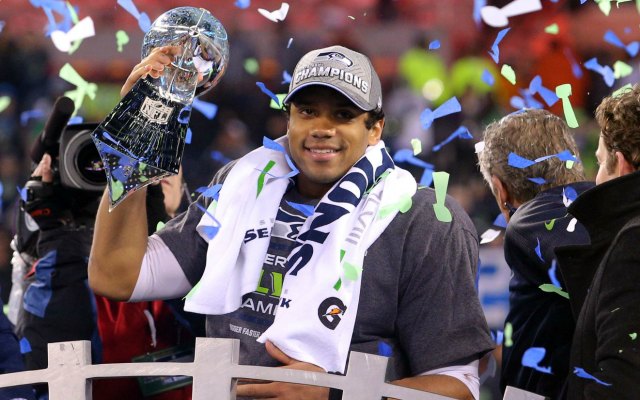 More SB coverage: Seahawks win, 43-8 | Photos | Numbers | More news
EAST RUTHERFORD, N.J. -- The Ravens were getting set to play the 49ers in the Superdome in February 2013, and Russell Wilson was there. Observing, trying to figure out how it all worked, fitting it all together in his mind. And maybe he was planning for the future.  
Wilson watched as Baltimore beat San Francisco, and he watched the Ravens celebrate the Super Bowl XLVII title. But the Seahawks quarterback was there for a reason. He wanted to be prepared if he got the chance to play in his own NFL title game.
Funny how that worked out, huh?
"I really wanted to get a sense of how the game was going to go and how pregame was and halftime was going to be and how the end of the game was going to be," said Wilson, who completed 18 of 25 passes for 206 yards and two touchdowns in Seattle's 45-8 win Sunday. "I wanted to take it all in and put myself in that situation. I asked some guys who won, Terry Bradshaw and Drew Brees, about what they did to be successful. They told me to prepare and to get your mind right."
Lo and behold, there Wilson was a season later with the chance to beat Peyton Manning and the Broncos in Super Bowl XLVIII. Wilson looked a little jittery early in the first quarter, throwing an inaccurate pass or two, but he and the offense soon calmed down. In a sense, he'd already put himself in that pressure-packed scenario a year earlier.
"Coming last year and observing, that was a big help," Wilson said. "I had never been to the Super Bowl, and I got the whole vibe. But at the end of the day, the field is still 100 yards long and 53 1/3 wide. It's still football. First, second and third down. It's still red zone. The game doesn't change that much. You have to be calm and poised and lead your guys."
That's what Wilson has done since the moment he was drafted by the Seahawks in the third round of the 2012 draft and shucked behind Matt Flynn on the depth chart. When the team called him after it selected him, Wilson made a declaration to his future bosses: "That was the best decision you've ever made."
A little outspoken? Sure, but Wilson was adamant about making every other team that didn't draft him -- or, essentially, believe in him -- regret not taking him.
Wilson eventually beat out Flynn for the starting quarterback job, and well, you know the rest.
"He's the general," receiver Percy Harvin said. "I haven't seen anybody prepare the way he prepares. There were three minutes left on the [game] clock, it's still ticking, and he's still in our face telling us, 'Stay ready.' We're like, 'Man, the game's pretty much over.' He just wants to be great that much."
Seahawks offensive coordinator Darrell Bevell puts it this way: Wilson is always going to refuse to fail, and he's going to do the same for everybody else around him. So, even though he's not always the focal point for the team, he's not always the reason the Seahawks win -- for that, you can thank a dominant defense and a stout running game -- but Wilson is still going to be the driving force of the team.
"I'm glad those teams passed on him," said left tackle Russell Okung. "Russell Wilson, he's a competitor. That kid has as much heart as anybody on our team. The way he's determined, the way he's shown resolve, and his maturity. We wouldn't be here if it wasn't for him."
Follow Josh Katzowitz on Google+
Let's call it the Blair Walsh revenge game

Jeremy Lane also stood near Bennett along with pass rushers Cliff Avril and Frank Clark

Bennett also dedicated it to 'all of the other athletes using their platform to promote ch...
The Patriots quarterback shows commitment from Day One

Cardinals' running back says he's feeling more energized

The Vikings' receiver is wearing his heart on his foot