Aaron Hernandez not allowed to watch AFC Championship Game
Last year, Aaron Hernandez was playing in the AFC title game as a Patriots tight end. This year, the jailed Hernandez won't even be able to watch it.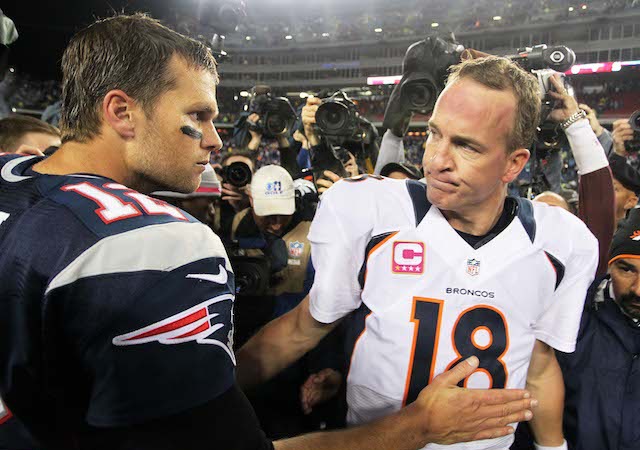 Former Patriots tight end Aaron Hernandez wasn't allowed to watch his old team play against Indianapolis last week in the divisional round of the playoffs and things won't be changing for Sunday's AFC Championship Game. 
Bristol County Sheriff Thomas Hodgson told the Associated Press on Friday that Hernandez won't be able to watch the Patriots play the Denver Broncos in the AFC title game.
"He's not allowed to watch any TV," Hodgson said. "As far as finding it out, if they hear an officer talking about it they might find out that way. He could probably hear about it if some other inmate were to call home and he were to yell out."
Hernandez could also find out about the game from a friend because he does have telephone privileges. However, that doesn't mean he'll know the game's result right away because telephone privileges don't necessarily mean he'll be able to use the phone right after the game ends. 
The last time the Patriots played in an AFC Championship Game, Hernandez was playing in it. The 24-year-old caught nine passes for 83 yards in New England's 28-13 loss to Baltimore in last year's AFC title game. 
Hernandez is currently in jail awaiting trial on a first-degree murder charge in the June 2013 death of 27-year-old Odin Lloyd. Police are also investigating Hernandez as the shooter in a double slaying that occurred in July 2012. 
Rudolph will be put under the microscope in Mobile by clubs looking for a quarterback early...

This fan is taking the Saints to court for using 'football games as a platform for protest...

Can Aaron Rodgers get the Packers to the postseason? Even if they win out, they'll need he...
The NFL is going to have to look for a new commissioner

The Washington Redhawks are not an actual thing

CBS All Access allows viewers to stream every NFL game on CBS in their local market