Aaron Hernandez's fiancee, cousin indicted in connection to shooting
Shayanna Jenkins, Aaron Hernandez's fiance, was indicted on perjury, while Tanya Singleton was indicted on conspiracy to commit accessory.
• 1 min read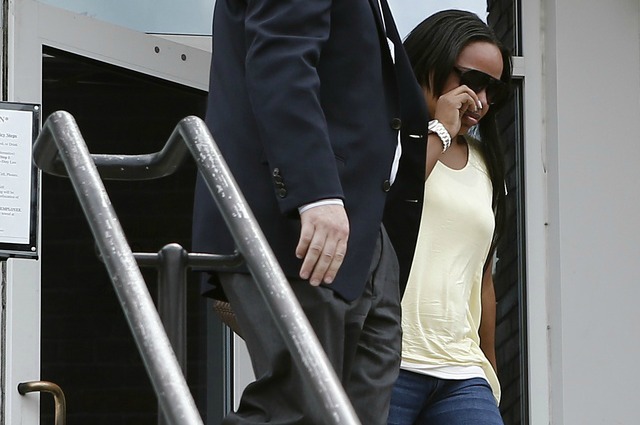 On Friday morning, Carlos Ortiz, allegedly one of Aaron Hernandez's accessories in the shooting death of Odin Lloyd, was indicted by a grand jury on one count of accessory to murder after the fact.
On Friday afternoon, Hernandez's fiancée and one of his cousins were indicted themselves.
According to the Bristol County district attorney, Shayanna Jenkins, Hernandez's fiancé, was indicted on perjury in connection with the Lloyd case. Tanya Singleton, Hernandez's cousin, was indicted on a charge of conspiracy to commit accessory after the fact.
Last month, a storage locker rented in Jenkins' name was searched, and investigators believed she made "overt attempts to hide evidence … and to hinder and mislead."
Investigators also reportedly believed Jenkins might have known what happened to the gun used in the shooting of Lloyd, a weapon that still hasn't been recovered.
Singleton already had been held in contempt after she was subpoenaed to testify in the case. Police have searched her home multiple times.
Authorities also claimed that Singleton bought a bus ticket to Florida for Ernest Wallace -- who already was indicted on a first-degree murder charge after the fact.
Hernandez is currently in jail awaiting trial.
Follow Josh Katzowitz on Google+
Breaking down why the underdogs are very dangerous against the Patriots

All of the information you need to know about the 2018 Super Bowl

Here's all the details you need to know on watching Super Bowl LII between the Patriots and...
No one wants to give the Eagles any respect

Here's a look at the NFL's entire postseason schedule for 2018

Here's everything you need to know about Super Bowl LII