Aaron Rodgers had pain in practice last week, bone not healing fast
It seems as if Packers quarterback Aaron Rodgers suffered a setback in practice last week.
• 1 min read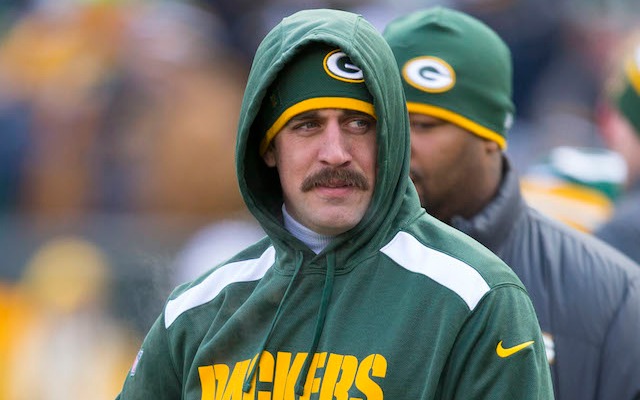 Every week, we have a discussion on Packers quarterback Aaron Rodgers and whether his broken collarbone will allow him to return to the lineup for Green Bay for the first time since Nov. 4. At this point, it sounds like he's not even close to coming back.
He told ESPN Milwaukee on Tuesday, via the Milwaukee Journal Sentinel, that a scan on his collarbone showed no additional healing and that he "would need different results this week in order to play this week." Additionally, Rodgers felt pain during practice last week. Seemingly, that's another setback.
All of which could make you believe that the Packers will continue to play with Matt Flynn at quarterback.
Rodgers said he tried to accomplish plenty of work last Wednesday but that he also didn't feel good while doing so.
"I shouldn't be having pain doing simple movements," Rodgers said. "... Doing quick movements or giving a handoff with left hand, those are things that gave me some discomfort. That was a clue."
Clearly, Rodgers is frustrated by his rate of healing, but he also said he was trying to play before science told him he would be ready.
"You don't see people coming back in four or five weeks from this injury," he said. "It was tough not to be out there."
As for being shut down for the rest of the season, Rodgers didn't want to look that far into the future. But at this point, if Green Bay is going have a shot at making the playoffs, much of that burden likely will rest on the shoulder of Flynn.
Follow Josh Katzowitz on Google+
Go ahead and doubt Pete -- because this is the week he turns it around with this picks

The president believes people are really responding to his criticism of the NFL

CTE has previously been thought to only be diagnosable in deceased patients
The Chiefs are up to No. 2 while the Falcons maintain their top perch

Our computer model simulated every Week 4 NFL game 10,000 times with very surprising resul...

There are only two unbeaten teams left in the league. Which team is better?