Aaron Rodgers' Hail Mary leads to wild win over Lions: 10 things to know
The Packers beat the Lions on Thursday night thanks to one of the wildest finishes in NFL history.
One day after celebrating his 32nd birthday, Aaron Rodgers delivered himself the ultimate birthday present: A 61-yard Hail Mary on the final play of the game to beat the Lions.
The miraculous throw capped a miracle comeback that saw the Packers score two touchdowns in the game's final three-plus minutes in a shocking 27-23 win at Ford Field in Detroit.
It was the second touchdown, though, that's going to have people talking for years.
The game looked all but over with six seconds left and Green Bay sitting at its own 21-yard line. To beat the Lions, the Packers were going to have to go 79 yards on one play. 
On what should've been the final play of the game, Rodgers threw a 19-yard pass to James Jones, who lateraled it to Richard Rodgers, who then lateraled it back to Aaron Rodgers. At that point, Rodgers got taken down by Lions defensive end Devin Taylor. 
The problem for the Lions? Taylor's thumb got caught in Aaron Rodgers' facemask.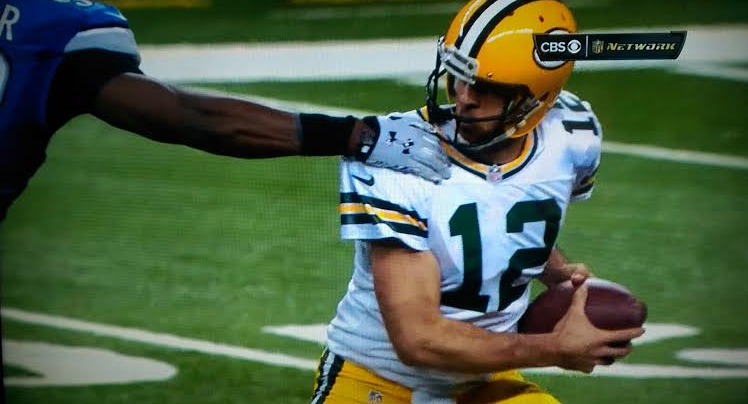 Since a game can't end on a defensive penalty, the facemask call gave the Packers one untimed down from their own 39-yard line, and that's when Rodgers delivered himself the ultimate birthday present.  
In need of a win. No time left. Throw it long. Hope.

Posted by NFL on Friday, December 4, 2015
Rodgers took a shotgun snap from the 39, ran 16 yards backward and then scrambled around some more before launching a prayer from just across the 35-yard line that traveled 70 yards in the air.
The Lions were ready for the Hail Mary, but somehow Rodgers managed to throw it to a part of the field where there were more Packers players.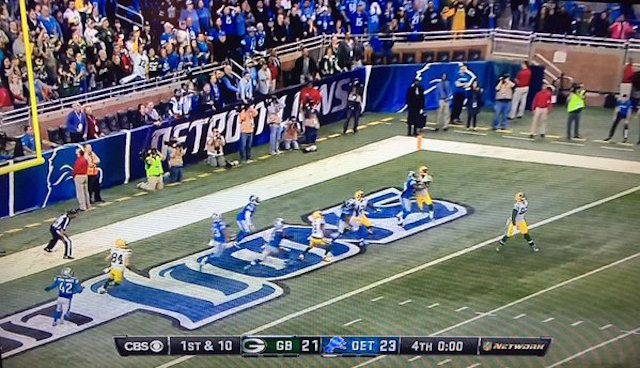 One of those Packers players in that crowd was tight end Richard Rodgers, who somehow managed to box out and outjump everyone for the ball and the win.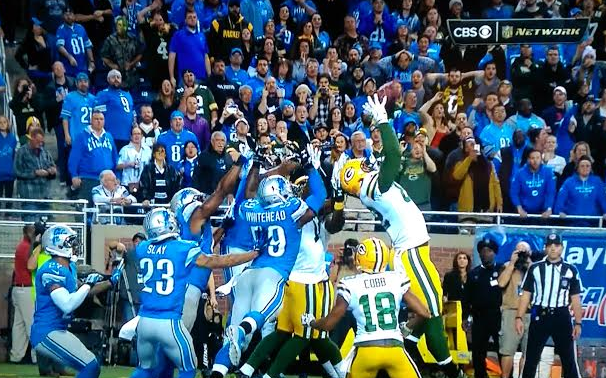 The ending was so wild that when Rodgers walked off the field, he referred to the victory as something he'll never forget. 
"It's the most amazing game of my life," Rodgers said. "To be a part of that. To never give up." 
As the ball sailed in the air, only one thing was going through Rodgers' head. 
"Catch it. You got to catch it," Aaron Rodgers said.
Rodgers liked the feeling of the throw as soon as it left his hand. The Packers quarterback put everything he had into it. As you can see below, the ball traveled about 70 yards in the air.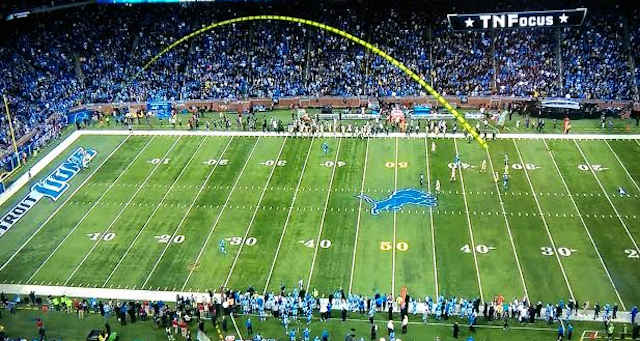 "I felt good that it was going to be in the end zone," Rodgers said. "I got a nice run up and crow-hopped into it. I didn't see Richard until the last second, but when he caught it, I blacked out, I didn't  know what happened. I know it was the greatest feeling I've had on the field in a long time."
The most shocking part of the win was how horrible the Packers were before the game's final four minutes. The first half was especially ugly, with the Packers only totaling 78 yards. 
Packers almost got as many yards from Lions penalties (73) as they did from their own offense in the first half (78). That seems bad.

— John Breech (@johnbreech) December 4, 2015
Aaron Rodgers was ugly too, only completing 10 of 16 passes for 80 yards.
"We were terrible in the first half," Rodgers said. "The second half we got it going."
Aftter the ugly first half, Rodgers rebounded to go 14 of 20 for 193 yards and two touchdowns in the second half, including the Hail Mary. Rodgers also rushed for a huge 17-yard touchdown in the fourth quarter that was extra big because it came on third-and-11. 
Aaron Rodgers takes matters into his own hands and runs it 17 yards into the end zone UNTOUCHED. #GBvsDET https://t.co/1WphzMF6EU

— NFL (@NFL) December 4, 2015
Overall, Rodgers finished with 273 yards and three overall touchdowns in the win.
Some teams will celebrate a win for 24 hours and put it behind them. Not the Packers, at least not for this win. Rodgers said he plans to enjoy it for the next few days.
"We're 8-4, we're in the mix. Huge win for us," Rodgers said. "We're going to enjoy it this weekend."
The "Miracle in Motown" is what our Jim Nantz called the Packers' win and it's just catchy enough to stick. 
Anyway, the Packers should enjoy it because it was a pivotal one for their playoff chances. If the Falcons or Seahawks lose this Sunday, then Green Bay will have a two-game lead over the NFC's No. 7 team with just four games left.  
Here's 9 more things to know from Green Bay's 27-23 win. 
2. Miracle plays seem to run in Richard Rodgers' family. The Hail Mary touchdown that Richard Rodgers caught against Detroit will likely go down as the biggest play of his life, but it might not go down as the biggest play in family history. Richard's dad, Richard Sr., attended Cal in 1982 and played a pivotal part in "The Play," the five-lateral kickoff return that beat Stanford with no time left. Richard Sr. was directly responsible for two of the five laterals. 
The fact that Rodgers' dad was involved in that play isn't the only oddity here. Richard Sr. was playing for Cal, where both his son and Aaron Rodgers attended college.
Although the younger Rodgers will now always be linked to the Hail Mary, that wasn't his only catch of the night. The Packers tight end finished the game with eight catches for a career-high 146 yards. Before Thursday, Rodgers had never even reached the 60-yard mark in a game.  
3. Packers had no offensive lineman. It wasn't a complete shock that the Packers offense was a failure for about three quarters. They were missing half their starting offensive line. Right tackle Bryan Bulaga (ankle) and right guard T.J. Lang (shoulder) were both inactive for the game.
Things got worse in the second quarter when starting center Corey Linsley went down with an ankle injury. On the first play after Linsley's injury, backup center JC Tretter was called for holding. 
The nightmare didn't end there for Green Bay: Starting left tackle David Bakhtiari (right leg) went down with an injury in the fourth quarter. Although he would later return after sitting a series out, he didn't return soon enough. On the first play after Bakhtiari went down, backup left tackle Josh Walker gave up a sack to Ziggy Ansah that Rodgers will probably be feeling for the next week. 
ZIGGY! pic.twitter.com/hxcJCDAI4v

— NFL (@NFL) December 4, 2015
Left guard Josh Sitton was the only Packers offensive linemen who made it through the game unscathed. 
4. Julius Peppers saves the day. The Packers wouldn't have even been in a position to win on Thursday if it wasn't for Julius Peppers. During the third quarter, the Packers linebacker made a huge play that shifted momentum in the game. 
With the Packers trailing 20-7, Peppers made a huge sack on Matthew Stafford when the Lions were deep in their own territory. It was a huge sack because Peppers stripped Stafford on a play where the Packers ended up coming away with the ball.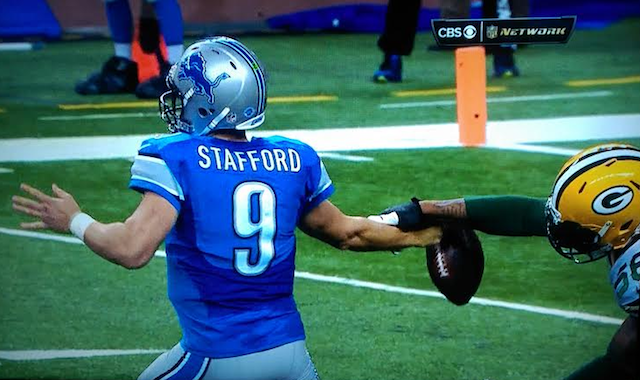 Three plays after Green Bay recovered Stafford's fumble, Rodgers hit Davante Adams with an 8-yard touchdown pass that cut Detroit's lead to 20-14. 
5. Scoring streak ends. The Packers were shut out in the first half Thursday, which almost never happens. As a matter of fact, it was the first time since 2012 that Green Bay went scoreless in a first half. That streak spanned a total of 56 games before being broken against Detroit. Thanks to the scoreless first half, the Packers trailed 17-0 at the break. The Lions extended that lead to 20-0 in the third quarter, which set the stage for the largest comeback in the 85-year history of the rivalry. 
6. Lions defense was on a roll until the final play. Even with the Hail Mary, the Lions only gave up 313 total yards to the Packers, Green Bay's second-lowest offensive total of the season. The Lions constantly pressured Rodgers, which led to three big sacks. Each sack was huge because the Packers lost a total of 27 yards on the three plays. 
Before the Hail Mary, Aaron Rodgers' longest pass play of the game was 25 yards. So what happend on the final play?
Apparently, Lions coach Jim Caldwell thought some sort of lateral play was coming, instead of a Hail Mary. 
Caldwell said they were expecting a lateral play instead of a Hail Mary https://t.co/xnIcF9H4EW

— Dave Birkett (@davebirkett) December 4, 2015
It's not a crazy thought and that's because there aren't many quarterbacks who can launch a perfect pass 70 yards down the field under that kind of pressure. That being said, it was the final play of the game and a lateral play wouldn't have hurt Detroit, so it's unfathomable that Caldwell wasn't ready for the Hail Mary.
"Tough one to lose," Caldwell said. "Those are the ones that eat at you. The guys are upset because they gave so much, but we needed one more play. It is never over in this league."
7. Stafford to Megatron fell apart. Matthew Stafford and Calvin Johnson got off to a hot start Thursday, connecting twice for 37 yards and a touchdown in the first quarter. If the duo would've kept up that pace, Megatron would've finished with 8 catches for 148 yards and four touchdowns, but that's not what happened. Johnson would only catch one pass the rest of the game and that only went for seven yards.
Johnson finished with 44 yards, while Stafford finished with 220 yards and two touchdowns, both in the first quarter. 
When Stafford watches film on this game, he's going to realize he probably could've put things away in the second half. There were at least two instances where Stafford missed Megatron on plays that would've almost certainly ended in touchdowns.  
As you can probably imagine, neither player was too thrilled after Rodgers connected with Rodgers on the Hail Mary. 
A reação de Matthew Stafford e Calvin Johnson https://t.co/K7ui6x1vC0

— Packers BRASIL (@PackersBR) December 4, 2015
8. Worst second quarter ever? It's a good thing the Hail Mary came because fans had to sit through what might've been the worst second quarter ever.
It was a complete disaster for both the Lions and the Packers. Not only was it the first game all year where neither team scored in the second quarter, but there were only 44 TOTAL YARDS between both teams combined. The Packers chipped in with 26 of those yards while the Lions added 18. The Lions' second quarter performance was actually kind of surprising because in the first quarter, Detroit scored 17 points and totaled 133 yards. 
9. It was a weird night for Lions fans. Let's start with this guy, who missed the Hail Mary because he was on his phone. 
This guy here has front row seats to the biggest play of the year and he's checking his phone. pic.twitter.com/g6SGZPuimu

— Parker Hageman (@ParkerHageman) December 4, 2015
This guy probably wishes he had been on his phone because he absolutely can't believe what just happened or why the Lions were playing the defense they were playing.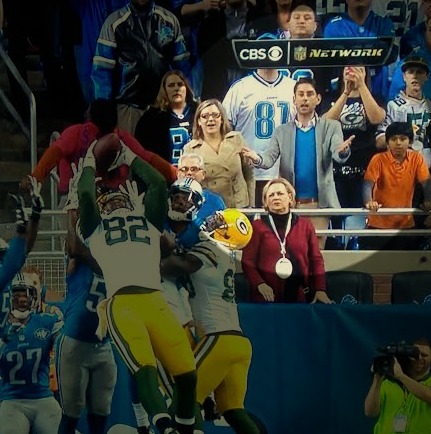 Raised hands seemed to be a pretty common reaction for Lions fans. 
Oy...the life of a Lions fan. pic.twitter.com/FDzYXe5dlI

— CBS Sports (@CBSSports) December 4, 2015
ALL LIONS FANS pic.twitter.com/CIHQRy1PRR

— Steve Noah (@Steve_OS) December 4, 2015
The Lions only have themselves to blame though, they let Aaron Rodgers' good luck charm into the stadium.
Discount Double check guy is at the game,obviously means good things for Aaron Rodgers (via https://t.co/zORuasXWgr) pic.twitter.com/JB010UvEQN

— John Breech (@johnbreech) December 4, 2015
10. Lions fans, meet Browns fans. Browns fans, meet Lions fans. The good news is that Detroit is only a few hundred miles from Cleveland. Since the Browns lost on an almost equally dramatic play Monday, maybe the two fan bases should just get together to console each other. 
Browns and Lions fans need to meet in Toledo this weekend and have some sort of intervention with each other.

— John Breech (@johnbreech) December 4, 2015
Pick Six Newsletter
Get the day's big stories + fun stuff you love like mock drafts, picks and power rankings.
Please check the opt-in box to acknowledge that you would like to subscribe.
Thanks for signing up!
Keep an eye on your inbox for the latest sports news.
Sorry!
There was an error processing your subscription.
Laurent Duvernay-Tardif won't be getting the jersey of his dreams

Apparently, there was only one team that wanted Lamar Jackson to switch positions

Steve Spurrier would really like Tim Tebow to play for his team in the Alliance of American...
Beckham might not be reporting to Giants training camp

If you've ever wondered whether Tom Brady can sing, this will answer that question

This friend was in the car with Jameis Winston on the night of his alleged incident