Aaron Rodgers meet Aaron Rodger; you all can discuss collarbones
A Green Bay couple had an interesting idea when they realized their baby suffered a broken collarbone.
• 1 min read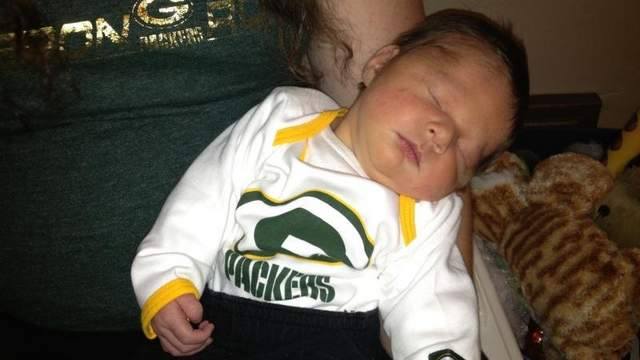 If someone asked me about my favorite baby name based around local current events, I'd likely harken back to my days growing up in Atlanta in the early 1990s when the previously-brutal Braves squad suddenly began winning championships like it was a southern offshoot of the DiMaggio-Mantle Yankees.
One child's name that was born during that time span: Tommy Hawk. As in Tomahawk. As in the Tomahawk Chop. Get it?
Now, we have another contender for that title. In Green Bay, a couple named their son, Aaron Rodger. After, you know, Aaron Rodgers, who has been out of action with a broken collarbone. Oh, funny thing. Aaron Rodger (the baby) also has a broken collarbone.
Which supposedly is the reason he was named Aaron Rodger in the first place (his full name, by the way, is Aaron Rodger Dryer).
Here's the explanation by the Green Bay Press Gazette:
Baby Aaron was born at 12:20 p.m. Sunday at St. Mary's Hospital Medical Center in Green Bay. He was a couple of weeks early, and his parents had not really settled on a name yet.

But when the nurses discovered the broken left collarbone -- on the same side as the quarterback's injury -- the parents did not need long to choose a name. Kyle was the first to suggest it.

"I said, 'That's not a bad name,'" recalled the baby's mother, Kristal Tyczkowski. "That's when we knew."
The couple dropped the "s" from Rodgers because they thought Rodger sounded better.
Obviously, the two are Packers fans, but originally, the couple didn't intend to name their baby after anybody on the team.
Instead, as the paper writes, "They actually were considering names from the Harry Potter book series, of which they are both big fans."
In that case, Aaron Rodger one day will feel awfully lucky that Aaron Rodgers broke his collarbone when he did.
Follow Josh Katzowitz on Google+
One NFL owner says he'd have 'no hesitation' signing Colin Kaepernick

The Cowboys receiver made a young boy's birthday wish come true

The new Packers tight end had to find a place to sleep after being locked out of his camp...
Lucky Whitehead says he had an awkward face-to-face meeting with Jason Garrett

The Eagles said goodbye to several players on Wednesday

The Falcons' retractable roof is causing some serious construction headaches