Aaron Rodgers ruled out for Week 14
For the fifth-straight week, Packers quarterback Aaron Rodgers won't play.
• 1 min read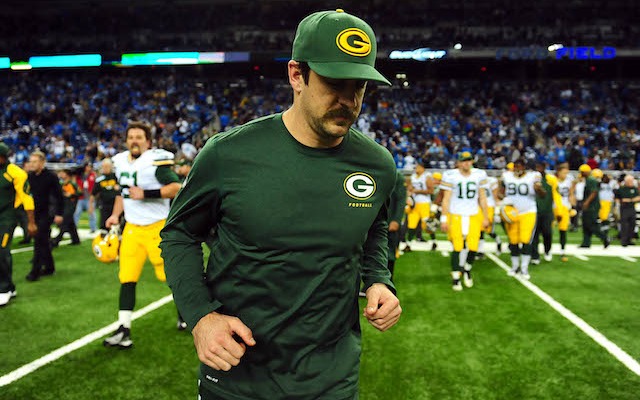 For the fifth-straight week after breaking his collarbone, Packers quarterback Aaron Rodgers has been ruled out for this Sunday vs. the Falcons.
Earlier this week, coach Mike McCarthy said he wasn't looking to sit down Rodgers for the rest of the season but that he also wasn't ruling him out to play Sunday.  On Tuesday, though, Rodgers still wasn't cleared to play.
"Aaron's frustrated," McCarthy told reporters. "We're in meetings all day together. He's like every other player fighting to get on the field."
Rodgers has been practicing on a limited basis, but clearly, the X-ray on his collarbone this week didn't give doctors enough confidence to let him play.
In Rodgers' absence, Matt Flynn will get the start vs. Atlanta.
"I haven't been medically cleared yet. But I am able to practice," Rodgers said this week. "Unfortunately for everybody involved, it's just going to be a waiting game. I won't be able to play if I'm not medically cleared ...
"When I'm ready to play and everyone is on board, then I'm going to play. I know there's a rush to get back out there. I feel it internally, but also externally. I desperately want to be out there, but it has to look good."
So far, it apparently doesn't look good enough.
Follow Josh Katzowitz on Google+
Cowboys rookie Jourdan Lewis got some good news on Tuesday.

The Ravens might need some help at running back

The Jaguars are making people rich
It looks like Michael Vick is hoping to make the transition from player to coach

The former undrafted free agent is about to get a huge raise

Both Malik Hooker and Andrew Luck are on the PUP list, so maybe it's time to start worryin...