Adam Vinatieri: Make field goals over 50 yards worth four points
Forget eliminating extra points. If the NFL wants to change something, Colts kicker Adam Vinatieri thinks the league should make 50-yard field goals worth four points.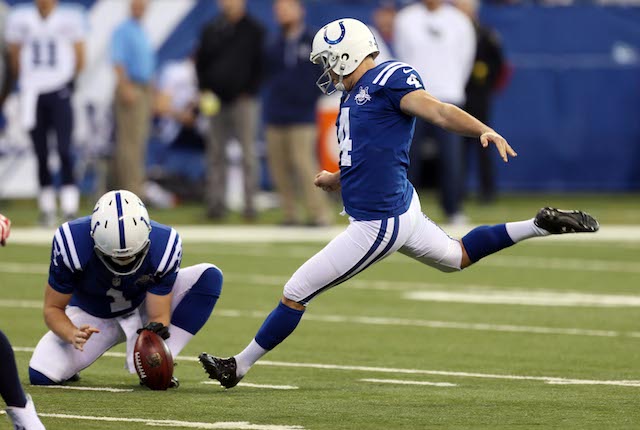 More SB coverage: XLVIII odds | Expert picks | Super Bowl weather | Latest news
If wisdom comes with age, then Colts kicker Adam Vinatieri is the wisest player in the NFL. The 41-year-old was the oldest player in the league in 2013. So what does the NFL's wisest player think about eliminating extra points? He's against it.
"I don't think any of us are above the ability to change football from what it is," Vinatieri told NFL.com on Thursday. "I mean, it's been the way it has been for 100 years. I don't know if we should start changing that stuff up."
NFL commissioner Roger Goodell said in an interview in mid-January that the league is exploring the possibility of eliminating the extra point. Since then, every NFL kicker who's been asked about the subject has called it a bad idea. However, Vinatieri is the first kicker to go on the record with a proposed rule change of his own.
Instead of eliminating extra points, Vinatieri has a simple idea: make longer kicks worth more. "If anything, make a 50-yard field goal worth four points instead of three," Vinatieri said. "Now all of a sudden [kickers] become more valuable rather than less valuable."
If any team in the NFL should be lobbying to make Vinatieri's proposal happen, it's the Dallas Cowboys. If all field goals over 50 yards were worth four points in 2013, Dallas would have won two more games this season and finished with a 10-6 record.  
If the NFL does end up making any rule changes, there's actually a chance Vinatieri will be around to see them. The 18-year veteran doesn't sound like someone who plans on retiring anytime soon. 
"I feel that as long as I'm an asset and not a liability. I'm still loving the game as much as I ever have," Vinatieri said. "I feel like I potentially have a few more years as long as I can keep my body feeling healthy and keep kicking at a high level."
Cowboys rookie Jourdan Lewis got some good news on Tuesday.

The Ravens might need some help at running back

The Jaguars are making people rich
It looks like Michael Vick is hoping to make the transition from player to coach

The former undrafted free agent is about to get a huge raise

Both Malik Hooker and Andrew Luck are on the PUP list, so maybe it's time to start worryin...